---
January 13, 2023 |
By Bonnijean Cooney Adams | Posted in: Entertainment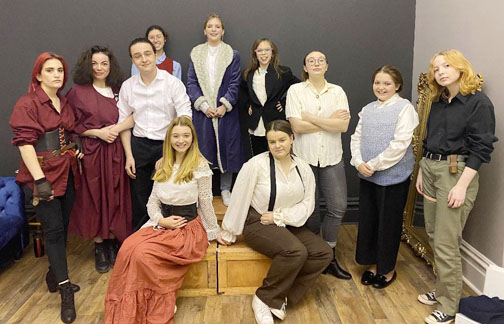 Madeline Sclichter as Juliet and Emma Perman as Romeo, seated at center, were surrounded by most of the cast of Youth Shakespeare Society of Pittsburgh's production of "Romeo and Juliet" on Jan. 7 as they wrapped up several months of rehearsals. They resumed tech week rehearsals at Carnegie Stage in Carnegie, where the production will be staged. (Submitted photo)
If you go...

Shakespeare's "Romeo and Juliet"

Presented by Youth Shakespeare Society of Pittsburgh

Where: Carnegie Stage, 25 W. Main St., Carnegie

When: Friday, Jan. 13 and Saturday, Jan. 14 at 7 p.m.; Sunday, Jan. 15 at 2 p.m.

Tickets: $10, available through our.show/yssprnj and the group's website, youthshakespearepgh.org/romeoandjuliet
Those who enjoyed an adaptation of Shakespeare's work at McKeesport Little Theater last summer will have to travel a little bit farther to see another one of the group's productions.
Youth Shakespeare Society of Pittsburgh, co-founded in 2019 by Ella Mizera and Theo Fantozzi to provide teens and young adults with performing, directing, and designing experience in Shakespeare productions, is in tech week rehearsals for its adaptation of "Romeo and Juliet."
The show opens tonight, and runs through Sunday, with two evening and one matinee performance at Carnegie Stage.
Ella Craig, who portrayed Viola in YSSP's adaptation of Shakespeare's "Twelfth Night," which was performed at the McKeesport theater in June, has stepped up to direct the classic tragedy.
Read More