---
January 14, 2020 |
By Richard Finch Jr. | Posted in: McKeesport and Region News, Sports
CORRECTION: Darius Prince was unable to attend Saturday's game. He was replaced by Chris Edmonds.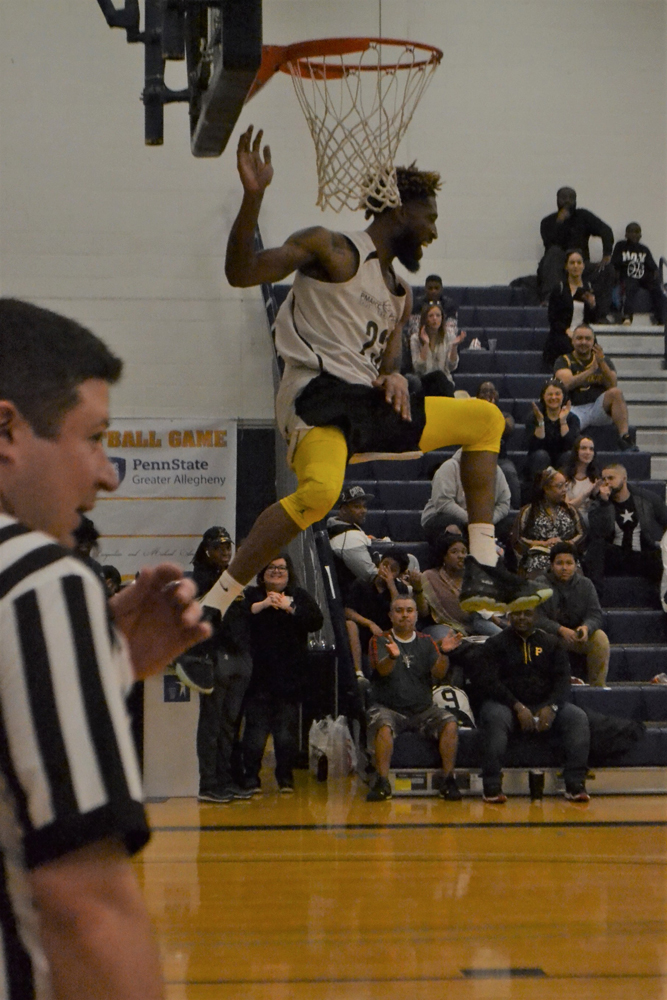 Bryan Akinkugbe currently plays for the Steel City Yellow Jackets. He also played professionally in Canada and Mexico. He was among the competitors during a charity basketball game at Penn State Greater Allegheny in McKeesport on Saturday. (Richard Finch Jr. photo/special to Tube City Almanac)
---
Jesús Torres is already working on plans for the third-annual Pittsburgh Metropolitan Area Hispanic Chamber of Commerce Celebrity basketball game, securing commitments from fellow "celebrity" players to return to McKeesport next January.
"I was joking with the players after Saturday's game that we need to sign five-year contracts," he said. "They all promised to come back here next year to keep this event going."
Three hundred fans showed up on Saturday for the second-annual game, which raised more than $9,000 for scholarships to support the region's Hispanic community.
Celebrity players were divided into home and away squads. The unofficial score was 96-90 in favor of the "home" team, but the "official" score was changed to a 96-96 tie, a Penn State spokesman said.
Read More