---
January 22, 2020 |
By Richard Finch Jr. | Posted in: Announcements, Duquesne News, Entertainment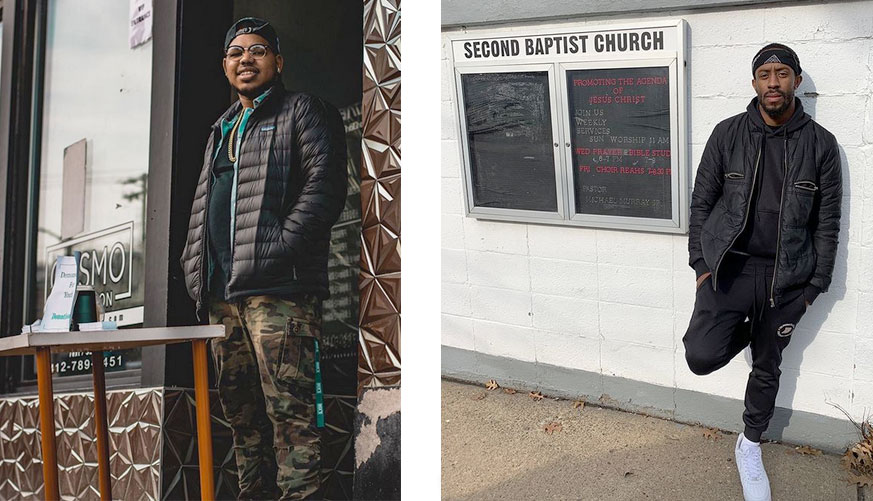 Under the name "Demonstration," Michael Roberts and Marcus Glover are raising money to build a community center in the East End or Mon Valley by selling apparel. The two are hosting a mixtape party and concert at 24 in Duquesne on Thursday. (Photos via Instagram.)
---
Marcus Glover and Michael Roberts are working the streets in Pittsburgh's East End and Mon Valley communities, selling athletic apparel from their mobile "storefront," a small white folding table.
Last summer, the friends started "Demonstration," a non-profit organization they hope to grow into a brick-and-mortar community center as a safe haven for disadvantaged youths.
They're organizing a mixtape release party to be held at 9 p.m. Thursday (Jan. 23) at 24 (formerly Kanczes City Saloon) on Duquesne Boulevard near Kennywood. The event will feature live music by Aaron Goode and the Goodfellas as well as rap and jazz music, according to Glover.
The desire to reach out and help kids evolved out of the pain that Roberts and Glover experienced as teenagers, each losing a loved one to street violence.
"We started talking and sharing stories," Glover said. "I told him about how my best friend was murdered at 15, he told me his story, his older brother was murdered when he was 15, we bonded over our similar tragedies. Everything we are trying to do with our organization is from personal experience."
Read More