---
May 02, 2023 |
By Jason Togyer | Posted in: Editorial Cartoons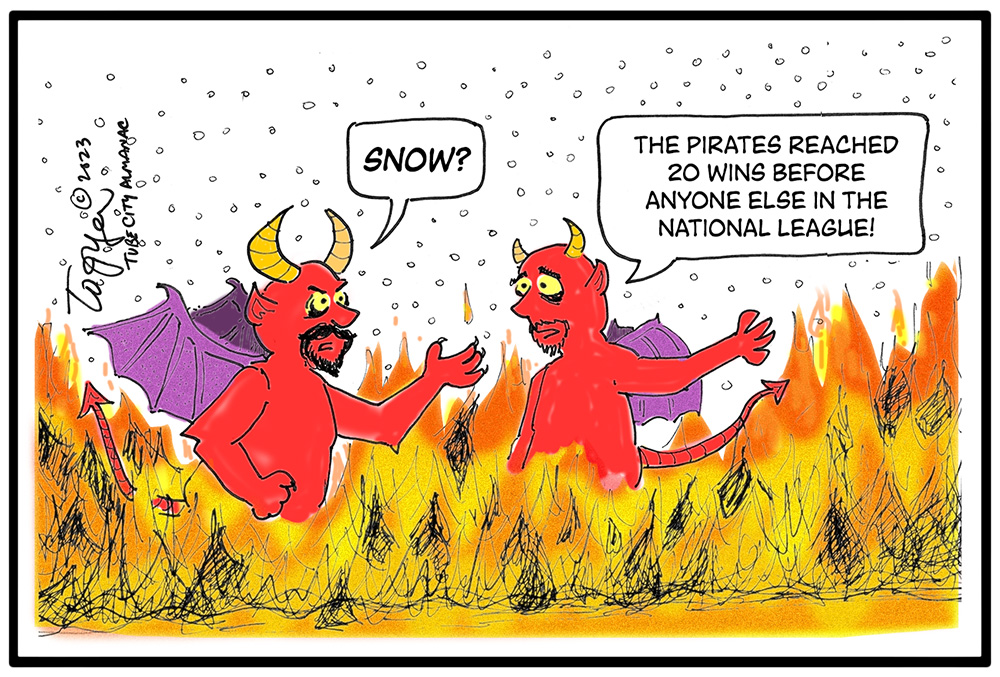 ---
February 14, 2023 |
By Jason Togyer | Posted in: Editorial Cartoons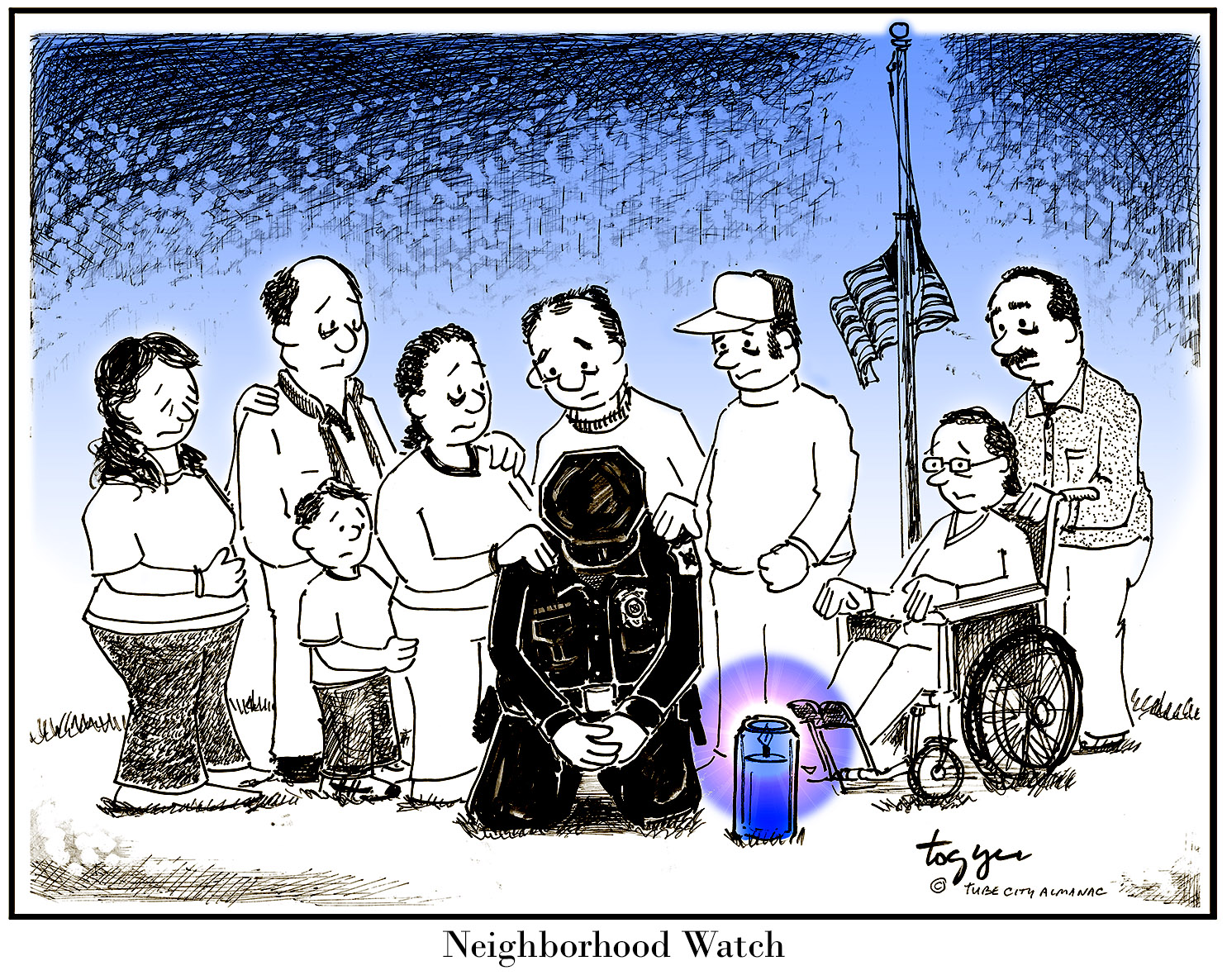 "The police are the public and the public are the police; the police being only members of the public who are paid to give full-time attention to duties which are incumbent on every citizen in the interests of community welfare and existence."
—Sir Robert Peel, 1788-1850
U.K. prime minister, 1834-35, 1841-46
Founder, London Metropolitan Police Service
. . .
"There is no higher calling than that of a policeman. I would rather be a policeman than President."
—August Vollmer, 1876-1955
Police chief of Berkeley, Calif.
Professor of police administration, University of California at Berkeley
---
November 02, 2020 |
By Jason Togyer | Posted in: Editorial Cartoons, History
The Mon Valley — at least the Turtle Creek Valley portion of it — has a very real claim to being the "birthplace of commercial broadcasting."
One hundred years ago tonight, on the roof of the Westinghouse Electric factory in East Pittsburgh (above), KDKA began operations as the world's first commercially licensed radio station, broadcasting to the general public.
(That facility — visible from the George Westinghouse Bridge, which carries Route 30 from North Versailles Twp. to East Pittsburgh — is now RIDC's Keystone Commons.)
KDKA (also, apparently, known for a short time as "8ZZ") signed on Nov. 2, 1920, as part of an experimental nationwide hookup of radio stations that broadcast the returns of the presidential election between Republican Warren G. Harding and Democrat James Cox.
Radio stations had been licensed before 1920. But those stations were operated for limited audiences. Some, for instance, were operated by the military, or by companies sending and receiving messages between ships and shore. Others were operated by hobbyists — "amateurs," or "hams."
KDKA was the first station that was intended to be used by the general public to receive entertainment and news. But it had its roots in one of those "hams" — an engineer from Wilkinsburg, Pa., named Frank Conrad, who worked in the Westinghouse factory in East Pittsburgh ... read on ...
Read More
---
June 06, 2018 |
By Jason Togyer | Posted in: Commentary-Editorial, Editorial Cartoons
* --- this cartoon was edited after publication to correct the quote attributed to William M. "Boss" Tweed (1823–1878), who supposedly told the editor of Harper's Weekly, "I don't care a straw for your newspaper articles; my constituents don't know how to read, but they can't help seeing them damned pictures!"
---
"For the past week, there's been a feature noticeably absent from the editorial pages of the Pittsburgh Post Gazette — the political cartoons of award-winning cartoonist Rob Rogers.

"Rogers, who has drawn cartoons for the Post-Gazette since 1993, has seen six cartoons killed in a row by Keith Burris, who took over as the newspaper's editorial director in March when the paper's editorial board merged with its sister newspaper, the Toledo Blade. The cartoons included criticism of President Trump and of the NFL's decision to prohibit players from protesting racial injustice during the national anthem."
-- The Philadelphia Inquirer, June 4, 2018
---
"I can't get into specifics here, but I felt that it was best under the circumstances to take some vacation days until issues with the Post-Gazette are resolved. I can't thank you enough for your support."
--- Rob Rogers, June 6, 2018
---
Read More
---
March 30, 2017 |
By Jason Togyer | Posted in: Editorial Cartoons
"A Pittsburgh nonprofit wants to replace the controversial black and yellow Sprint sign on Mt. Washington with a Hollywood-style letter sign.
Scenic Pittsburgh sent a letter to Louisiana-based Lamar Advertising, which owns the 7,200-square-foot billboard, asking them to donate or sell the property to the organization. Lamar is in a legal battle with the city of Pittsburgh, which claims the company is violating zoning regulations.
One option for the sign's future could be something akin to Hollywood's iconic hillside sign, according to Scenic Pittsburgh executive director Mike Dawida." -- WESA-FM Radio
Our humble opinion: Why does Pittsburgh need a sign telling people in Pittsburgh that they're in Pittsburgh? They already know that. Let's give people some useful information.
---
March 25, 2016 |
By Jason Togyer | Posted in: Commentary-Editorial, Editorial Cartoons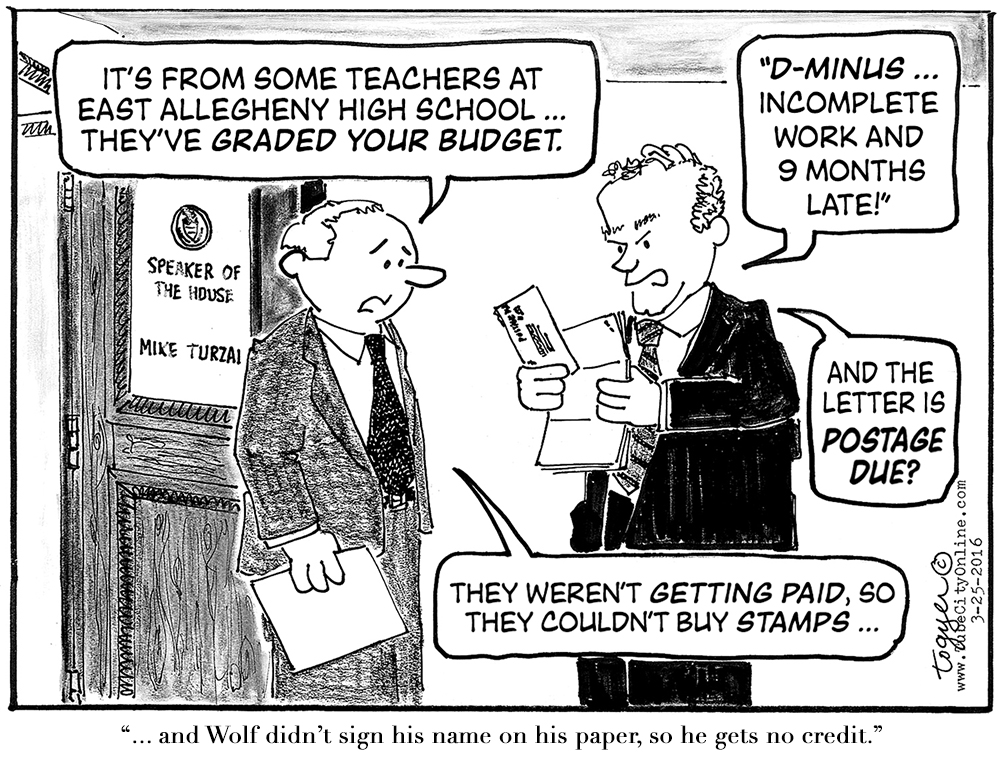 Pennsylvania budget achieves too little, costs too much
The Democratic governor is standing by his principles by not signing the $6 billion remainder of a $30 billion budget that he believes is unbalanced. But, by letting it become law by Monday without his signature, Wolf is sparing school districts the cost of borrowing additional money to make up for undelivered state funding ...
The question for Wolf is why he did not accept defeat on taxes sooner.
The question for Republican state lawmakers is whether their political victory was worth the heavy costs it imposed: on social service agencies that had to cut staff; on counties ... that paid interest on loans or ... lost interest on reserves they had to spend; and on school districts.
The question for both is how they're going to avoid a replay in fiscal year 2016-17, the budget for which is due by June 30.
—Editorial, the Reading (Pa.) Eagle
Read More
---
December 30, 2015 |
By Jason Togyer | Posted in: Editorial Cartoons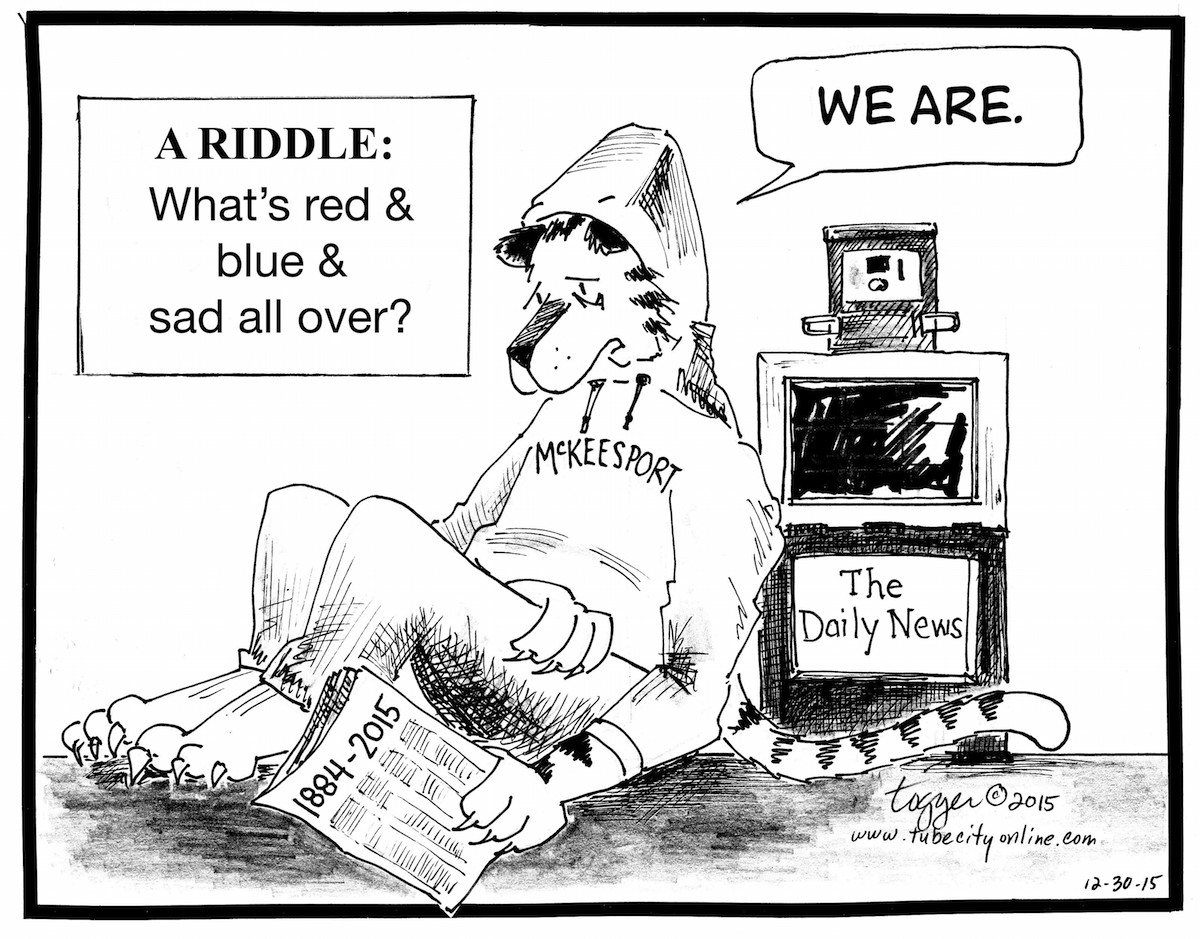 « Previous page
1
Next page »