August 31, 2022 |
By Bonnijean Cooney Adams | Posted in: McKeesport and Region News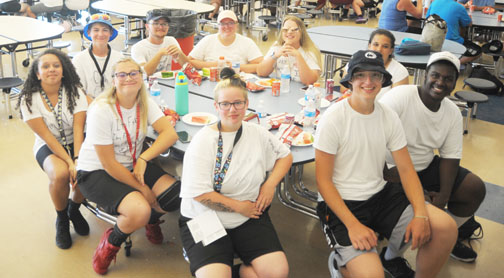 McKeesport Area High School Tiger Marching Band 2022 leaders and seniors are, clockwise from right, Luciano Lanz, Zachary Manfredo, Nicole Upperman, Makayla Elash, Shyaire Flohr, Connor McGrew, Cooper Kuchma, Tina Wos, Brianna Schmidt and Savanna Auckerman. (Bonnijean Cooney Adams photo for Tube City Almanac)
---
From the theme of this year's McKeesport Area Tiger Band Show, the audience may expect to see a lot of glitz and sparkle.
But "All That Glitters," according to those who collaborated on its production, refers to way more than outward appearances.
"I have always liked the 'positive,' uplifting concept/style shows," band director Drew DeCarlo said during summer camp when describing what can be found in the finished product.
"This season's show portrays that we all shine in our own unique ways," he added. "Throughout the season we will be talking about how each student in the ensemble has that unique talent that needs to be uncovered."
Read More