December 02, 2022 |
By Bonnijean Cooney Adams | Posted in: Entertainment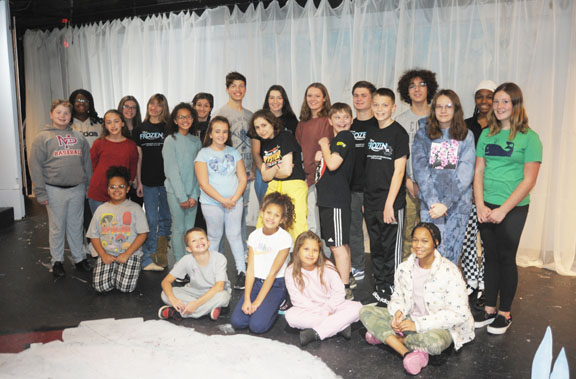 The cast of Disney's "Frozen Jr." at McKeesport Little Theater takes a quick break from rehearsal. (Photo by Bonnijean Cooney Adams for Tube City Almanac)
If you go...

Disney's "Frozen Jr."

Presented by McKeesport Little Theater Juniors

Where: McKeesport Little Theater, 1614 Coursin St.

When: Fridays and Saturdays Dec. 2, 3, 9 and 10 at 7 p.m.; Sundays Dec. 4 and 11 at 2 p.m.

Tickets: $15 for adults and $10 for students. Available through the MLT website, by calling the theater at 412-673-1100, or via onthestage.com.

There are two special, pre-show activities requiring advance reservations set for Dec. 4 and Dec. 10, but spots are going quickly, as are tickets for the shows. The first is Olaf's Character Brunch, and the second is a Coronation Day Ball. MLT management recommends those planning to attend should call the theater at 412-673-1100 for availability and pricing.
There's a lot of pressure on the young performers in McKeesport Little Theater's Juniors program as they undertake the latest production, which opens tonight (Dec. 3).
That's because the show is Disney's "Frozen Jr.," with a storyline and songs familiar to audiences of all ages from the movie and Broadway production.
The most experienced performers with lead roles — and even director Dorothy Fallows, who has been in charge of the Juniors' program and affiliated with McKeesport Little Theater for at least 30 years — said it's definitely challenging to give audiences what they know and expect, while adapting the show to fit MLT's unique venue and talents of the cast.
Read More