October 30, 2015 |
By Jason Togyer | Posted in: History
On Oct. 31, 2015, our Internet radio station, WMCK.FM, will present the famous Oct. 30, 1938, broadcast of "The War of the Worlds" as part of a special evening of old-time radio programs beginning at 5 p.m.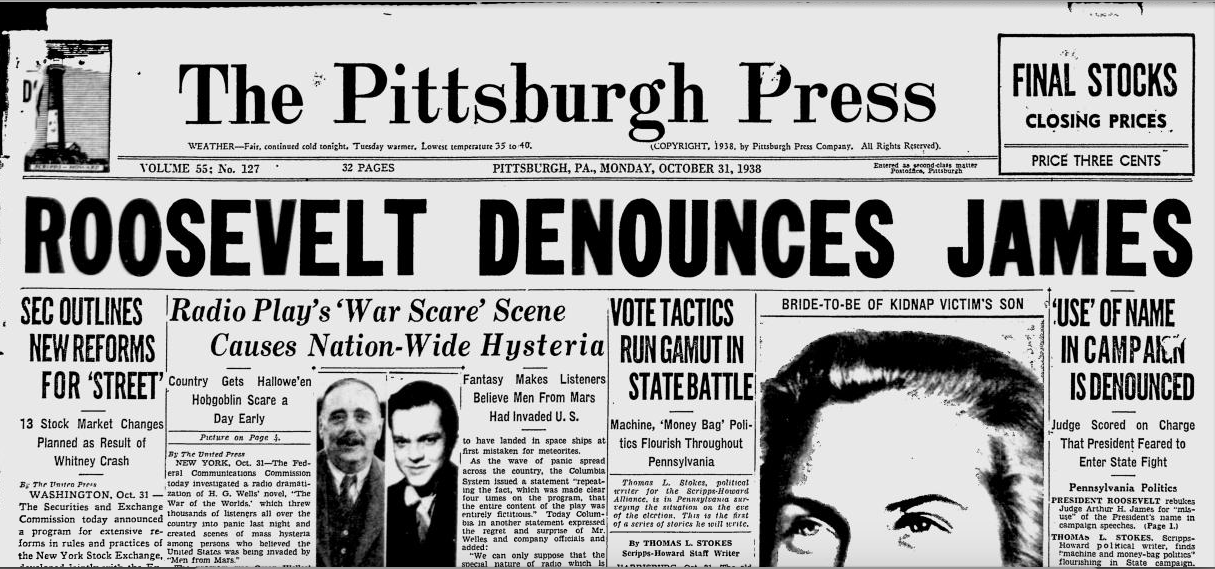 . . .

In the days before television, people listened to the radio in the evenings. In fact, as crazy as it seems, many of them even listened to a ventriloquist.

Edgar Bergen -- maybe best-known today as the father of actress Candice Bergen --- was one of America's most popular comedians in the 1930s and '40s. His "dummies," including mischievous, wisecracking Charlie McCarthy, were as famous and beloved as The Muppets today.

In 1938, Bergen and McCarthy were featured on a weekly, Sunday night hour-long variety show sponsored by Chase and Sanborn Coffee, and heard over NBC. The program was so popular that CBS, the major competing network, couldn't even find a sponsor for its show.

So, CBS countered with a series of hour-long plays produced by Orson Welles under the title, "The Mercury Theater of the Air."

At 8 p.m. Oct. 30, 1938, Edgar Bergen presented a Halloween-themed program called "The Haunted House," featuring singer Nelson Eddy and a short play called "There's Always Juliet" with Madeleine Carroll and Don Ameche.

In Pittsburgh, it was carried on WCAE (which later became WTAE), which was then at 1220 kHz AM.

WJAS, then at 1290 kHz AM in Pittsburgh, was the local CBS network affiliate. At 8 o'clock, Welles and his actors presented a play based on the 1898 novel by H.G. Wells (no relation) called "The War of the Worlds."

To spice things up, Welles and his actors moved the setting of Wells' novel up to their present day (1938) and made it sound like a 1938-style news broadcast.
. . .
All was well, apparently, until listeners of the Edgar Bergen "Chase and Sanborn Hour" tuned out when that show took a musical break.
In Pittsburgh, they turned their dials just a few spaces, from 1220 to 1290, and found Welles and his presentation of "The War of the Worlds." They were just in time to hear the actors, playing news broadcasters and eyewitnesses, giving the details of an invasion of Earth by Martians.

It should have been hard to mistake for a real news bulletin --- in fact, four times during the show, the CBS announcers explained it was fictional --- but thousands of people did reportedly make that mistake.
Read More