June 25, 2015 |
By Jason Togyer | Posted in: McKeesport and Region News, Podcast
Last week on "Two Rivers, 30 Minutes," we talked to Maggie Jensen, chief executive officer of the YWCA of Greater Pittsburgh.
We asked her what are the greatest social service needs in the Mon Valley area? How is the YWCA addressing those needs? And how can people in McKeesport, Homestead, Braddock, Clairton and the surrounding areas connect with health insurance and child care resources?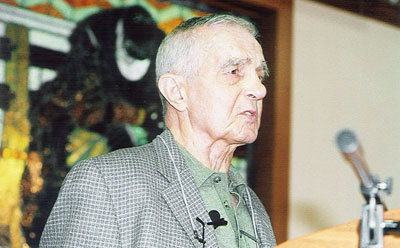 Tomorrow: In honor of McKeesport native, author and historian John P. Hoerr (above), we'll broadcast his 2009 speech at McKeesport Regional History & Heritage Center, when he discussed the life of McKeesport-born playwright Marc Connelly, as well as his own novel about McKeesport, "Monongahela Dusk."
Hoerr died Sunday at age 84 in Massachusetts, where he had lived for several years.
A graduate of McKeesport High School and Penn State University, Hoerr was a veteran of the U.S. Army who began his long career as a journalist with United Press in 1956. He may be best known for his work as a labor reporter and editor with Business Week magazine.
But his biggest legacy may be his books he wrote about the Mon Valley, especially his 1988 book about the collapse of the American steel industry, "And the Wolf Finally Came."
"Two Rivers, 30 Minutes" airs at 9:30 a.m. Fridays on WEDO (810), 8 a.m. Sundays on WZUM (1550), and as a free podcast from Stitcher Radio and iTunes.
. . .
ADVERTISEMENT: Support for "Two Rivers, 30 Minutes" comes in part from the McKeesport Hospital Foundation. Since 1976, the foundation has addressed key concerns that affect our good health, as well as our education, social needs, recreation, and safety and security. The foundation partners with UPMC McKeesport and other agencies to eliminate barriers to all services for all residents of the Mon Valley. Visit www.mckhospitalfoundation.com, or call (412) 664-2590.