August 17, 2020 |
By Bonnijean Cooney Adams | Posted in: McKeesport and Region News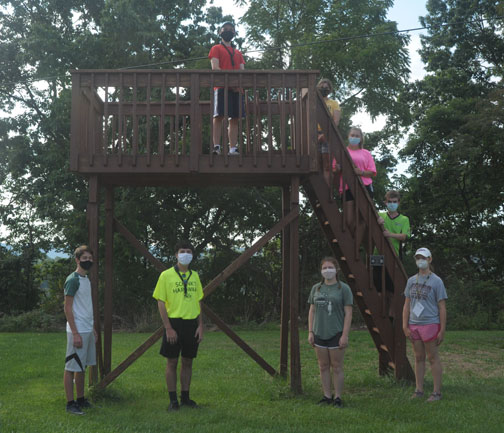 Serra marching band student leaders for 2020 are: Serafina Szarmach, Ryan Gedman, and Harrison Potts, drum majors; Natalie Makovics and Nina Fassinger, colorguard captains; Jordan Premozic, woodwind section leader; Joe Crossen, brass section leader, and Abigail Bernick, percussion section leader. (Photo by Bonnijean Cooney Adams)
---
With a senior drum major who plays bagpipes, Serra Catholic Marching Band director Jesse Bush said he didn't want to pass up the opportunity to do a Celtic-themed show.
So Bush decided on "The Secret of Loch Ness," with musical numbers "Scotland the Brave," "Skye Boat Song," and "The Loch Ness Monster."
Drum Major Harrison Potts plays bagpipes. He, and Drum Major Serafina Szarmach in a vocalist role, are featured in "Skye Boat Song."
The annual two-week marching band camp kicked off Aug. 10 and concludes Aug. 21, with some business as usual and other activities modified to meet guidelines in place because of the COVID-19 pandemic.
Read More