July 22, 2015 |
By Submitted Report | Posted in: McKeesport and Region News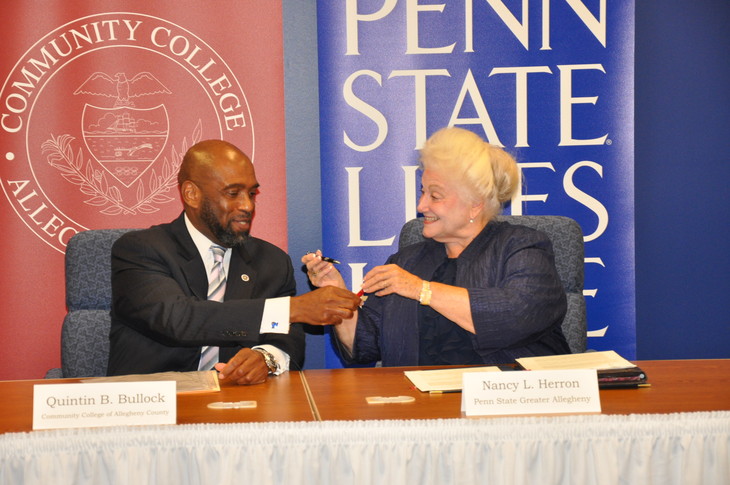 Above: Quintin B. Bullock, president of CCAC, and Nancy L. Herron, interim chancellor of Penn State Greater Allegheny, ceremoniously exchange the pens they used to sign the Articulation Agreement. (Penn State photo)
. . .
Students at Community College of Allegheny County will be able to seamlessly transfer credits to six Penn State campuses --- including Greater Allegheny Campus in McKeesport --- under a new agreement effective this fall.

The "articulation agreement" smoothes the transfer of CCAC students into bachelor's degree programs at six Penn State campuses, including Beaver, DuBois, Fayette, Greater Allegheny, New Kensington and Shenango.

"Penn State and CCAC share the common goal of enhancing education for students in our region," said Nancy Herron, interim chancellor of Penn State Greater Allegheny. The agreement will make it easier for CCAC students "to earn an affordable, quality college education," she said.

The agreements provide students who earn their associate degree an academic pathway to transfer into a parallel bachelor's degree program at the six campuses. The coordination of transferrable coursework, supported through academic advising, will support the successful transition for students.
Read More