By Jason Togyer
The Tube City Almanac
June 24, 2015
Posted in: Commentary-Editorial

Opinions expressed at Tube City Almanac are those of individual authors, and not those of Tube City Community Media Inc., its directors or volunteers. Responsible replies are welcome.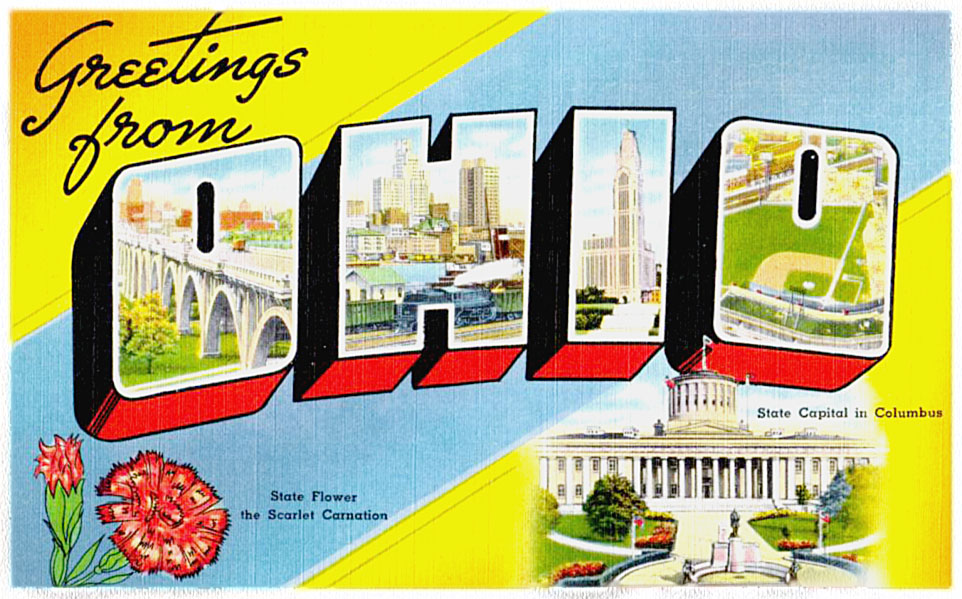 Last week, my wife and I took a five-day mini-vacation in Ohio, hitting a bunch of the state's small towns --- places such as Piqua, Troy, Chillicothe, Sidney, New Concord --- and visiting friends.
. . .
In Monroe, Ohio, north of Cincinnati, we spent a few hours at the Traders' World flea market, one of the largest and best-organized flea markets I've ever seen.
There was a lady there doing permanent makeup tattoos. Getting a tattoo at the flea market is bad enough, but would you really want a flea-market-based tattoo artist to work on your face?
. . .
Seriously, folks, I want to tell you ...
We had a good time on the trip, though something I wrote five years ago still holds true today; when you travel around the Northeast, you learn that the entire United States has become a nation of McKeesports.
There are many, many towns of McKeesport's size that have an abandoned factory or two or three, with a boarded-up downtown and decaying residential neighborhoods. The factory may have made steel, auto parts, appliances, electronics, plastics, and it may have closed in the 1980s or in the last five years.
But America's industrial heart has really and truly been ripped out, and it's not an issue of which political party was in charge in each of these towns (much of Ohio is solidly Republican), or an issue of race (many of the counties we visited were 95 to 98 percent white).
The only issue is money; the big corporations that made the industrial products in these towns have shipped the jobs overseas. In most cases, they didn't lower their prices and pass their savings onto the consumers; instead, they took their increased profits and paid their executives and a handful of investors obscene wages or perks.
It is very difficult to see how the controversial trade agreement known as the Trans-Pacific Partnership will possibly improve the situation. The Obama administration claims it will make it easier for American companies to sell their products overseas, but it's not, by and large, overseas companies that are shipping American jobs to China and Korea; it's our own American companies.
. . .
Take, for instance, Nelsonville, Ohio, population 5,400, located in Athens County, just a bit north of Ohio University. It was once home to the family-owned William Brooks Shoe Company, which was founded in 1932, during the depths of the Great Depression.
Now known as "Rocky Brands Inc.," in 1993 it became a publicly traded company. Seven years later, it closed its Nelsonville factory.
The company still has offices in Nelsonville, but the former factory is now an outlet store where most of the shoes and boots have "Made in China" labels. The outlet store also has a restaurant called the "Boot Factory Grill," which is guess is nicer than calling it the "We Moved Your Job to China and Now You Make Minimum Wage Grill."
I suppose a factory outlet store is better than nothing for Nelsonville, Ohio, but the town definitely looks worse for the wear.
. . .
We did see some positive signs. In Greenville, Ohio, population 13,000, north of Dayton and near the Indiana state line, we toured the KitchenAid mixer factory.
You can, too --- in fact, anyone can tour the factory as long as they report to the visitors' entrance promptly at 12:30 p.m. weekdays, wearing closed-toe shoes and not carrying a camera.
According to our tour guide, the KitchenAid plant turns out more than 10,000 items per day --- about 3 million per year --- including the sturdy KitchenAid stand mixer, the KitchenAid hand mixer, a new high-performance blender and a "SodaStream" machine (one of those gadgets that turns ordinary water into either sparkling water or pop).
On the tour, you can walk right up to the assembly lines at virtually every stage of the process, from raw materials coming in one door to completed mixers going out another.
Although some components are imported, many others are American-made (like zinc castings from Erie), and the plant is a beehive of activity. It's even being expanded to the tune of $40 million per year.
"Make sure you come back next year, it's going to look completely different," our guide urged us.
. . .
I did hear one bit of misinformation on the tour that made me cringe. Someone asked why white appliances are the most popular product made in the Greenville factory. The tour guide explained that many of the products made in the factory go to commercial kitchens --- restaurants and the like --- and those customers are required to have appliances made with surfaces that meet the standards of NSF International.
"You know how the government is," he said, and many of the people nodded their heads. That damn government!
Except that NSF --- formerly the National Sanitary Foundation --- is an independent, private, industry-funded organization that sets voluntary standards. It's not a government agency.
We're always so quick to blame "the government" and hold it to a high standard --- and we should. But why are we so unwilling to hold private businesses to the same standard?
. . .
Another place we found a lot of American-made products was at Zanesville Pottery in Muskingum County just off of Interstate 70. It's not actually in Zanesville, but in nearby Perry Township, Ohio, population 2,420.
I've been passing Zanesville Pottery for years and I thought it was a tourist trap, but it's one heck of a store, selling all sorts of items, from ordinary plates and dishes, to delicate crystal, all the way up to giant clay planters and urns.
Many items sold in the store are made in the U.S.A. --- some of them at Zanesville Pottery itself, others just down the road at small factories in the Zanesville area. Others are imported from Mexico and elsewhere, but they're clearly marked.
The store also has one of the best selections I've ever seen of Fiestaware, made by the Homer Laughlin China Company in Newell, W.Va., 90 minutes northwest of McKeesport.
. . .
And the astonishing thing to me was that Zanesville Pottery was selling items, made in the U.S.A., at prices that in many, many cases were below what you would pay for a Chinese-made item at Wal-Mart, Target or Kmart.
American workers can produce competitively priced consumer goods. And anyone who thinks American workers are lazy should spend some time walking around the KitchenAid factory.
One of the hotels in which we stayed had clocks in the lobby that were set to local Ohio time and Tokyo time. We also saw a Japanese grocery in downtown Piqua. I thought it was all a weird joke until I asked someone. "Oh, that's because of the Honda plant over in Marysville," I was told.
Honda, in fact, is now Ohio's 16th largest employer overall, and with 13,500 employees, it's the third-largest in the manufacturing sector, ahead of General Motors, Marathon and Whirlpool (parent company of KitchenAid).
And it turns out a lot of other Japanese companies that do business with Honda also have set up shop in western Ohio.
. . .
In the 1960s and '70s, Japanese electronics, camera and automobile companies blew past American companies because their executives took a long-term view of success and focused on quality. It seems like we've learned nothing in the past five decades.
What, exactly, do Japanese companies understand about the importance of American workers and American jobs that American companies don't get --- or don't want to get? (Hint: I think the difference is the level of greed. I'm sure Japanese executives and investors are greedy, too, but that's one area where Americans seem to still hold a definite edge.)
Whatever it is, I wish someone would teach it to American investors soon. We could use a lot more towns like Greenville, where workers assemble appliances for $15 to $20 per hour, and fewer towns like Nelsonville, where workers assemble club sandwiches for $8.
. . .
Opinions expressed in commentaries are those of individual authors, and do not represent those of Tube City Community Media Inc., its directors, contributors or volunteers.

Tube City Community Media is committed to printing viewpoints from residents of the McKeesport area and surrounding municipalities. Commentaries are accepted at the discretion of the editor and may be edited for content or length.

To submit a commentary for consideration, please write to P.O. Box 94, McKeesport 15134, or email tubecitytiger -at - gmail -dot- com. Include contact information and your real name. A pen name may be substituted with approval of the editor.
Originally published June 24, 2015.
In other news:
"What Makes a 'Good Ne…" || "YWCA Director Discuss…"