December 01, 2022 |
By Bonnijean Cooney Adams | Posted in: McKeesport and Region News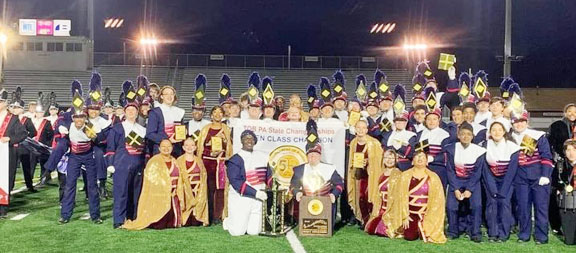 McKeesport Tiger Marching Band musicians and color guard at Mansion Field in Altoona, where they placed first in the Class 2 Open category in the first state Tournament of Bands competition. (Submitted photo courtesy McKeesport Area Tiger Marching Band)
---
McKeesport Area Tiger Marching Band sparkled and shined through a successful season, garnering the top score and taking home the title in the Group 2 Open category at the first Tournament of Bands state competition.
They earned a coveted 90-plus score with a 90.30, plus awards for High Auxiliary and Percussion for "All That Glitters" at the end of October at Mansion Park in Altoona.
Band director Drew DeCarlo said "All That Glitters" is an original competition, featuring uplifting concepts and show styles.
"We all shine in our unique ways," he said.
Read More