July 28, 2021 |
By Jason Togyer | Posted in: Announcements, McKeesport and Region News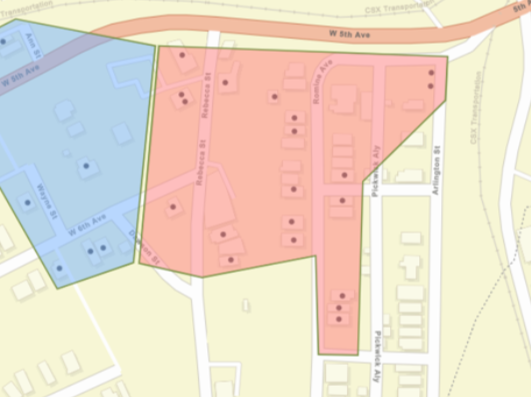 A "do not use" order has been lifted in 10th Ward, but some homes and businesses — in the area shown in red — remain under a "do not drink" order. (Municipal Authority of Westmoreland County map)
---
An order preventing residents of the 10th Ward from using their tap water for anything except flushing toilets has now been lifted, a water authority spokesman said.
However, about 20 homes and businesses along Romine Avenue, Rebecca Street and West Fifth Avenue have been told they should not drink or cook with the water, said Matthew Junker, spokesman for the Municipal Authority of Westmoreland County.
A "do not use" order for residents of lower 10th Ward was issued July 17 after emergency personnel reported that firefighting chemicals may have been sucked into an open fire hydrant as crews battled a multiple-alarm blaze at McKeesport Auto Body on Rebecca Street.
Read More