(Advertisement)
Tube City Community Media Inc. is seeking freelance writers to help cover city council, news and feature stories in McKeesport, Duquesne, White Oak and the neighboring communities. High school and college students seeking work experience are encouraged to apply; we are willing to work with students who need credit toward class assignments. Please send cover letter, resume, two writing samples and the name of a reference (an employer, supervisor, teacher, etc. -- not a relative) to tubecitytiger@gmail.com. (4-11-2023 to 4-30-2023)
To place your ad, email tubecitytiger@gmail.com.
Ads start at $1 per day, minimum seven days.
By Mike Mauer
The Tube City Almanac
August 26, 2015
Posted in: History, McKeesport and Region News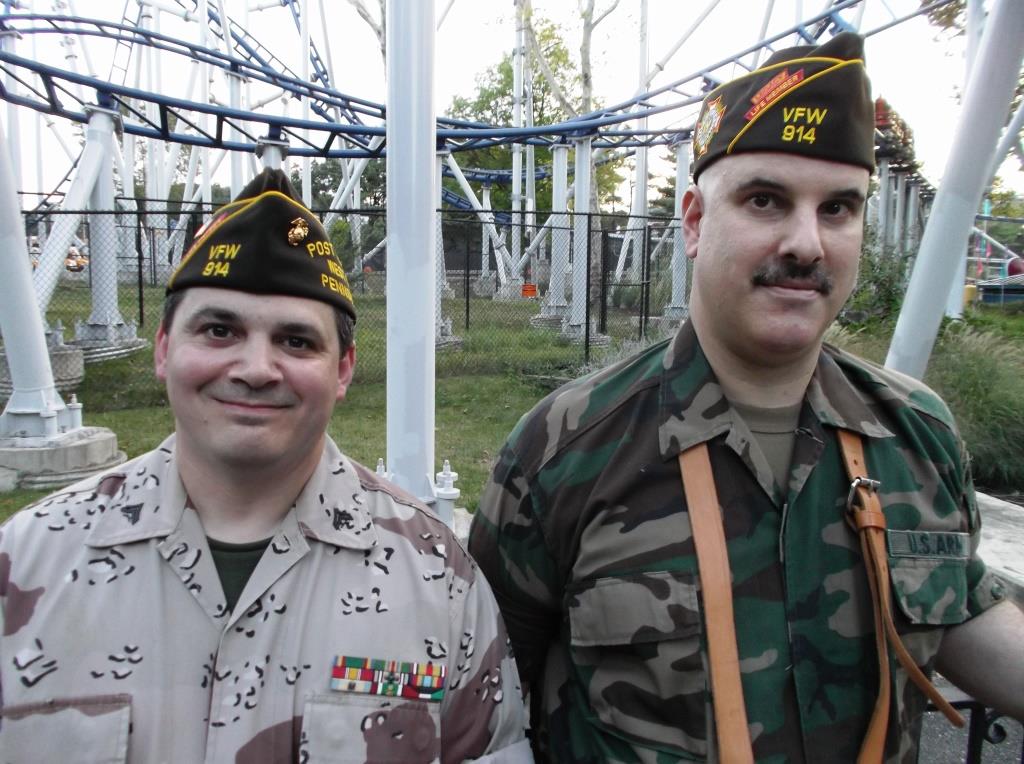 Ken Curcio and Rami Nassar before a recent VFW Honor Guard event at Kennywood. Twenty-five years ago, both served during Operation Desert Storm. (Mike Mauer photo)
. . .
The coming months will note a unique anniversary for two life members of Veterans of Foreign Wars Post 914 Intrepid West Mifflin. The former warriors are marking 25 years since their service during Operation Desert Storm.

Rami Nassar and Ken Curcio, both of West Mifflin, served in Saudi Arabia during the first Persian Gulf War two-and a-half decades ago. And although much of the world seemingly remembers the conflict as a sanitized news blip on television, the military experiences of both these men have impacted them for the rest of their lives.
"I joined the Army on Aug. 2, 1990 --- the same day that Iraq invaded Kuwait," Nassar said. "There were not many job opportunities in Pittsburgh in those days, and I did not really have any type of job skills. It was coincidental that I enlisted that day. I didn't find out that there was any trouble in the Middle East until after I got home."

Three weeks after his enlistment, Nassar was sent to initial Army training and then assigned to his permanent unit in Fort Bliss, Texas. Nassar's group came down on orders January 1991, and deployed to seven miles south of Iraq to Logistical Base Charlie near the town of Rafha, Saudi Arabia.

Located along an important highway known as Tapline Road and near an airport that could handle heavy aircraft, Logistical Base Charlie was set up as staging area to keep large military units supplied with ammunition, food, fuel and water.
Nassar and the rest of his fellow soldiers in the 62nd Transportation Company worked there to keep equipment running and supplies moving in harsh desert conditions. They also guarded the vital base from potential Iraqi incursions.
. . .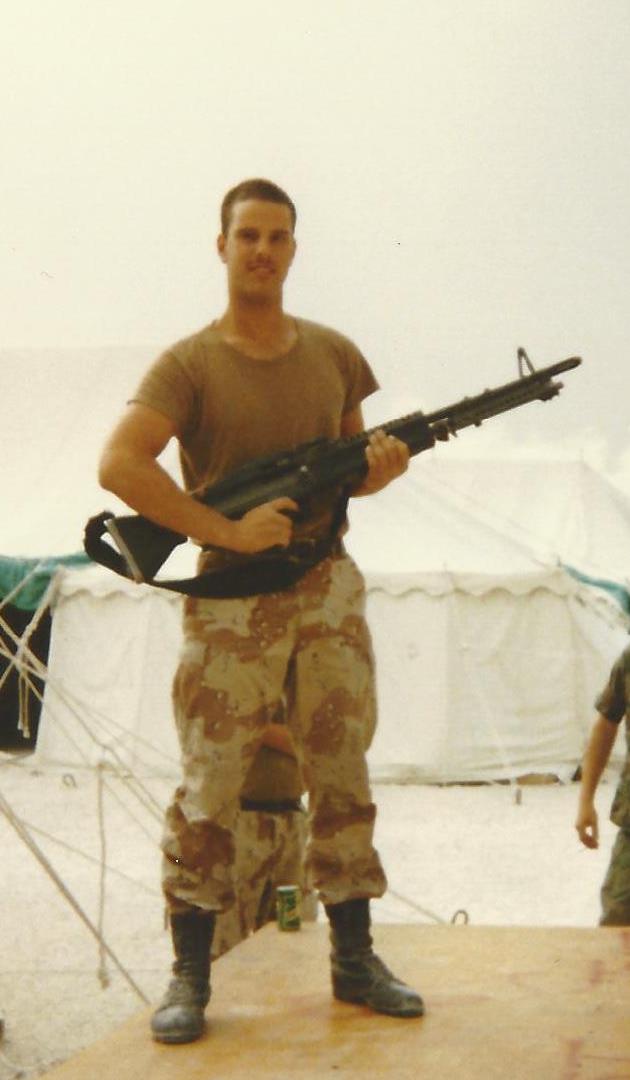 Rami Nassar at Logistical Base Charlie near the town of Rafha, Saudi Arabia, in 1991. Nassar's Army unit, the 62nd Transportation Company, was based seven miles from the Iraq border and provided support during Operation Desert Storm. Nassar is a life member of VFW Post 914 "Intrepid" in West Mifflin. (Submitted photo)
. . .
On Jan. 17, 1991 --- two days after the United Nations mandated deadline for the Iraqi army to withdraw from Kuwait --- coalition forces began an intensive air campaign against Saddam Hussein's half-million-strong army. Ground operations started Feb. 24 and ran through Feb. 27.

Nassar said he remembers this time as a blur.

"I was the new guy," said Nassar. "This was the first thing I did with the Army, so it was all new to me."

During Desert Storm, Logistical Base Charlie received rocket and artillery fire from the Iraqi army. According to Nassar, none of it hit near him.

For his actions during Desert Storm, Nassar was awarded the Army Achievement Medal and the Southwest Asia Service Medal. After the cease fire ended hostilities Feb. 28, 1991, Nassar spent another three months in Saudi Arabia before his unit rotated back to the United States. He stayed in the Army about six more years before coming back to the Mon Valley to go back to school and start a family.
. . .

After leaving the military in 1997, Nassar earned a bachelor's degree from Point Park University, and a master's degree from California University of Pennsylvania. He credits the Army for giving him the discipline to make this possible.

"I am really glad that I went into the Army when I did," Nassar said. "It straightened me out when I was headed down the wrong road --- fast."
. . .
Nearly 500 miles east of Logistical Base Charlie in January 1991, Marine Lance Cpl. Curcio was landing in the Saudi Arabian port city of Jubail. His reserve military police unit from Pittsburgh was attached to the 1st Marine Expeditionary Force, and tasked to provide port and airport security at Ras al Mishab --- 30 miles southeast of Kuwait --- as well as around Jubail.

Once the air campaign began Jan, 17, 1991, Curcio and his fellow Marines came under fire several times from Iraqi short-range Frog 7 missiles. Following ground war operations that began with Iraqi armored columns briefly capturing the nearby Saudi Arabian port city of Khafji, Curcio's unit helped process the increasing numbers of surrendering Iraqi prisoners of war.

According to Curio, more than 20,000 prisoners were handled by his unit at Kabrit, Saudi Arabia. These duties kept the Marines occupied throughout most of the land war and after the cease fire. Later at Mishab when Curcio was standing guard March 21, 1991, he witnessed one of the more tragic events of his deployment.

While attempting to land through a cloud of thick, black smoke caused by the hundreds of oil wells burning in Kuwait, a military transport carrying nearly 100 Senegalese soldiers and its Saudi Arabian crew crashed. Curcio was one of the first at the site, and helped get medical and other emergency personnel to the scene.

Curcio said the carnage caused by the crash was the worst thing he'd witnessed during the war. Of the six Coalition troops his unit helped pull alive from the aircraft's wreckage, only three eventually survived.
. . .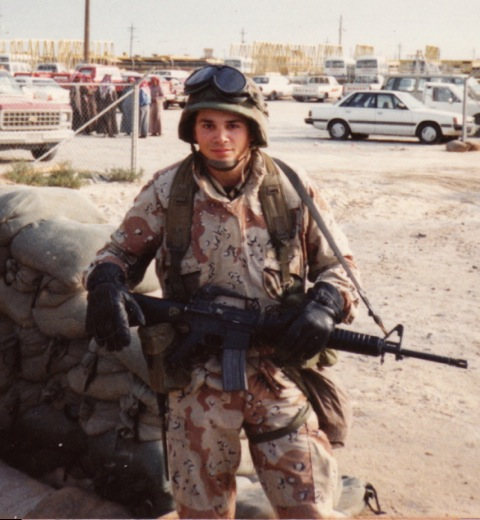 Ken Curcio during Operation Desert Storm in Saudi Arabia. Curcio's Marine unit came under short-range artillery rocket fire and provided support during the Battle of Khafji. Like Nassar, Curcio is a member of West Mifflin's VFW Post 914 and serves as post adjutant. (Submitted photo)
. . .

As the action in the Persian Gulf continued to wind down, Curcio's unit was assigned to military customs duty in Jubail. The Marines rotated back to Pittsburgh in May 1991.

Curcio fondly remembers when he came home.

"I am most proud of when I saw Vietnam vets carrying signs and thanking us," the Marine said. "I'll never forget that. I consider it a place of honor to have been able to help those vets with our victory."

Among the awards Curcio earned for his service are the Navy Unit Commendation, the Meritorious Unit Commendation and the Southwest Asia Service Medal. Like Nassar, he settled down in West Mifflin and started raising a family. He currently works as a fiber optic technician for a local broadcasting company.
. . .

In addition to their membership in the VFW, both Curcio and Nassar are active in other veterans' service organizations such as the Marine Corps League and the Disabled American Veterans. Each volunteers their time in assisting fellow veterans from all conflicts readjust back to civilian life.

"I have great pride in my service and have no regrets," Curcio said. "I do wish --- as many do --- that we would have finished Saddam at the time when we had the power to do it so others wouldn't have to go again and die later over it."

Nassar agrees with Curcio that Desert Storm's objectives should have included a regime change in Iraq.

"I am also glad that I did my time in the 90s, and got out," the former soldier said of his service. "I did not have to go through the current wars and everything that Iraq and Afghan vets have to deal with."

(Michael P. Mauer served as an Army photojournalist during Operation Desert Storm. He was awarded the Joint Service Commendation Medal by Gen. H. Norman Schwarzkopf for his actions during the war, and is a life member of VFW Post 914 Intrepid, West Mifflin.)
Originally published August 26, 2015.
In other news:
"Mifflin Road Re-Opens…" || "Mon-Yough Community-B…"