(Advertisement)
Tube City Community Media Inc. is seeking freelance writers to help cover city council, news and feature stories in McKeesport, Duquesne, White Oak and the neighboring communities. High school and college students seeking work experience are encouraged to apply; we are willing to work with students who need credit toward class assignments. Please send cover letter, resume, two writing samples and the name of a reference (an employer, supervisor, teacher, etc. -- not a relative) to tubecitytiger@gmail.com. (4-11-2023 to 4-30-2023)
To place your ad, email tubecitytiger@gmail.com.
Ads start at $1 per day, minimum seven days.
By Jason Togyer
The Tube City Almanac
July 20, 2019
Posted in: History

(This article originally appeared at Tube City Almanac on June 21, 2009.)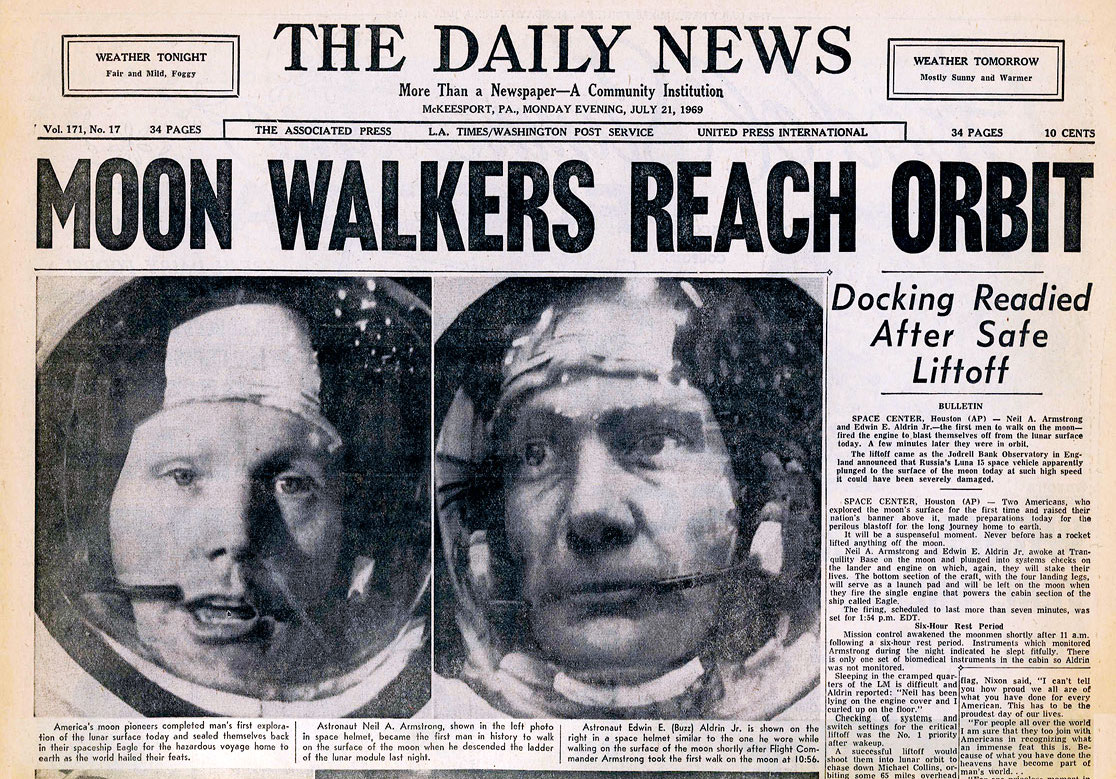 ---
From the tattered, dusty archives of Tube City Almanac, here's what the front page of the Daily News looked like 40 years ago this afternoon.

According to the News, a ceremony was held the previous night at Kennedy Memorial Park on Lysle Boulevard to mark the moon landing.

Speakers included the Rev. David Blattner of McKeesport Assembly of God Church, Mayor Albert Elko, Msgr. Michael Dravecky of Holy Trinity Church, Rev. Stephen Wood of Central Presbyterian Church, Rabbi Milton Turner of Tree of Life Synagogue and Rev. Frank Waters of Christ A.M.E. Church, who delivered the invocation.
---
At least a few of the local dignitaries quoted by the paper were expressing what would become a common theme in the coming years: "If we can put a man on the moon, why can't we do x?"

George Zdrale, acting mayor of Clairton, told the News: "Now that we know this can be achieved, I would hope more of our time and resources will be confined to the immediate and pressing problems at home."

His comments were echoed by Allegheny County Commission Chairman Leonard Staisey of Duquesne, who said, "we should now move to use our space experience and technology to meet the problems that face the people in our country --- housing, education, transit, the aged. We have the know-how --- all we need is the will to use it."

(With due respect to Commissioner Staisey, it's hard to see what space technology was going to do to solve the problems of transit, the homeless and elderly, unless he was thinking we could put the latter two groups onto a bus and shoot it into orbit.)
---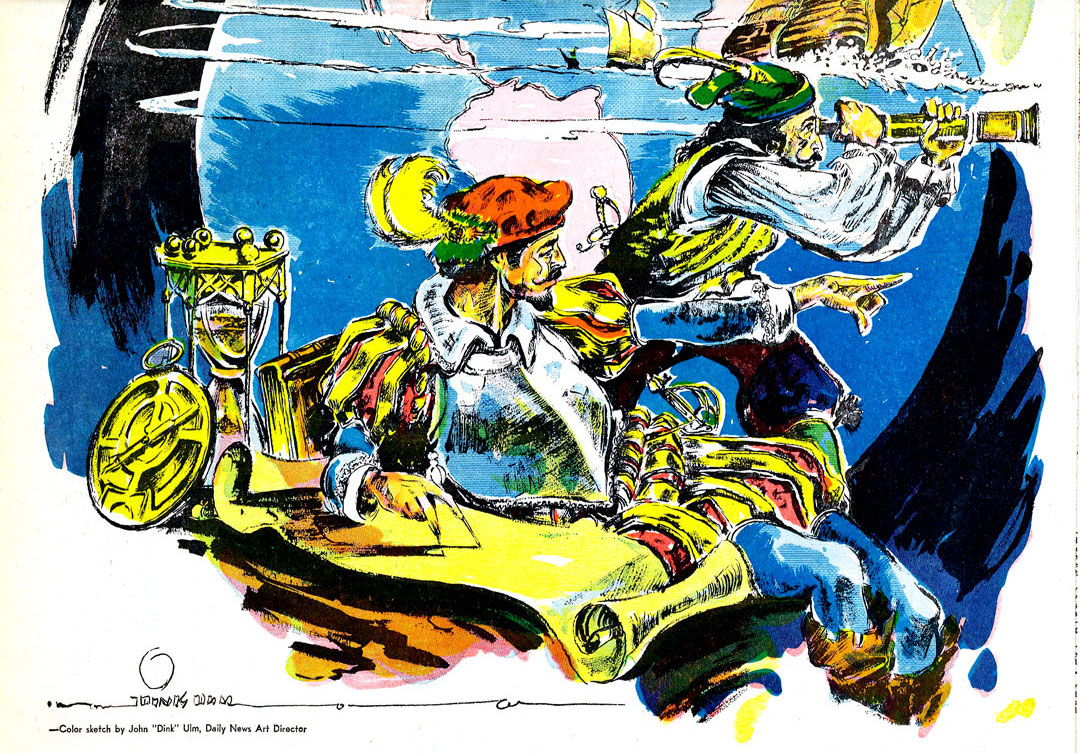 ---
This full-color illustration was on the front page of the second section. It's by the late, great John "Dink" Ulm, longtime illustrator and art editor of the Daily News, who died in July 1981.

(One of the great pleasures of growing up in the McKeesport area and getting the Daily News was getting to see Ulm's illustrations during holidays and special events.
---
In other news as reported by the News, city police charged a 39-year-old man in connection with a stabbing on Beech Street, Duquesne Mayor James Pucci was feuding with that city's police department, an 18-year-old from Elizabeth Twp. died in a car crash on Eden Park Boulevard, and North Huntingdon Twp. residents were holding a meeting to protest a proposed new Route 30 Bypass.

In national news, the "youthful new head" of the federal Office of Economic Opportunity, Donald Rumsfeld, was denying reports that the Nixon administration intended to dismantle the agency's programs, which were part of President Johnson's "War on Poverty." (Rumsfeld, you'll be surprised to learn, was lying, and the Nixon White House did close the OEO.)
---
In business news, G.C. Murphy Co. reported that net earnings for the first six months of 1969 were up 11.5 percent. Expansion plans for the coming year, reported the Daily News, "include the first of a series of free-standing Murphy's Marts" on a 12-acre tract of land in Harmar Twp.

U.S. Steel Corp. named Paul J. Wilhelm general foreman of the seamless hot mill at National Works. (Wilhelm eventually became president of U.S. Steel, serving until his death in 2001.)
---
There were bargains galore for people who had "Moon Day" off. Immel's Downtown and Eastland stores had Shaker Square dresses on sale for $5.50 (marked down from $8) while on the second floor of Cox's store at Walnut and Fifth, all women's bathing suits (regularly $13 to $35) were marked down to $8.90 to $19.90.

Bartolotta's Red and White Markets (Route 51 at Southland, 937 Ohio Ave. in Glassport, Olympia Shopping Center and Duquesne Plaza) had ground chuck on sale for 69 cents per pound, and Galen & Jones Plymouth at 325 Ninth Ave. had a brand new Plymouth Satellite sedan "fully equipped" with 318 cubic inch V-8, AM radio, TorqueFlite automatic transmission and vinyl top, for $2,930.

. . .

And in sports, "rookie Steeler coach" Chuck Noll was opening his first training camp at St. Vincent College in Latrobe.

"The road ahead appears to be a rocky one for the personable first-year Steeler coach, who came to Rooney U. from the NFL champions Baltimore Colts with a reputation as a defensive expert," the News reported. "Noll will need all the defensive knowledge he has with the Steelers, who allowed the most points last season, 397."
---
Jason Togyer is volunteer executive director of Tube City Community Media Inc. and editor of Tube City Almanac. He may be reached at jtogyer@gmail.com.
Originally published July 20, 2019.
In other news:
"Nominations Open for …" || "Mon-Yough Area Finds …"