To place your ad, email tubecitytiger@gmail.com. Ads start at $1 per day, minimum seven days.
By Submitted Report
The Tube City Almanac
October 09, 2015
Posted in: Announcements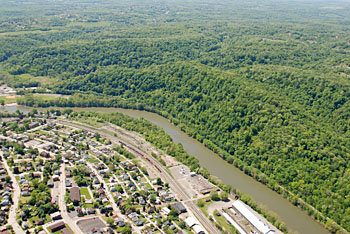 Some trails open while other ones are closing. Dead Man's Hollow Conservation Area, located off Scene Ridge Road in Liberty Borough, will hold a trail open house and volunteer event from 10 a.m. to 12:30 p.m. Saturday (Oct. 10).
Visitors are invited to hike the first completed stretch of the Cool Spirit Trail, which features sweeping switchbacks, a new bridge at a waterfall crossing and a great opportunity to enjoy fall foliage, a spokesman said.
Participants will learn why some trails are more sustainable than others as they help close off some older, steep sections of the trail and spruce up the Catfish Pond and the surrounding area before winter comes.
Visitors should wear long pants and sturdy work shoes. Pizza will be provided for lunch.
The event is sponsored by the Allegheny Land Trust and the Dead Man's Hollow Conservation Area.
Coming up on Oct. 23 from 6:30 to 9 p.m., visitors are invited to take a Halloween season "night hike" through the supposedly haunted industrial ruins of Dead Man's Hollow.
(Photo courtesy Allegheny Land Trust)
Originally published October 09, 2015.
In other news:
"WMCK.FM Becomes McKee…" || "Clairton, School Dist…"