(Advertisement)
Tube City Community Media Inc. is seeking freelance writers to help cover city council, news and feature stories in McKeesport, Duquesne, White Oak and the neighboring communities. High school and college students seeking work experience are encouraged to apply; we are willing to work with students who need credit toward class assignments. Please send cover letter, resume, two writing samples and the name of a reference (an employer, supervisor, teacher, etc. -- not a relative) to tubecitytiger@gmail.com. (4-11-2023 to 4-30-2023)
To place your ad, email tubecitytiger@gmail.com.
Ads start at $1 per day, minimum seven days.
• Mayor confident service will improve when new company learns routes
• Glitches also reported in NHT
By Jason Togyer
The Tube City Almanac
January 10, 2020
Posted in: McKeesport and Region News

CORRECTION: Edited to clarify that recycling will be collected every other week, on the same day as trash pickup. The next recycling pickups are during the week of Jan. 20. We apologize for the error.
---
McKeesport homeowners will be going back to their old trash pickup days, beginning Monday.
After one week, the city's new trash collection company, County Hauling of Rostraver Twp., has scrapped its attempt to pickup all of the households in two days and will revert to the schedule used by the previous garbage hauler, McKeesport Mayor Michael Cherepko said.
The change comes after a week in which many McKeesport residents complained that their trash and recycling were collected late or not at all. Others expressed confusion over the new schedules.
County Hauling also began collecting trash in North Huntingdon Twp. this week, and according to the Tribune-Review, it's facing complaints there as well.
"We had a significant amount of issues as we worked through the logistics of garbage and recycling pickup with our new haulers this week," Cherepko said. "County Hauling has been very responsive in resolving problems with the new routes, including missed pickups, but the decision was made to return McKeesport to the schedule our residents are used to."
Cherepko said the city has had similar "bumps in the road" when switching trash collection companies before due to McKeesport's geography, especially in neighborhoods where residents put their garbage out for collection in the alleys behind their homes.

Until Dec. 31, residential garbage was being collected under contract by Big's Sanitation, also of Rostraver, and was previously collected by Nickolich Sanitation of Clairton.

In 2019, the city was preparing to begin collecting garbage with its own employees — going so far as to purchase trash trucks — but the global collapse of the recycling market led McKeesport officials to bid out collection again in a so-called "reverse auction." County Hauling was the lowest bidder.

The company also won a trash collection contract in North Huntingdon Twp., where it replaced Waste Management.

Township Manager Jeff Silka told the Tribune-Review the switch "has gone a lot harder" than expected and asked residents to be patient.

A County Hauling spokeswoman told the Tribune-Review the company believes the problems will drop dramatically as drivers learn the new routes.

The mayor said the city has been in "constant communication with the company's ownership and management." Cherepko said he believes County Hauling will be able to provide "an excellent service" once the issues are resolved.
County Hauling will be picking up recycling every two weeks, city officials said.
The next recycling pickup is the week of Jan. 20. Recycling is picked up every other week, the same day as trash is collected.
A recycling calendar is available on the city's website (PDF).
The day-by-day trash collection schedule provided by the city is posted below: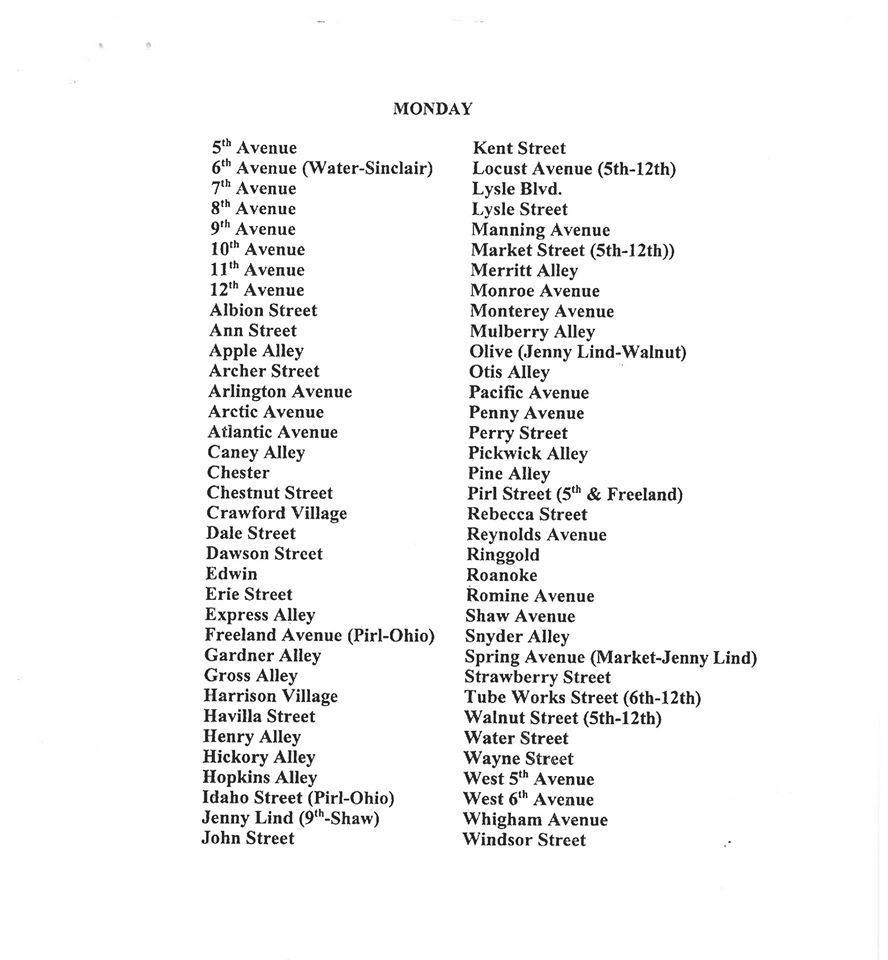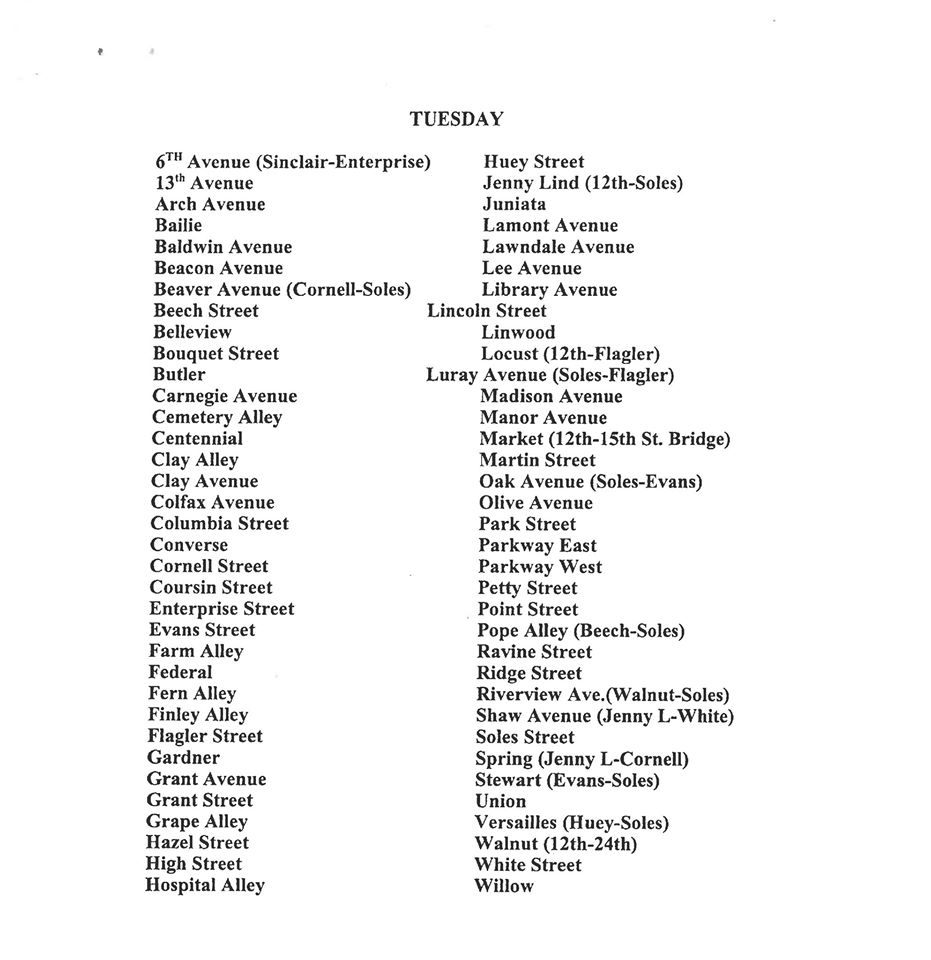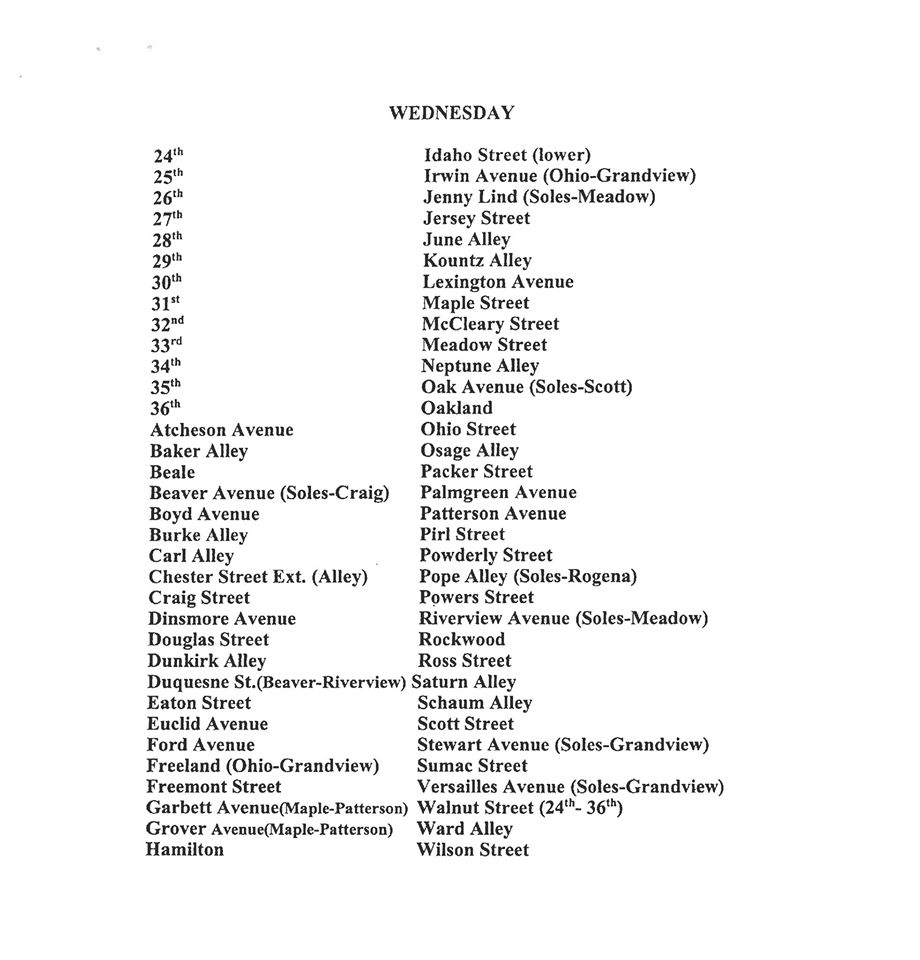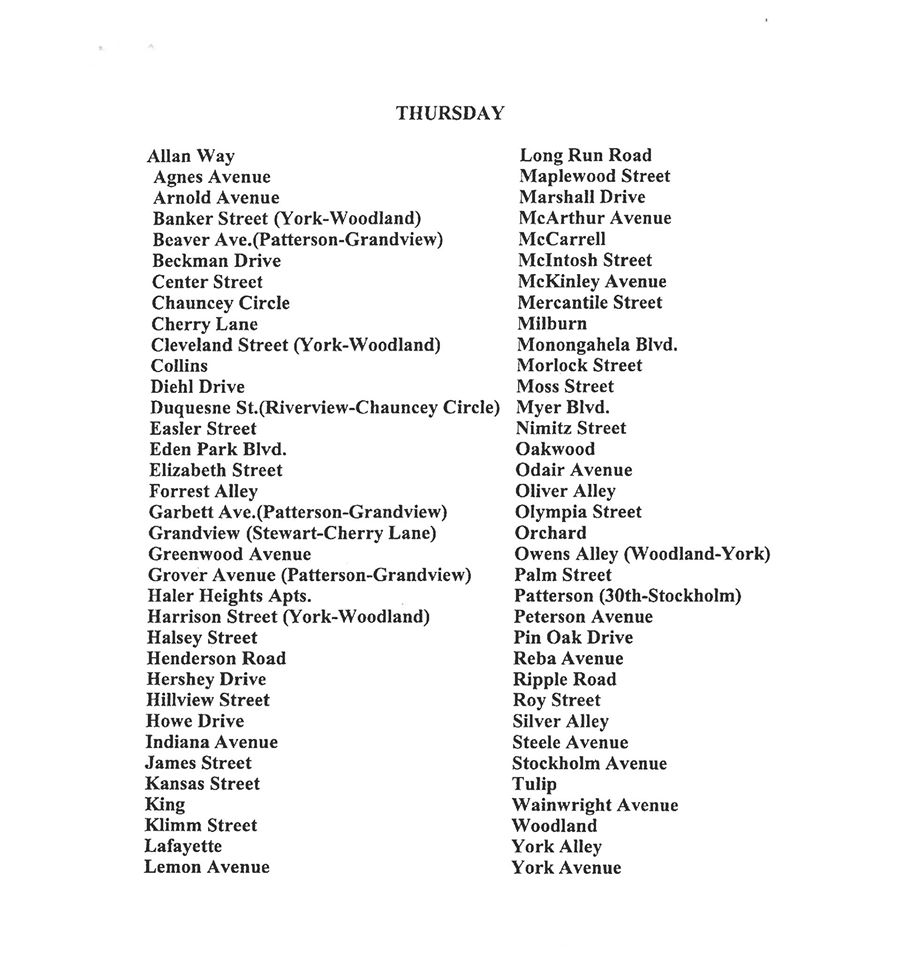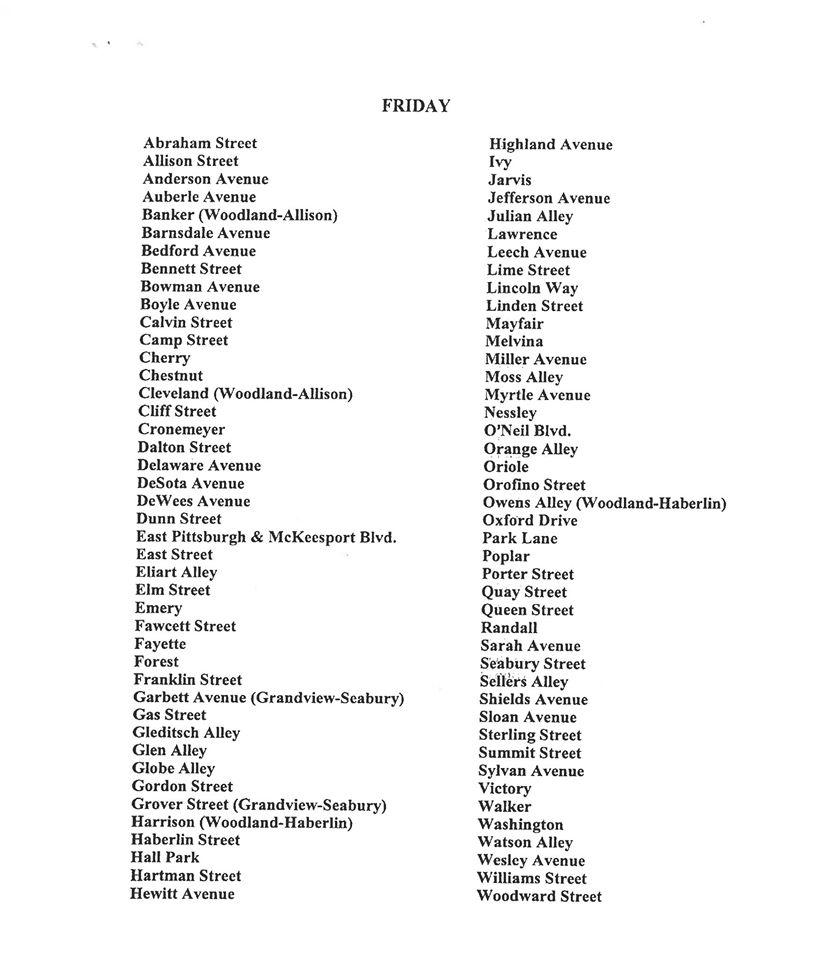 The mayor's office said questions and comments may be directed to County Hauling at (724) 929-7694. That number also should be used by residents whose homes were missed this week.
McKeesport residents also may contact the mayor's office at (412) 675-5020, ext. 605, or the public works department at ext. 631.
---
Jason Togyer is editor of The Tube City Almanac and volunteer executive director of Tube City Community Media Inc. He may be reached at jtogyer@gmail.com.
Originally published January 10, 2020.
In other news:
"Celebrity Basketball …" || "SWAT Raids Duquesne H…"