(Advertisement)
Tube City Community Media Inc. is seeking freelance writers to help cover city council, news and feature stories in McKeesport, Duquesne, White Oak and the neighboring communities. High school and college students seeking work experience are encouraged to apply; we are willing to work with students who need credit toward class assignments. Please send cover letter, resume, two writing samples and the name of a reference (an employer, supervisor, teacher, etc. -- not a relative) to tubecitytiger@gmail.com. (4-11-2023 to 4-30-2023)
To place your ad, email tubecitytiger@gmail.com.
Ads start at $1 per day, minimum seven days.
By Staff Reports
The Tube City Almanac
January 15, 2020
Posted in: McKeesport and Region News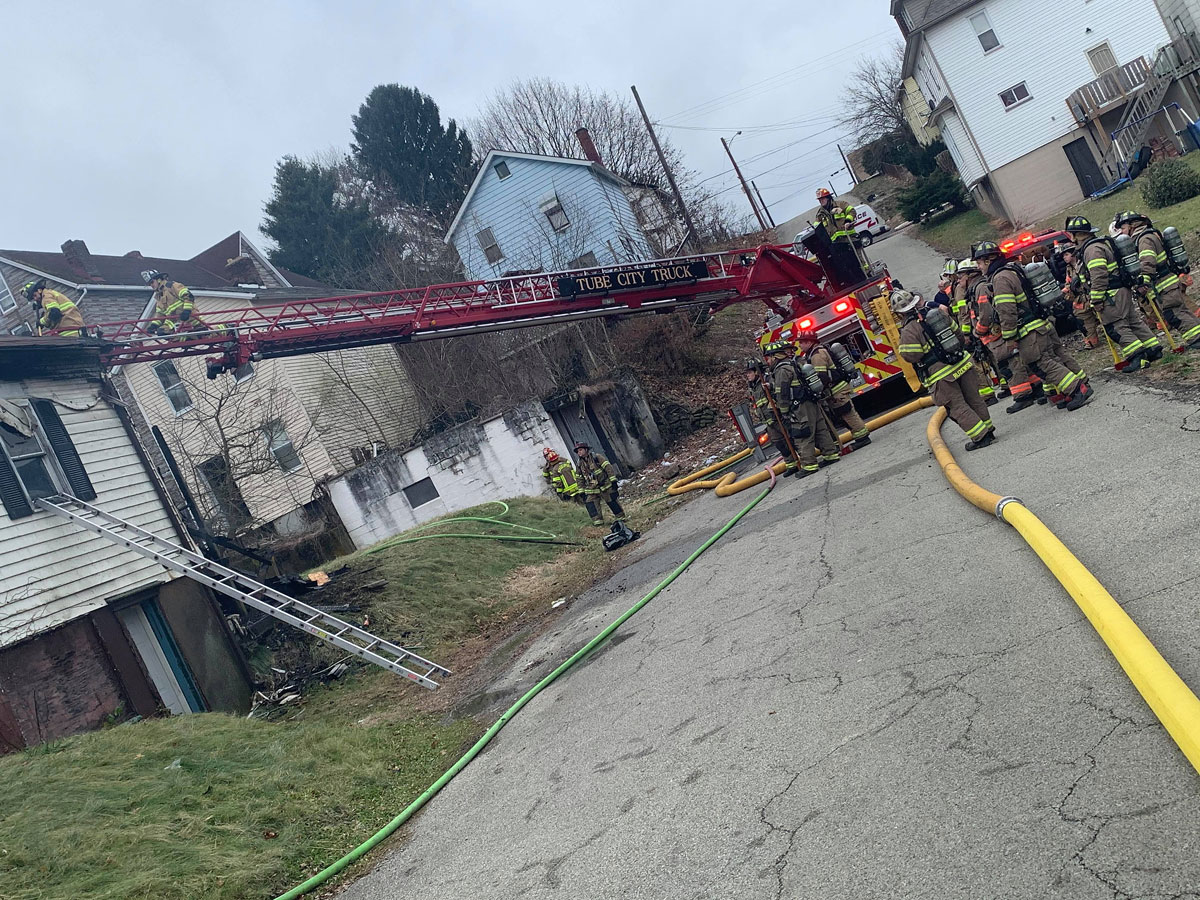 The cause of this fire Tuesday afternoon in the 1800 block of Evans Avenue remains under investigation, a fire official said. (Photo courtesy McKeesport Fire Department)
---
One man was displaced when fire damaged his Evans Avenue home on Tuesday afternoon.
McKeesport fire Chief Jeff Tomovcsik said crews were dispatched at 12:09 p.m. after callers reported smoke and flames coming from the rear of a single-story house at the corner of Evans Avenue and Grant Street.
When police and firefighters arrived, they found the back porch of the house fully engulfed in fire, he said.
A second alarm was sounded and additional fire crews from Allegheny County Airport, Glassport, Liberty Borough, Vigilant Hose (Port Vue) and White Oak No. 1 responded to the scene, Tomovcsik said.
The blaze extended into the home but was brought under control in about 20 minutes, Tomovcsik said. The cause of the fire is still unknown and the Allegheny County fire marshal's office is investigating, he said.
No injuries were reported and no surrounding structures suffered fire damage.
The displaced resident was reportedly home at the time of the fire but got out safely, Tomovcsik said. The man is staying with family members and the Salvation Army was asked to assist, he said.
Dravosburg No. 1 firefighters were on standby at the city's Downtown station and Rainbow firefighters on standby at Renziehausen Park. McKeesport Ambulance Rescue Service responded to the scene.
Originally published January 15, 2020.
In other news:
"U.S. Steel Promises t…" || "Penn State Students G…"