(Advertisement)
Tube City Community Media Inc. is seeking freelance writers to help cover city council, news and feature stories in McKeesport, Duquesne, White Oak and the neighboring communities. High school and college students seeking work experience are encouraged to apply; we are willing to work with students who need credit toward class assignments. Please send cover letter, resume, two writing samples and the name of a reference (an employer, supervisor, teacher, etc. -- not a relative) to tubecitytiger@gmail.com. (4-11-2023 to 4-30-2023)
To place your ad, email tubecitytiger@gmail.com.
Ads start at $1 per day, minimum seven days.
Free sessions to be held at Duquesne training center
By Submitted Report
The Tube City Almanac
January 21, 2020
Posted in: Announcements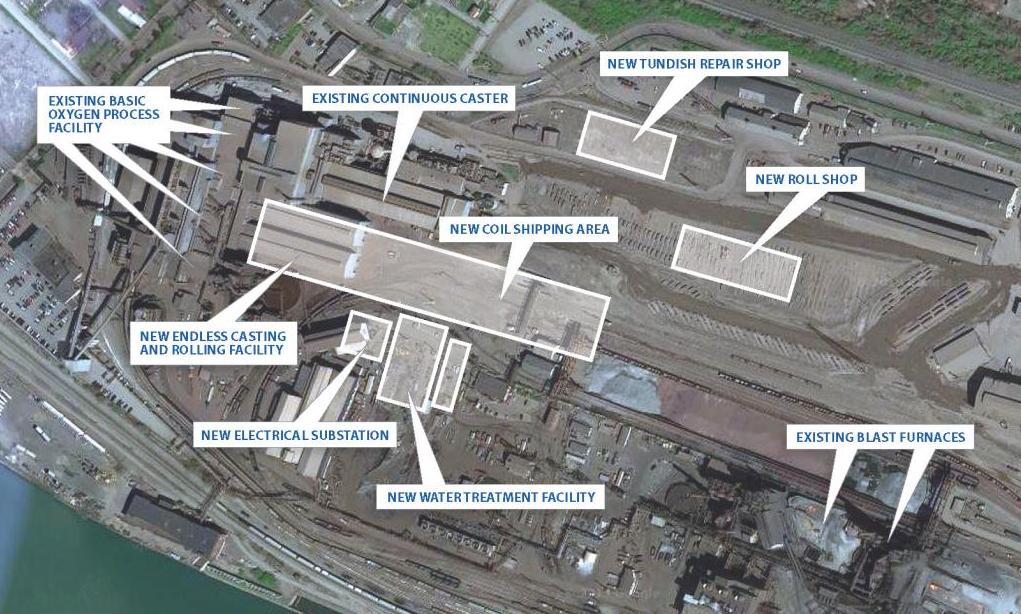 Aerial view of U.S. Steel's Edgar Thomson Plant shows proposed expansion of facility. (Courtesy U.S. Steel)
---
The public is being invited to attend one of two free community education sessions being held by U.S. Steel as the corporation prepares to invest approximately $1.2 billion in upgrades to its facilities in Braddock, Clairton and West Mifflin.
The sessions will be held at 6 p.m. Jan. 28 and 29 at U.S. Steel's training facility at 1 S. Linden St., Duquesne, in the RIDC industrial park, and will last about one and a half hours.
Both sessions will have identical content, the company said in an prepared announcement.
Bus transportation will be available to and from Duquesne from Braddock and Clairton. The buses will depart Clairton Municipal Building, 551 Ravensburg Blvd., at 5:15 p.m., and Braddock Borough Building, 415 Sixth St., at 5:30 p.m.
Last year, U.S. Steel announced plans to construct a so-called "endless caster" at its Edgar Thomson Plant in Braddock and North Braddock. The technology would allow the company to go directly from raw material to finished steel ready for shipment to industrial customers.
Currently, raw steel slabs from Edgar Thomson are shipped to Irvin Plant in West Mifflin for finishing.
Concurrently, U.S. Steel has proposed a new finishing line at Irvin Plant, as well as a co-generation facility at Clairton Plant. The co-generation facility would capture some of the coke gas produced at the Clairton Plant and use it to generate electricity.
Besides making U.S. Steel's Mon Valley facilities more energy efficient, the corporation has said emissions from Clairton Plant also will be reduced, with possible reductions of particulate matter by 60 percent, sulfur dioxide by 50 percent and nitrogen oxide by 80 percent.
Originally published January 21, 2020.
In other news:
"Penn State Students G…" || "Fire Defense Council …"