(Advertisement)
Tube City Community Media Inc. is seeking freelance writers to help cover city council, news and feature stories in McKeesport, Duquesne, White Oak and the neighboring communities. High school and college students seeking work experience are encouraged to apply; we are willing to work with students who need credit toward class assignments. Please send cover letter, resume, two writing samples and the name of a reference (an employer, supervisor, teacher, etc. -- not a relative) to tubecitytiger@gmail.com. (4-11-2023 to 4-30-2023)
To place your ad, email tubecitytiger@gmail.com.
Ads start at $1 per day, minimum seven days.
Rodgers honored with 'McKeesport Message' award by mayor, council
By Nick Zurawsky
The Tube City Almanac
February 12, 2020
Posted in: McKeesport and Region News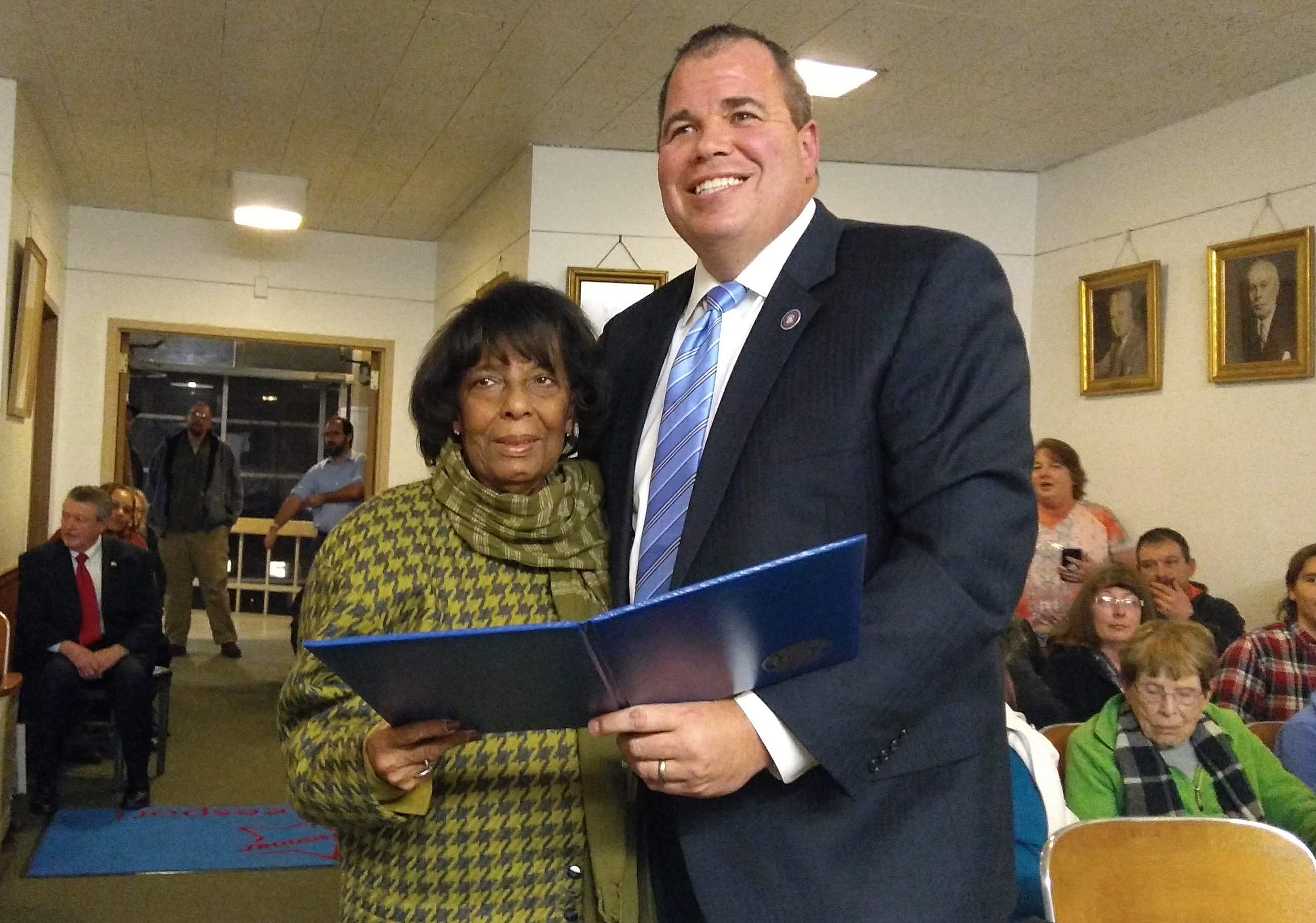 JoAnne Rodgers, longtime school nurse in McKeesport Area School District, receives her "Living the Message" award from McKeesport Mayor Michael Cherepko. (Tube City Almanac photo)
---
---
When JoAnne Rodgers was growing up in McKeesport, her family instilled in her the value of hard work and a college education. But in those days, she said, there were really only two career pathways available to a young Black woman — nursing and teaching.

Inspired by the example of an aunt in Tuskegee, Ala., who worked as a nurse — and was willing to help pay for her education — Rodgers entered nursing school.

In 1971, she became the first Black school nurse hired by the McKeesport Area School District. At 82, she's still on the job at McKeesport Area High School.
This month at McKeesport City Council, Rodgers was honored with a "Living the Message" award from McKeesport Mayor Michael Cherepko for upholding the value of "Dignity" by "providing a healing and helping hand to the community."
Rodgers studied at the Freedman's Hospital School of Nursing at Howard University in Washington, D.C., and at Penn State University before becoming a nurse for the Allegheny County Health Department.
Rodgers began working as a McKeesport school nurse at the old Highland Grove Elementary School and remembers fondly how children would point her out to their parents and eagerly exclaim, "That's my nurse!"
But the path to getting hired into a school district in the early 1970s wasn't easy, Rodgers said. Before interviewing in McKeesport Area, she had interviewed at South Allegheny School District.
"I knew I wasn't going to get it, because the principal didn't even offer to shake my hand," she said.
Former McKeesport school board president and local physician Dr. Clifford Bryce became Rodgers' advocate, urging the board to hire Rodgers when she interviewed for the position of a previous school nurse who had retired.
Besides her work at the school district, Rodgers is active in many community organizations. She is a member of the Mon River Fleet Lions Club, the Semper Fidelis Club of McKeesport, the McKeesport College Club and is a member of the board of directors of the McKeesport Regional History and Heritage Center, where she is currently on the committee planning the center's 40th anniversary celebration.
Rodgers is also a member of the Partnership for Minority HIV/AIDS Prevention and the McKeesport unit of the NAACP.
In her spare time, Rodgers loves to travel and has been around the world. She has traveled to almost every state in America and across Europe, and lived on Crete for two years while serving as a nurse on a military base.
Besides treating generations of McKeesport Area students, Rodgers has raised her own children, who are now living up and down the East Coast. Her son, Shawne Rodgers, runs his own environmental science business, while her daughters followed in her footsteps and now work in health care — Kelli Rodgers is in pharmaceutical sales and Lauren Rodgers is in obstetrics gynecology.
As a school nurse, she urges young people to focus on their physical health now to prevent medical problems when they are older.
But Rodgers said her primary message to her own children and to students has always been the same: "Education is the most important thing, every day should be a learning experience."
---
Nick Zurawsky is a freelance writer in Pittsburgh. This is his first byline for Tube City Almanac. He may be reached at nickzurawsky@gmail.com.
Originally published February 12, 2020.
In other news:
"Employee Urges EA Boa…" || "City Honors Five for …"