(Advertisement)
Tube City Community Media Inc. is seeking freelance writers to help cover city council, news and feature stories in McKeesport, Duquesne, White Oak and the neighboring communities. High school and college students seeking work experience are encouraged to apply; we are willing to work with students who need credit toward class assignments. Please send cover letter, resume, two writing samples and the name of a reference (an employer, supervisor, teacher, etc. -- not a relative) to tubecitytiger@gmail.com. (4-11-2023 to 4-30-2023)
To place your ad, email tubecitytiger@gmail.com.
Ads start at $1 per day, minimum seven days.
'Fifth Avenue' will bring back memories of McKeesport's business district
By Emily Pidgeon
The Tube City Almanac
February 17, 2020
Posted in: McKeesport and Region News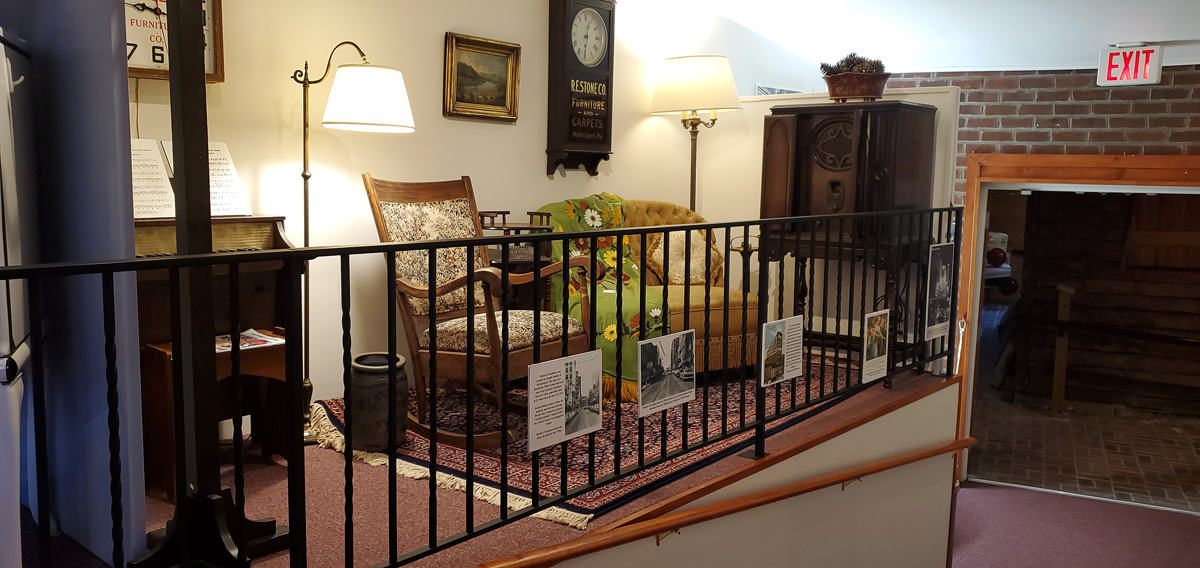 (Emily Pidgeon photo for Tube City Almanac)
If you go...

Fifth Avenue: McKeesport's Thriving Business District

Where: McKeesport Regional History & Heritage Center, 1832 Arboretum Drive, Renziehausen Park

When: 10 a.m. to 4 p.m. Tuesday to Friday; 9 a.m. to 3 p.m. Saturday

More Information: Website
A new exhibit at McKeesport Regional History & Heritage Center will take many local residents back in time — and bring a smile to their faces.
"Fifth Avenue: McKeesport's Thriving Business District" incorporates wooden fruit stands from Balsamo's, Daily News canvas delivery sacks, period clothing and the jukebox from the Penn-McKee Hotel.
Possibly the most amazing thing about the exhibit is not just the attention to detail, the perfectly selected artifacts, the preserved memorabilia or the amount of time that was put into this project — it's that David Moore, museum manager, and a group of volunteers were able to put the entire exhibit together (aside from a few small items) from what they already had in stock.
The center reused artifacts that the museum had in storage for years, Moore said. Most of the items on display were donated decades ago and have been collecting dust in store rooms.
"We wanted to put it all together to tell a cohesive story," Moore said. "A lot of this stuff was on display and then packed away for 20 (or) 30 years ago, God knows how long, and it's like, let's get these pieces out."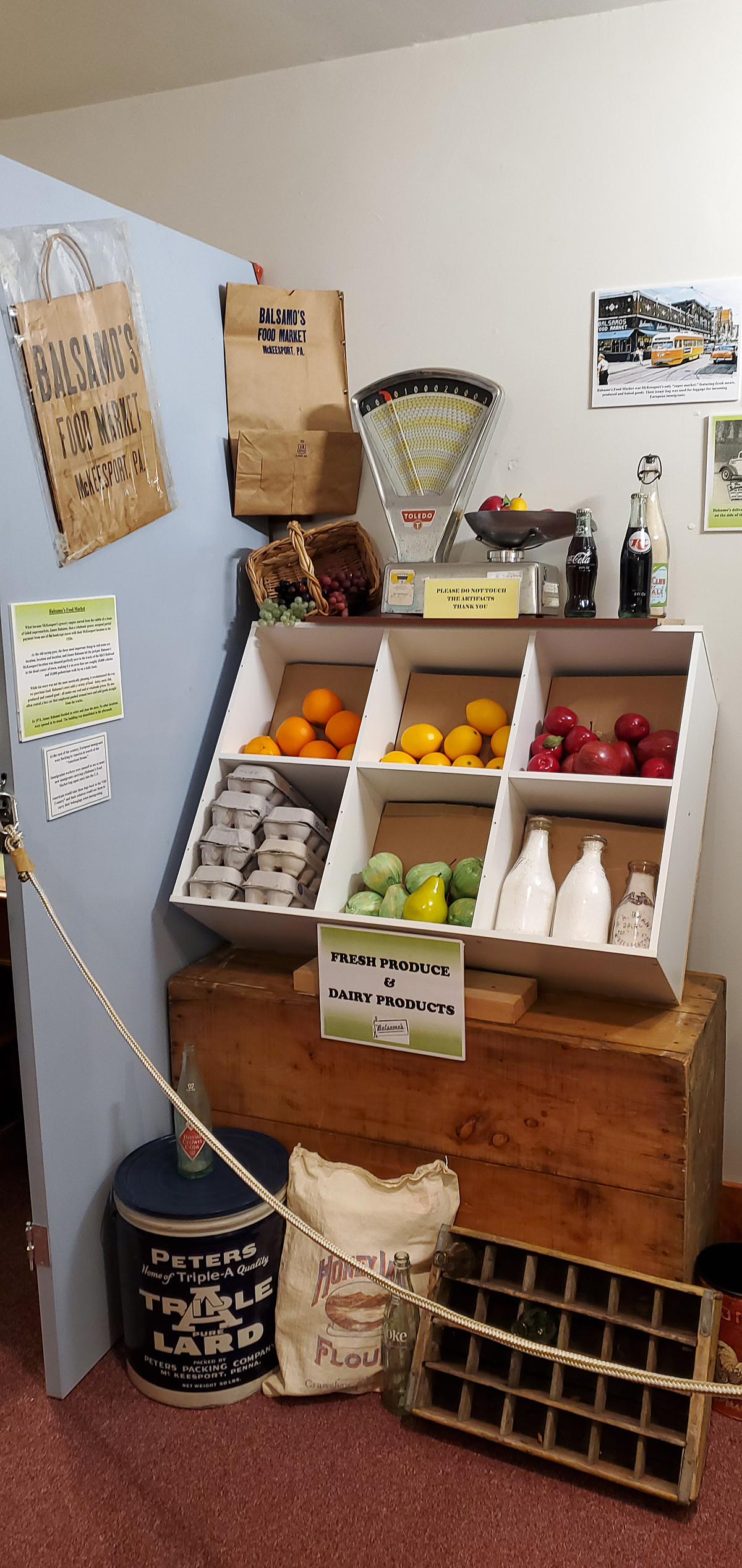 (Emily Pidgeon photo for Tube City Almanac)
The great attention to detail that Moore and his group of volunteers poured into the exhibit are apparent. Menzie Dairy milk crates are stacked near brown paper sacks with the words "Balsamo's Food Market, McKeesport, Pa," that hang on the wall near photographs depicting the exterior of the market in its heyday.
Each section of the exhibit pays homage to a particular business (and its patrons) of McKeesport's past. Moore also included signage that would have hung inside or promoted the businesses he's highlighted.
Cox's and Immels shopping bags are surrounded by clothing that could have been purchased from those stores in the 1940s, '50s and '60s. A large wooden sign from Rubinstein's shoes and measuring tools for finding your shoe size are also on display.

In addition to the businesses, Moore wanted to celebrate the townspeople by adding sections of the exhibit depicting what family life would have looked like during that time, because families also lived in the Downtown retail district.
Extraordinary period pieces adorn the walkway such as furniture, clothing, cookware, home goods, decor and even a piano.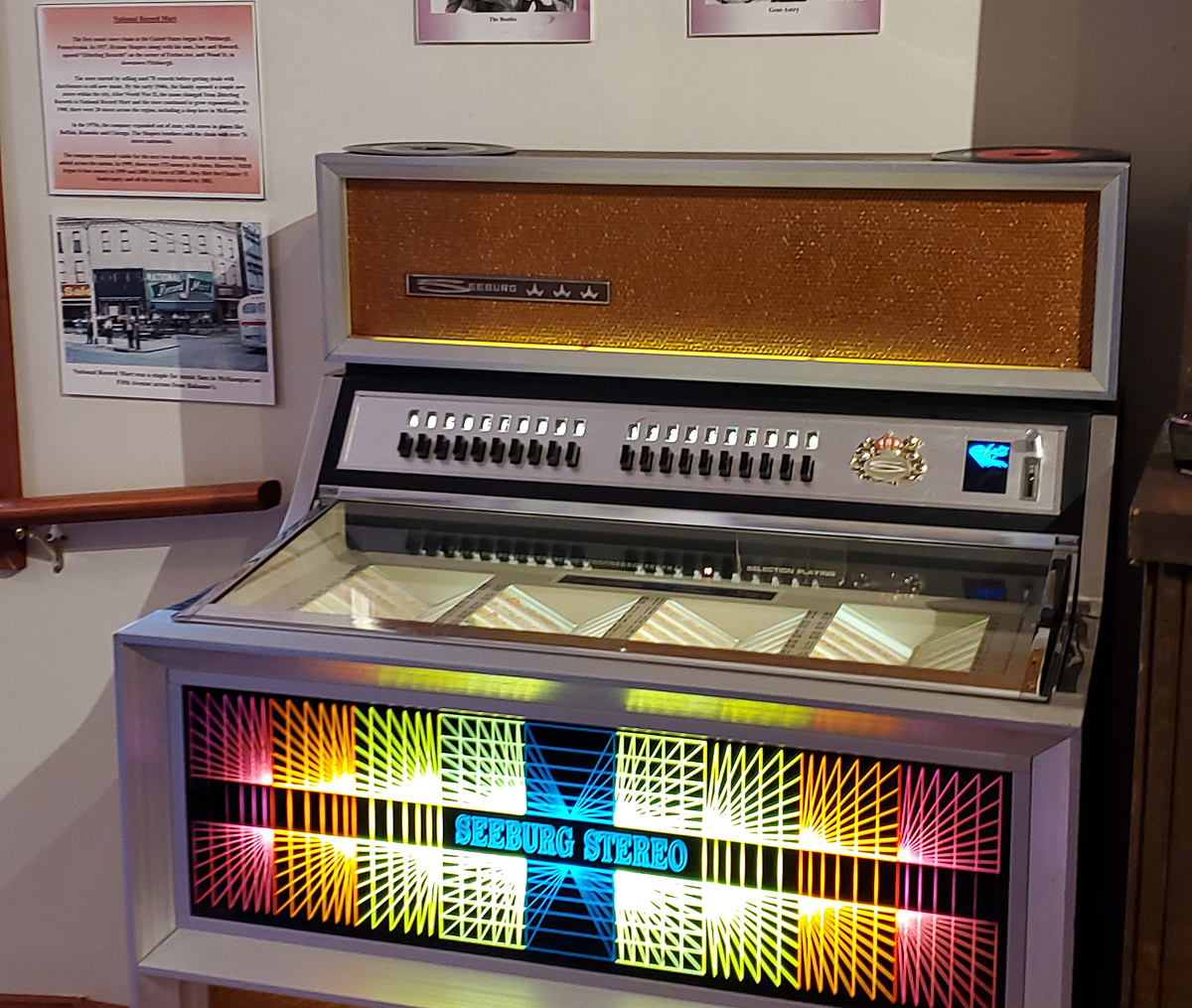 (Emily Pidgeon photo for Tube City Almanac)

In the center of the exhibit, alongside a counter from the Penn-McKee Hotel stands a jukebox that was under the same roof. Elvis Presley, The Vogues, Willie Nelson and The Beatles vinyl records hang above it, showing the time period of the music in connection with the hotel.
Moore finished the exhibit in true milltown fashion: "You know, people gotta eat, people go to the bar, so we recreated a bar scene. We have some of the old menus from our collection on display, pictures, showing the history."
Tube City Brewing signs, bar glasses, beer bottles and even an antique cash register sit atop a wooden bartop in what could have been a crowded bar circa 1950.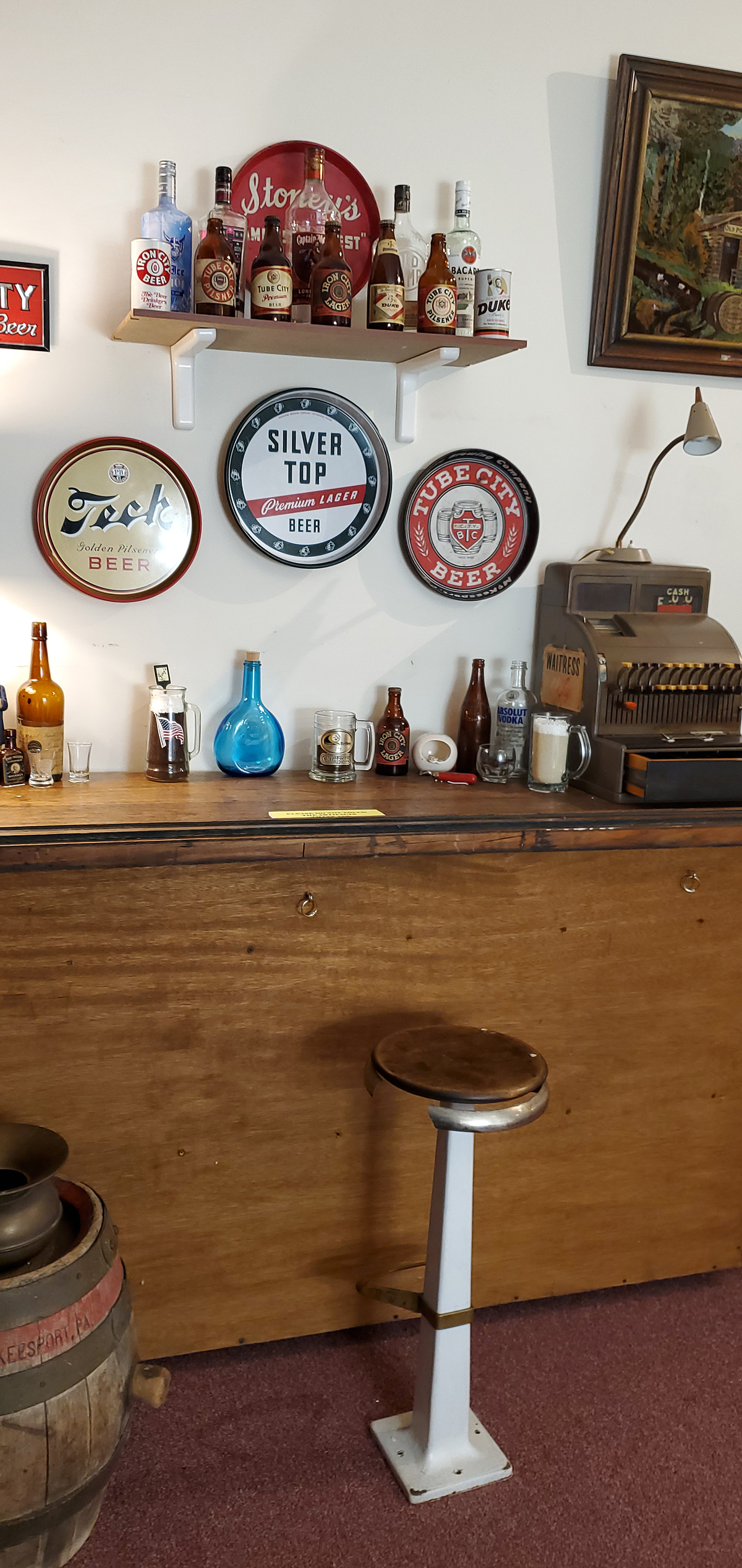 (Emily Pidgeon photo for Tube City Almanac)
One part of the exhibit is highly interactive: Moore wanted to add an element of fun to the exhibit, so visitors will also see a group of landscapes by local artist Jeff Madden, hanging together in a group along the wall on the right.
Each landscape is numbered, and when looking at each image, visitors are supposed to find "Overcoat Sam," a fixture in McKeesport in the 1950s and '60s.
"We thought it would be cool for everybody to walk down and try and see if they could find Sam in some of the pictures," Moore says. "In some of these, he's real easy. But then, you know, in other ones he's real difficult to find.
"It really was a good way to get these prints back out on display. It's a good thing for kids."
---
Emily Pidgeon is a freelance writer from McKeesport. She may be reached at emily.pidgeon87@gmail.com.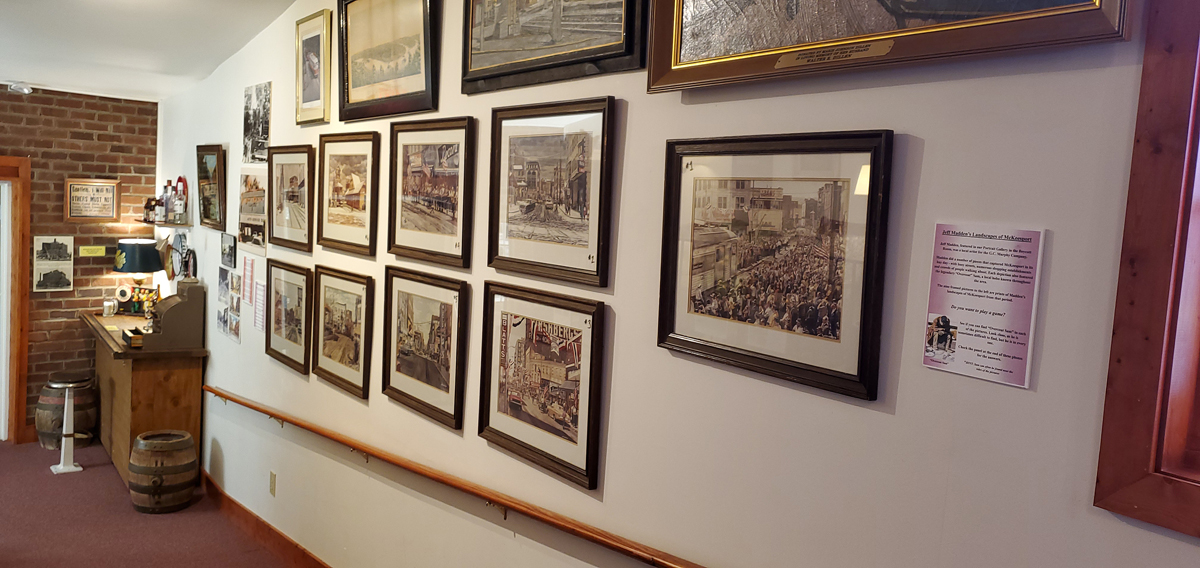 (Emily Pidgeon photo for Tube City Almanac)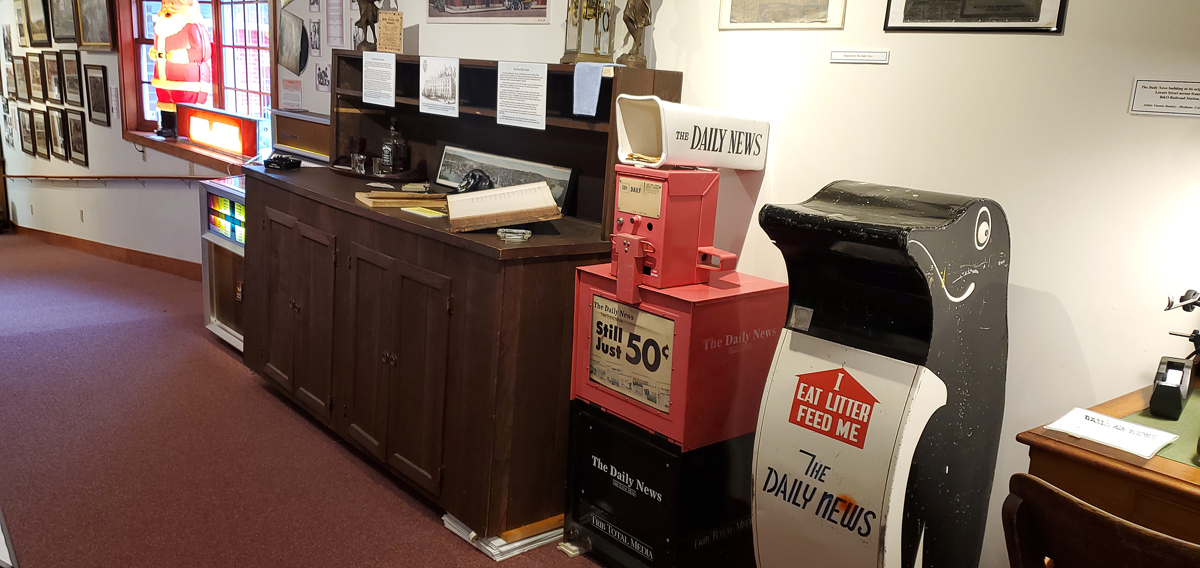 (Emily Pidgeon photo for Tube City Almanac)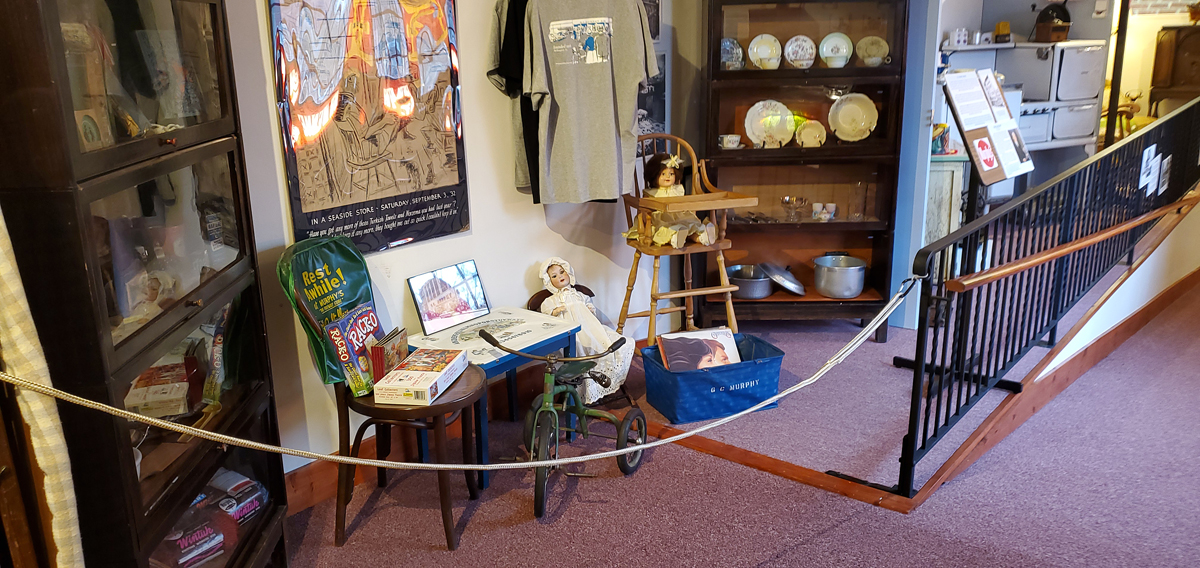 (Emily Pidgeon photo for Tube City Almanac)
Originally published February 17, 2020.
In other news:
"City Honors Five for …" || "Tow Truck Driver Kill…"