(Advertisement)
Tube City Community Media Inc. is seeking freelance writers to help cover city council, news and feature stories in McKeesport, Duquesne, White Oak and the neighboring communities. High school and college students seeking work experience are encouraged to apply; we are willing to work with students who need credit toward class assignments. Please send cover letter, resume, two writing samples and the name of a reference (an employer, supervisor, teacher, etc. -- not a relative) to tubecitytiger@gmail.com. (4-11-2023 to 4-30-2023)
To place your ad, email tubecitytiger@gmail.com.
Ads start at $1 per day, minimum seven days.
Pandemic prompts communities to close playgrounds, cancel meetings
By Jason Togyer
The Tube City Almanac
March 30, 2020
Posted in: Duquesne News, McKeesport and Region News, White Oak News

CORRECTION: McKeesport city officials said the public is being asked not to attend Wednesday's council meeting for social distancing reasons. We apologize for the error.
This story was edited after publication.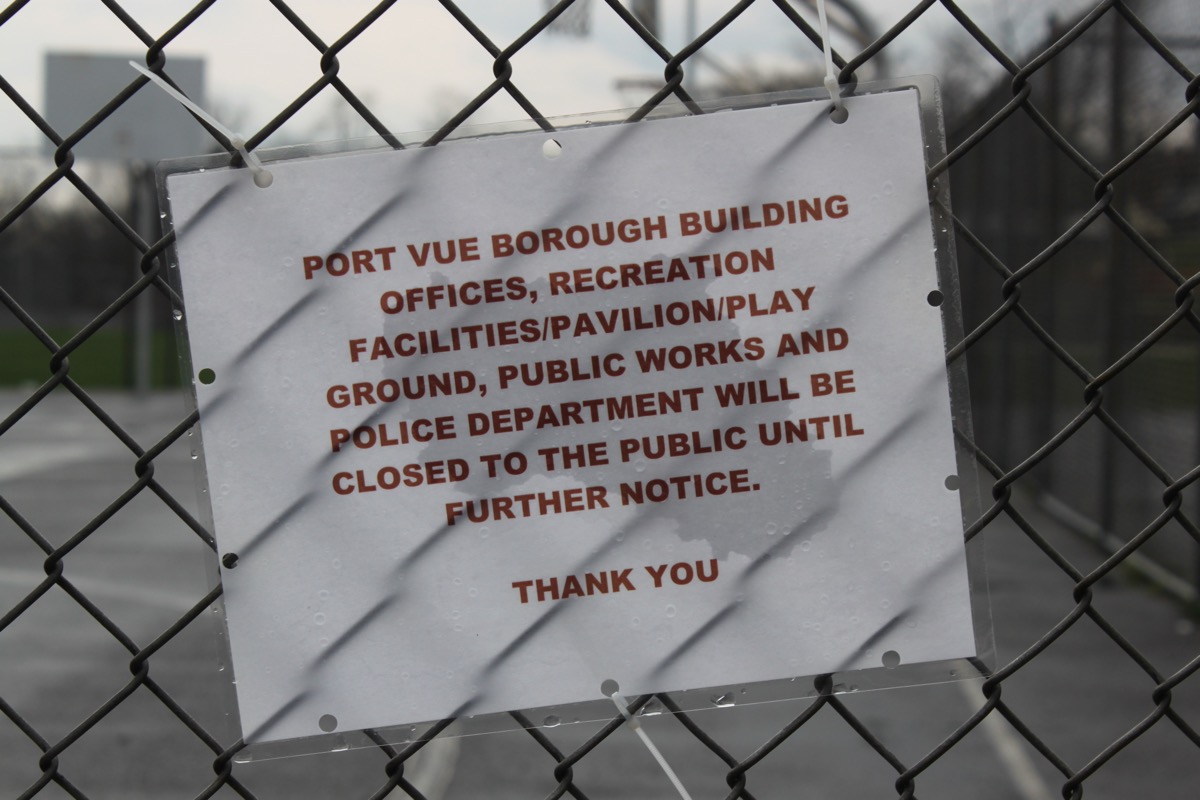 Port Vue (above), North Huntingdon Twp. and White Oak are among local municipalities that have closed playgrounds as well as basketball and tennis courts to discourage groups from congregating. (Tube City Almanac photo)
---
Although playgrounds are closed and police have been needed for traffic control outside of crowded banks and supermarkets, life during the coronavirus pandemic is continuing in Mon-Yough communities.
But shutdowns, closures and restrictions are expected to remain a fact of life continue well into the spring, and possibly the summer.
Some communities are canceling municipal meetings, while others are moving them online and inviting the public to participate.
On Monday, Allegheny County officials announced that the number of confirmed cases of COVID-19 is doubling every three days. There are now 290 cases and 38 people currently hospitalized, county officials said.
There were 158 confirmed cases on Friday.
---
Statewide, there are 4,087 confirmed cases in 59 of the state's 67 counties, and there have been 48 deaths. Gov. Tom Wolf said Monday that Pennsylvania's K-12 schools — which were expected to reopen sometime after April 6 — are now closed "until further notice."
The state will require all school districts to provide distance learning for the next two months, he said. State officials want to have additional resources out to districts "in the next few days," Wolf said.
In addition, the governor has added four more counties to a "stay-at-home" order requiring all non-essential businesses to close their doors to the public and work from home, if possible. Twenty-six counties, including Allegheny, Westmoreland and Washington, are now affected.
Over the weekend, Allegheny County officials confirmed the first cases of COVID-19 in McKeesport, White Oak and North Versailles Twp.
---
In McKeesport, firefighters are responding only to alarms and emergencies, fire Chief Jeff Tomovcsik said. Crews are equipped with protective suits of Tyvek material, as well as N95 masks and nitrile gloves, he said.
"We've implemented a policy that on any calls we respond to, we're designating one or two people only to make contact with residents," Tomovcsik said.
No firefighters have shown any symptoms of the novel coronavirus, but the city's two fire stations are being sanitized twice daily and access is restricted to fire department personnel, he said.
In addition, firefighters are being screened before they begin each assigned shift. The screening includes taking their temperature to see if they have a fever, Tomovcsik said.
That proved to be a challenge at first, he said. "We can't get thermometers right now," Tomovcsik said.
The department is using infrared heat-detection equipment to take firefighters' temperatures and the technique is working well so far, he said.
---
Fortunately, fire calls in McKeesport have been down since Gov. Tom Wolf issued the stay-at-home order for Allegheny County residents on March 23.
"From what I'm seeing from talking to EMS and listening to the police radio, people are heeding the advice of the health department," Tomovcsik said.
Thermometers have been a problem for first responders in White Oak as well, said Paul Falavolito, chief of White Oak EMS and deputy emergency management coordinator for the borough.
"We ordred a bunch online, but unfortunately they're all back-ordered," he said. Paramedics and emergency medical technicians are bringing digital no-contact thermometers from home, Falavolito said.
---
On Wednesday, White Oak declared a disaster emergency, he said. The borough has activated its emergency operations center and police, fire, ambulance and other borough personnel are meeting daily from 10 a.m. to 2 p.m.
The declaration enabled the borough to go outside of its normal supply chains to purchase essential equipment such as Tyvek protective suits, Falavolito said. Although they were not available from White Oak's usual suppliers, a local home improvement store did have some in stock.
On Monday, North Huntingdon Twp. officials announced that while their parks would remain open for outdoor exercise, all playgrounds are closed until further notice. Port Vue also has closed the borough's playgrounds and recreational facilities.
---
White Oak officials roped off playgrounds and courts at Heritage Hills Park because it was impossible for people to observe social distancing rules while using them, said John Palyo, borough manager. The remainder of the park remains accessible.
"We don't mind people coming out to the parks for that half-hour's worth of exercise, but obviously, respect social distancing," Palyo said. "It was nice to see people out enjoying the sun, walking loops around the park, after being cooped up and getting stir crazy."
As of Friday, White Oak police had not cited anyone for violating the governor's order closing non-essential businesses, Palyo said.
"If we see anyone, they will be warned," he said. "We will remind them of the mandate through the governor's office and speak to them about the importance of what we're doing, and why we're doing it."
---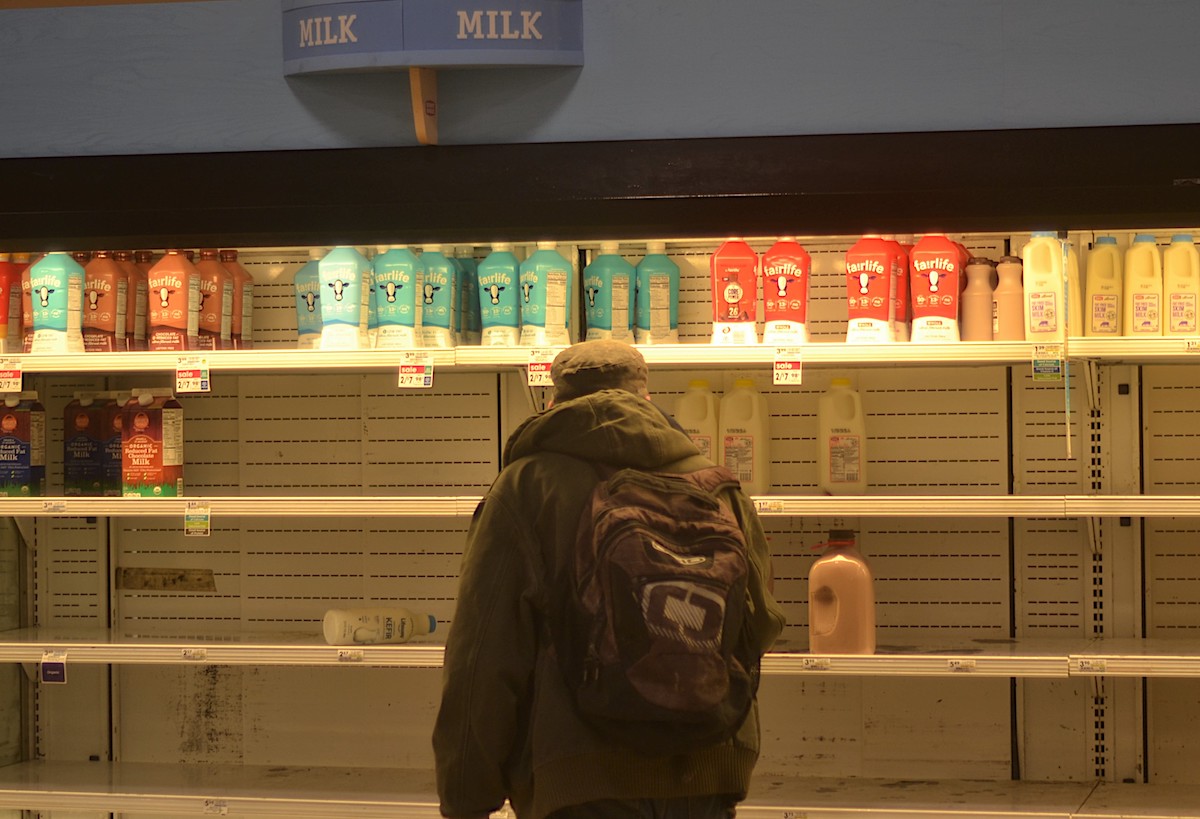 A customer peruses a nearly empty dairy case at the Giant Eagle in the Waterfront, Homestead. Panic buying has led to shortages of many staple items, report supermarket chains across the country. (Richard Finch Jr. photo for Tube City Almanac)
---
Police have been called to maintain traffic control at the Giant Eagle supermarket in Oak Park Mall, Palyo said, and on March 20, officers were needed at the PNC Bank on Lincoln Way when the line of cars waiting to use the drive-thru lane stretched into the street.
PNC and other banks have closed their lobbies to the public until further notice.
The pandemic could grow "serious very quickly" in communities such as White Oak, Palyo said.
"By no means can we take this lightly," he said. "It's uncharted territory that we're in. We're trying to stay focused on the tasks at hand — we're telling people be vigilant, stay home if possible, and follow the CDC guidelines."
---
White Oak's municipal offices remain closed to visitors and residents are being asked to conduct business via email, phone or fax, Palyo said.
Employees have modified their office procedures to maintain social distancing rules, he said, and public works crews are doing tasks that do not require them to be in close contact with residents.
White Oak council has scheduled a special meeting for 7 p.m. Wednesday in chambers. Several council members will participate over the phone, rather than in-person, and the meeting will be streamed live on the White Oak Facebook page.
Residents who want to ask questions are being encouraged to email their comments to whiteoak@woboro.com before 4 p.m. Wednesday.
"We're trying to meet all of the requirements of the open records laws, but we have pertinent business that is time-sensitive," Palyo said. "Hopefully, unless things change, we will continue in this matter until we go back to normal."
---
Duquesne officials have announced plans to hold city council meetings via telephone at 6:30 p.m. on the second and fourth Tuesdays of each month. Residents may call, toll-free, 1-877-853-5247 and participate in the meeting using ID number 313 145 417.
A spokesperson said the city will be doing extra advertising for those meetings and that the information and schedule will be posted on the city's website, www.duquesnepa.us.
Physical schedules will be handed out to those who request them, but the city is strongly advising residents not to visit the municipal office, or attend meetings in person.
City Manager Doug Sample said residents with unpaid and delinquent water bills will not have their service shut off during the emergency.
---
Port Vue borough council canceled its regularly scheduled April meeting.
McKeesport's April city council meeting will proceed as planned at 7 p.m. Wednesday at the public safety building, 201 Lysle Blvd., but the public has been asked not to attend.
City council members are expected to participate via phone, rather than in person, a spokesperson said.
---
Jason Togyer is editor of The Tube City Almanac and volunteer executive director of Tube City Community Media Inc. He may be reached at jtogyer@gmail.com. Nick Zurawsky contributed to this story. He is a freelance writer based in Pittsburgh and may be reached ay He may be reached at nickzurawsky@gmail.com.

Originally published March 30, 2020.
In other news:
"AIU Forum Targets Sch…" || "Writer: Women Should …"