(Advertisement)
Tube City Community Media Inc. is seeking freelance writers to help cover city council, news and feature stories in McKeesport, Duquesne, White Oak and the neighboring communities. High school and college students seeking work experience are encouraged to apply; we are willing to work with students who need credit toward class assignments. Please send cover letter, resume, two writing samples and the name of a reference (an employer, supervisor, teacher, etc. -- not a relative) to tubecitytiger@gmail.com. (4-11-2023 to 4-30-2023)
To place your ad, email tubecitytiger@gmail.com.
Ads start at $1 per day, minimum seven days.
By Richard Finch Jr.
The Tube City Almanac
April 29, 2020
Posted in: McKeesport and Region News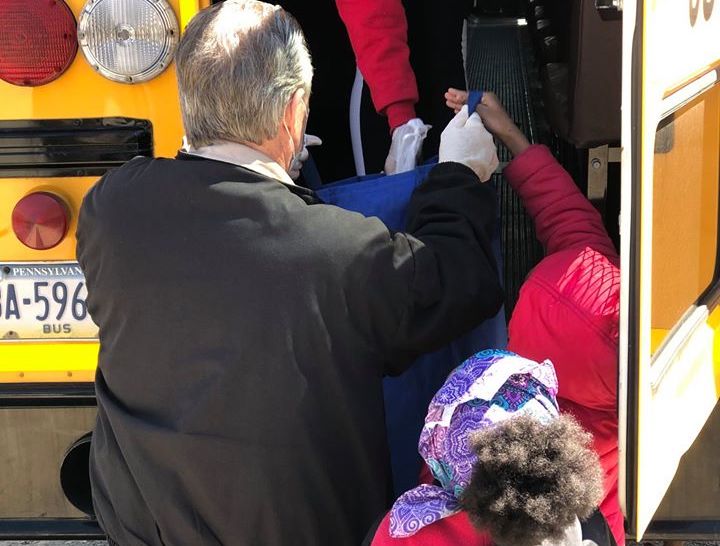 Last week, State Sen. Jim Brewster joined other volunteers to help pass out "grab-n-go" meals to students in Duquesne City School District. (Photo courtesy state Sen. Jim Brewster)
---
Related stories:
---
In towns across the Mon Valley, school buses now deliver "grab-n-go" breakfasts and lunches to students who no longer can gather together in cafeterias.
Instead of homerooms and classrooms, teachers are using Google Hangouts and other online resources to connect with their students, allowing them to hold virtual office hours to check on the well-being and academic progress of young people they can no longer meet with face-to-face.
The unprecedented lengthy school closures caused by the COVID-19 pandemic have created challenges for teachers and students, as almost none of the school districts in the Mon Valley — or elsewhere — were prepared to engage in distance learning for an extended period of time.

School district officials were mostly left to find their own solutions, and as the struggle continues, local educators said lessons are being learned on the fly.
"I think, unfortunately, we're shifting into a new normal for the short-term, maybe even medium-term, and so it's a challenge on what the needs of the community are and how we can best serve them," said Edward Wehrer, superintendent of the Steel Valley School District.
Mon Valley districts face 'inequities in education'
Schools first made sure that kids were safe, and fed. They're now deep into the process of figuring out how to continue educating them.
In some cases, foundations and large corporations with deep pockets — along with small businesses, restaurants and a wide array of volunteers — are stepping in to provide much-needed funding and community support for students and their families.

While some schools have enough computers to go around, and their students have access to high-speed Internet connections at home, many students' homes do not — particularly in the lower-income communities that predominate in the Mon-Yough area.
"Inequities in education have been brought to the forefront" by the coronavirus pandemic, said Lisa Duval, superintendent of the South Allegheny School District.
"Putting devices in students' hands is a step forward," she said, but in the future, "we cannot forget that this type of learning needs to be thoughtfully planned and developed over time, and educators need to be trained in this method of instruction."
McKeesport Area wants to exceed state's standards during crisis
The McKeesport Area School District has struggled with budget constraints for years, and officials have said tuition payments to charter school operators are a significant drain. The most recent $69 million district budget, passed in June 2019, included a 0.68-mill property tax increase for the 2019-2020 fiscal year.
It was the second year in a row that the district raised its property taxes. Rising expenses also led to the elimination of 11 teaching positions. District officials are warning that another tax increase is likely in 2020-21.
At last week's board meeting, McKeesport school Superintendent Mark Holtzman Jr. said new expenses "are starting to add up as part of the pandemic."
On April 21 and 23, Holtzman oversaw the distribution of Apple iPads to families and students in grades 7 through 12 from the parking lot at Founders' Hall Middle School. Parents and students lined up in vehicles to sign paperwork and receive the tablets from school administrators and staff.
Tim Wilson, McKeesport Area School District technology coordinator who participated in the device distribution program, said the district simply didn't have enough tablets to give one to all pupils in lower grades.
"We would love to be able to distribute to everyone in the district, unfortunately that's just not a reality because we don't have a lot of devices to go around," he said.
Additional help on the way
The district is trying to respond to the "unprecedented" event as best it can, Wilson said, and its goal is to exceed minimum standards established by Pennsylvania Department of Education's Continuity of Education Plan.
Ultimately, McKeesport Area educators are "continuing the educational process" as effectively as possible, under the circumstances, he said.
"I think everybody wants to do was much as possible in order to educate the kids," Wilson said.
The district was recently notified it will receive additional electronic tablets from the Allegheny Intermediate Unit, in cooperation with the Heinz Endowments and the Grable Foundation, although the devices may not be available for another six to eight weeks.

"Hopefully, we'll have enough devices for this project (and) moving forward we should definitely have enough devices for the fall semester," Holtzman said.
The district hopes to "finish the school year strong" and "be prepared for any issues that may arise in future," he said.
1,000 families lack Internet, computers at home
About 163 million people — roughly half of the United States population — lack access to high-speed internet, either because they cannot afford it or it is not available where they live, according to a recent report in USA Today.
McKeesport Area School District has estimated that more than 1,000 families either do not have a computer or Internet access at home, Holtzman said. That has forced the district to get creative.
"We have all the Wi-Fi boosted at buildings and our campuses," he said. "We are going to look into hot spots and other (alternatives) for Internet connections."
At the April 23 school board meeting, streamed online, Holtzman said the district is attempting to move all of its students to virtual learning, a process he called "extremely challenging."
"We're going to look for more electronic devices and make sure we have strong preparation for the fall, if this virus continues to haunt us," Holtzman said.
---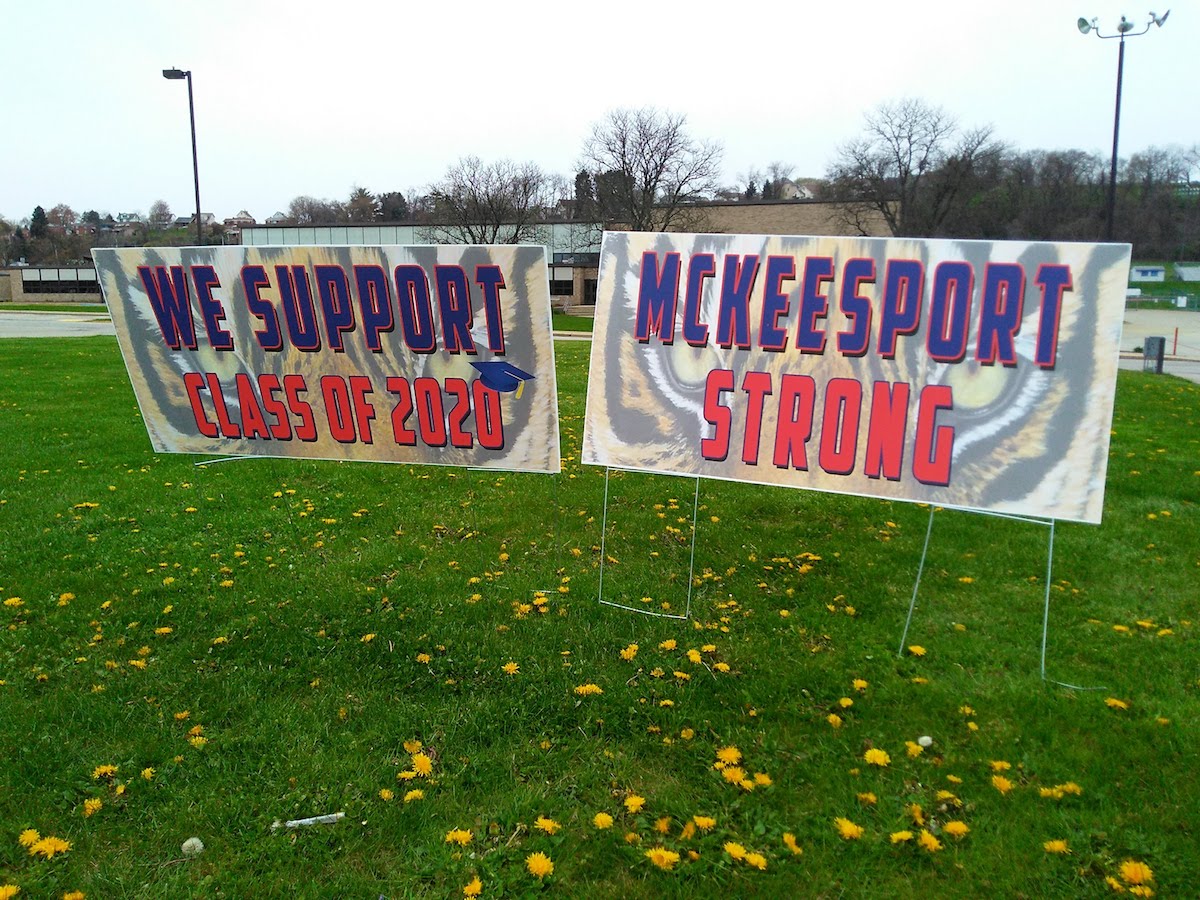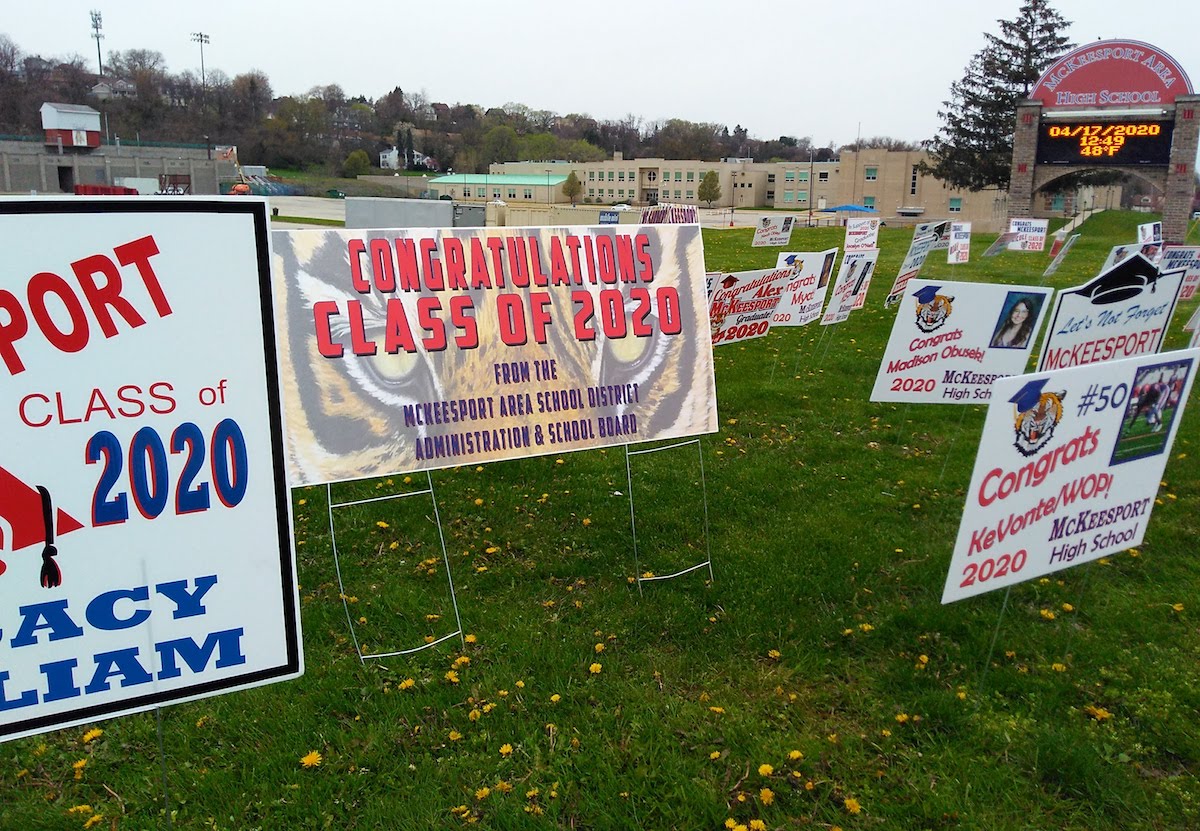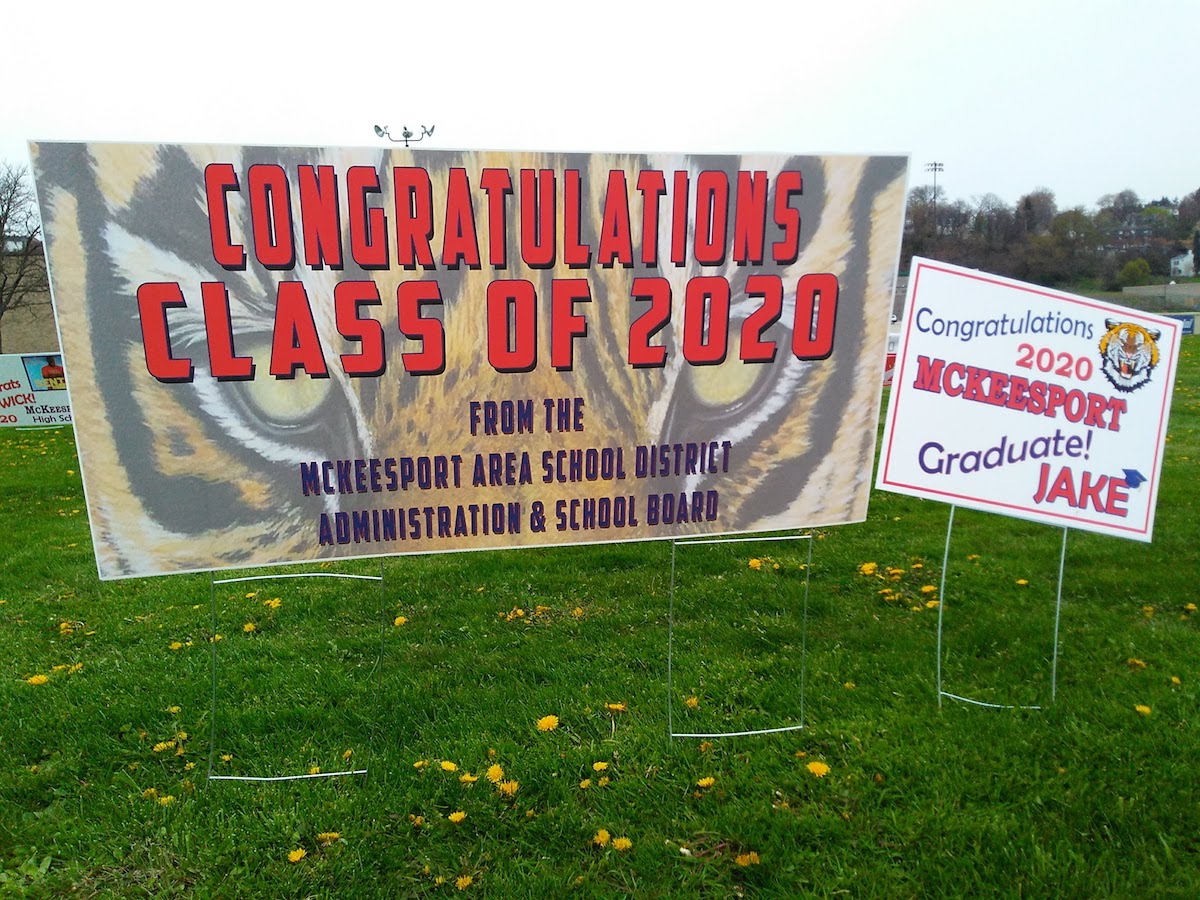 Signs celebrating seniors at McKeesport Area High School. (Tube City Almanac photos)
---
District hasn't forgotten H.S. seniors
Over the past few weeks, a forest of signs congratulating seniors has sprouted on the lawn of McKeesport Area High School along Eden Park Boulevard.
The district hasn't forgotten about its graduating seniors and is developing plans to hold a commencement ceremony "if at all possible," Holtzman said.
Grading policies this semester will be flexible, said Kristin Davis, McKeesport Area spokesperson.
Final grades for the 2019-20 school year will be calculated using an average of the three grades that were given for work done in the classroom, she said, as well as consideration for the amount of effort students devoted to completing their virtual assignments from home.
Teachers are holding online office hours and students can access the district website for information on speaking directly with them, Davis said.
---
Richard Finch Jr. is a freelance writer who covers McKeesport Area School District, White Oak and a variety of other topics for Tube City Almanac. He may be reached at finchr43@gmail.com.
Originally published April 29, 2020.
In other news:
"Driver Questioned Fol…" || "At Serra, COVID-19 Me…"