• Personal-care businesses, theaters must remain closed
• Face masks, other recommendations remain effective
By Jason Togyer
The Tube City Almanac
May 08, 2020
Posted in: Announcements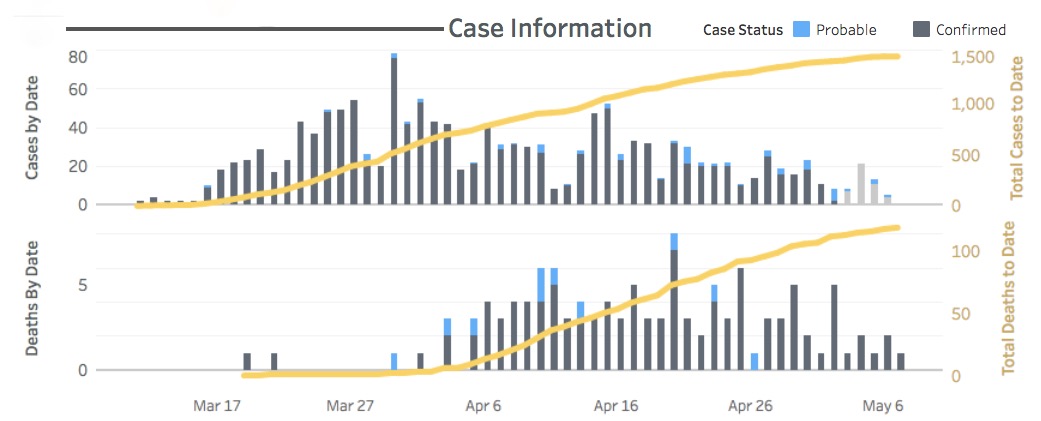 Although Allegheny County continues to record new cases of COVID-19, there were only five presumed or confirmed cases reported Friday — one of the lowest numbers yet. (Source: Allegheny County Health Department)
---
Local officials expressed relief Friday after Pennsylvania Gov. Tom Wolf's announcement that 13 counties — including Allegheny, Washington and Westmoreland — will be moved from "red" to "yellow" status and can begin relaxing some social distancing requirements.
The news means that many types of businesses in the Mon-Yough area, including retail stores, real estate agencies and child-care centers, can begin reopening on May 15, if they follow state and federal health guidelines.
"Our small business community has been struggling in the last eight weeks, but this news marks a light at the end of this scary tunnel," State Sen. Jay Costa Jr. of Forest Hills, Democratic leader of the senate, said on Twitter. "Moving to yellow is one step (on) a long road to recovery."
But state officials are cautioning that telecommuting for office workers "must continue where feasible" and that schools will remain closed. And businesses that provide "personal care services," such as gyms, spas, hair salons and massage therapists must remain closed for the time being.
---
All entertainment venues also must remain closed, restaurants and bars remain limited to carry-out and delivery service, and gatherings of more than 25 people will remain prohibited.
In addition, Wolf warned that the process of moving a county from one status to another is "not a one-way route," and that if counties begin to see serious outbreaks of COVID-19, restrictions could be imposed again.
"Residents should be mindful that yellow still means 'caution,'" Wolf said. "Every contact between two people is a new link in the chain of potential transmission, and if the new case count begins to climb in one area, restrictions will need to be imposed to prevent local medical facilities from becoming overwhelmed."
---
'Region has worked very, very hard' to follow rules
State Senate Democratic Caucus spokesman Hugh Baird, speaking on behalf of state Sen. Jim Brewster of McKeesport, called Friday's announcement "really good news."
"It's obviously the first step in a full recovery process," Baird said. "The region has worked very, very hard to abide by social distancing, and those rules have enabled the numbers to go down. Obviously, it's a credit to what people have done together."
Now, Baird said, the Pittsburgh region "is ready to move to the next step and to re-engage businesses, and re-engage the economy."
---
On Friday, Allegheny County officials confirmed two new deaths from COVID-19, for a countywide total of 119, and 16 new cases, for a total of 1,455. That's an increase of 166 cases since April 30.
Although most of the deaths — about 80 percent — have been of people age 70 and above, patients in their 40s and 50s also have died from COVID-19, Allegheny County officials said.
Countywide, 259 people have been hospitalized with the disease, caused by SARS-CoV-2, a new coronavirus first reported last year in China, and 62 of those individuals needed to be put on ventilators to breathe.
---
Most Mon-Yough communities report cases
In the Mon-Yough area, McKeesport is a hot-spot for COVID-19 infection, with 37 confirmed cases, or 18.8 cases per 10,000 population. One of those cases was at Kane Regional Center in McKeesport, according to county officials.
By comparison, Pittsburgh is reporting 14.8 cases per 10,000 population.
Cases also have been reported in Clairton (6), Duquesne (8), Glassport (3), Liberty (4), North Versailles Twp. (14), West Mifflin (23) and White Oak (5).
No cases have been reported so far in Dravosburg, Lincoln or Port Vue.
---
Dr. Rachel Levine, state health secretary, said Pennsylvania officials are relying on data collection and analysis, in part done using a computer model created at Carnegie Mellon University in Pittsburgh, to decide when to move counties from "red" — the most severe level of restriction — to "yellow," and ultimately, to "green."
"And then we're looking at the stability of the health care system in terms of taking care of patients, and, of course, our ability to do the laboratory testing that is necessary, as well as contact tracing," she said. "So there are quantitative factors and qualitative or subjective factors in determining that."
Allegheny County Executive Rich Fitzgerald said Friday he was "delighted" with the news that restrictions will begin to be relaxed on May 15, and thanked residents for their "great work" in following the advice of medical experts.
---
Fitzgerald: 'Stay vigilant'
"This is also good news for so many in our community who have been impacted economically because of the COVID-19 pandemic," Fitzgerald said. "We're thrilled for the businesses and residents who will return to work, but also recognize that there are many more that will still be without."
"We still have a long way to go," he said, cautioning residents to "stay vigilant and continue to follow the mitigation measures that are in place."
According to Wolf, that includes avoiding unnecessary trips, restricting visits to family and friends, and using curbside pickup at retail stores whenever possible.
---
"If you have the choice, call or video-chat with your friends and family instead of transmitting the virus," Wolf said. "Exercise in a quiet neighborhood instead of a crowded park ... telework instead of potentially transmitting the virus to your colleagues."
If residents continue to take aggressive protective measures, it will "help all of us get through this crisis as safely and efficiently as possible," Wolf said.
Levine said Pennsylvanians should continue to wash their hands frequently, cover coughs and sneezes with a tissue or their elbow, not with their hands, and wear a face mask if they expect to come in contact with other people.
"We have to remain cautious, but this is undeniably a positive step, and demonstrates that we all took the 'stay home' order seriously," Costa said. "If we continue to follow Secretary Levine's guidance, I believe we'll make it to 'green' and a full recovery soon."
---
Jason Togyer is editor of The Tube City Almanac and volunteer executive director of Tube City Community Media Inc. He may be reached at jtogyer@gmail.com.
Originally published May 08, 2020.
In other news:
"City Officials Eying …" || "Virtual Tutoring Avai…"