By Emily Pidgeon
The Tube City Almanac
May 24, 2020
Posted in: McKeesport and Region News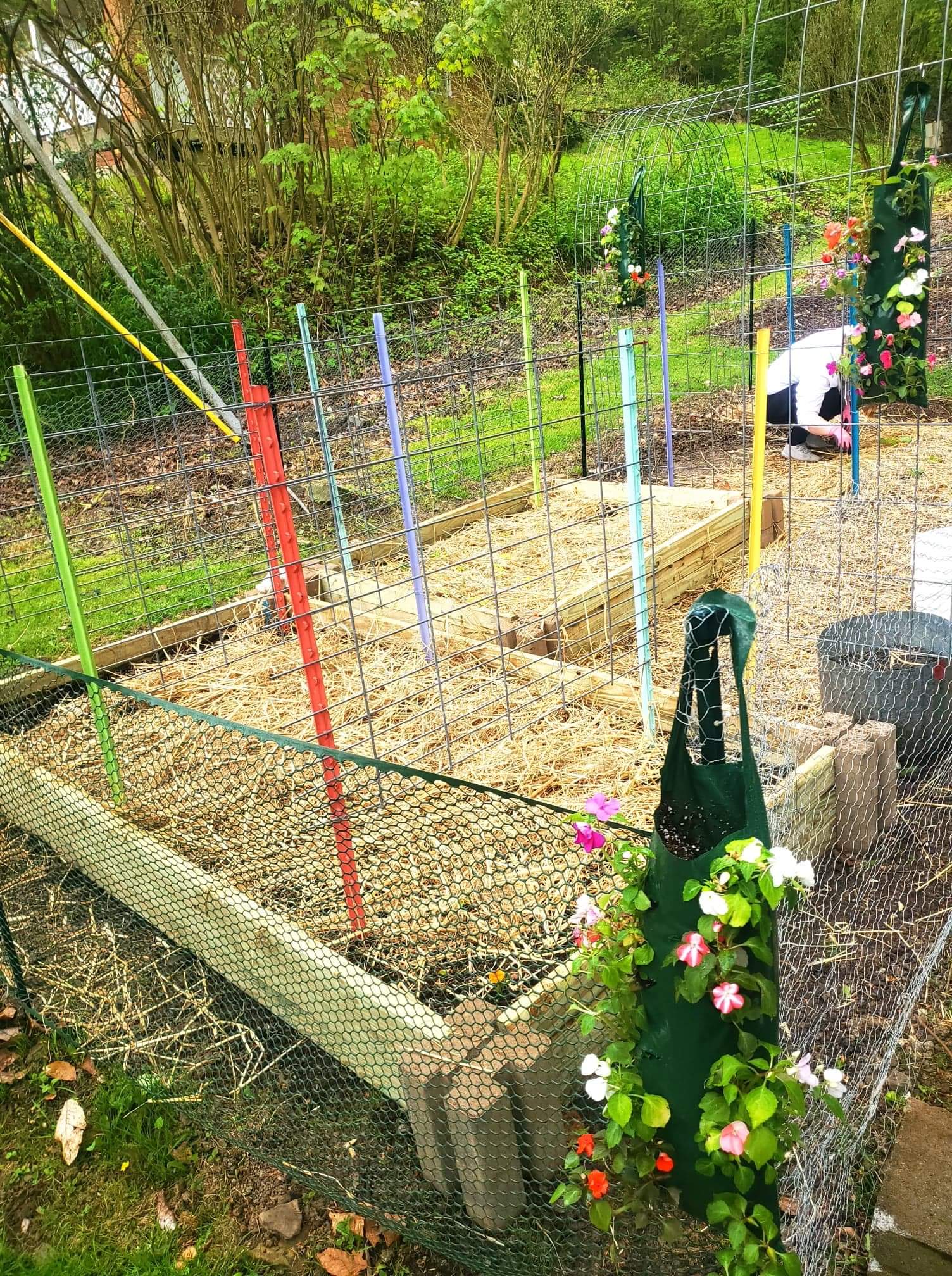 The author's garden in McKeesport. (Emily Pidgeon photo)
---
Since news of the COVID-19 pandemic in the United States broke earlier this year, most people are spending their time close to home — and many of them appear to have turned to gardening.
Local greenhouses and nurseries as well as big box stores say they're low on stock or, in some cases, completely sold out of starter plants, seeds, annual and perennial flowers, and herbs and gardening supplies, including soil and mulch.
It seems like "victory gardens" have come back in a big way during the COVID-19 pandemic, but what exactly are they?
---
World War I: Five million gardens
Also known as "food gardens for defense," victory gardens were started by civilians in their backyards, in pots on their porches or in public parks around the globe during the first and second world wars. Their purpose was to grow food to combat shortages during wartime.

By the end of World War I, more than 5 million victory gardens had been planted across the United States. Gardening brought a sense of patriotism to those who kept victory gardens, empowering them that their contributions were significant to the war effort.

For a first-time gardener, growing juicy tomatoes, crisp cucumbers and spicy peppers can seem a bit daunting. With most of the Mon-Yough area falling in what the U.S. Department of Agriculture calls Hardiness Zone 6B, perennial plants — plants that are planted once and return each year — must be able to withstand winter temperatures as low as -5 degrees Fahrenheit.
Know which plants will thrive
"Making sure you can put the plant you're purchasing in the ground helps avoid disappointment," says home gardener Bethany Eberhard of Middletown, R.I. Zones don't necessary correlate to regions, and Middletown is in Zone 6B, along with McKeesport, parts of Ohio, Kentucky, Missouri, Utah and Kansas.

What can grow and what might do well in a certain zone can vary greatly. "I do best growing tomatoes and green beans, but plant what you like and what your family will eat," says another home gardener, Kim Nye of Baltimore, another Zone 6B resident. "Don't waste your time growing food that will end up in the trash."
Neca Allgood from Salt Lake City, Utah, says she encourages other new gardeners in zones 5 and 6 to "grow more leafy veggies — spinach, swiss chard, kale and collards all grow well in our zones."
Those plants also "produce a lot of food in very little space," she says.
---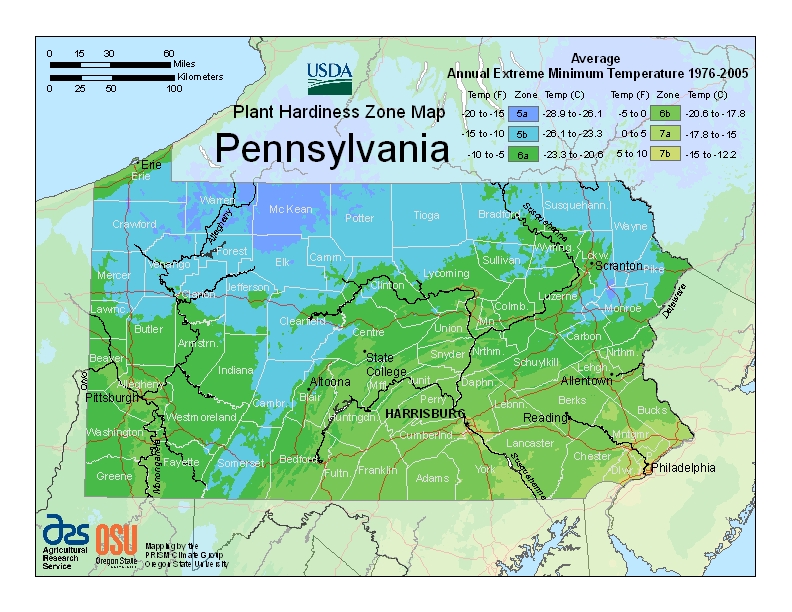 (U.S. Department of Agriculture map)
---
From indoor containers to in-ground gardens
Getting started begins with deciding what type of garden you want to plant. Some residents utilize large pots to do what's called container gardening. This type of gardening is used usually by those who do not have a lot of space, such as people who live in an apartment or a small city home.
For people who have the space, raised bed gardening is the most popular form of gardening, as it's practical and also aesthetically pleasing.
Building raised beds "allows the gardener a chance to select for themselves the type of soil going into the beds and add things to it to amend it, making it delicious to the plant's roots," says Joshua Bateman from Unadilla, N.Y. "Having good soil is key, and with so many great choices of plants that grow in this climate, healthy soil is step one."
In-ground gardens need proper preparation
In-ground gardening is the original type of home gardening, but it takes the most knowledge of your surroundings to be successful.
Having a successful in-ground garden requires finding a plot of land that receives the right amount of sunlight, as well as placing fencing so that it keeps out pest animals such as rabbits and deer who will snack on vegetables and other plants. Most sources recommend lining the bottom of fences with 4-by-4-inch boards to discourage small animals, and even using netting over the tops of plants to keep out deer.
Before starting an in-ground garden, experts recommend obtaining a soil test kit from a local garden center to find out if your soil is lacking nutrients. A soil test kit also will help you choose the proper fertilizer.
Pesticide-free organic gardening is popular
Organic gardening has become popular as many home gardeners choose not to use pesticides and other harmful chemicals that can also kill off helpful insects such as honeybees.
"I use no chemicals of any kind," says Deb Berning of Findlay, Ohio. "(If) you lose a few, plant more of those."
Home gardeners who don't use pesticides recommend starting seed plants early indoors, or planting extra seeds to protect against losses to pests. One drawback to skipping pesticide use is that checking your plants daily for signs of pest damage is time consuming, and requires more time spent in the garden.
Some organic solutions to pest control include using food-grade diatomaceous earth — fossilized water plants found in the ground naturally — to kill Japanese beetles and other plant-devouring insects, and trapping pests such as slugs with beer.
Hunting tomato hookworms? Try a blacklight
One of the most common summertime pests in Western Pennsylvania is the hornworm, which eat the leaves from tomato plants. They can be hunted for at night with a blacklight, and then squished or tossed into a container of soapy water to kill them.

Most home gardeners can be very successful with just the basics of information and inexpensive materials. Penn State University's Master Gardener program is able to answer questions via email and provides resources on its website.
In addition to Penn State, local non-profit GrowPittsburgh's website includes an extensive library of information for novice gardeners. And if you cannot find what you are looking for, GrowPittsburgh's Garden Educators are available for one-on-one calls to answer any questions you may have regarding growing plants successfully.
Whether they're gardening for fun, to grow their own fresh food, or to combat some of the shortages reported by grocery stores throughout the area, it appears that plenty of people have developed a newfound appreciation for gardening. If you decide to try your hand this spring, perhaps you'll find out if the Chinese proverb is true: "Life begins the day you start a garden."
---
Emily Pidgeon is a freelance writer from McKeesport. She may be reached at emily.pidgeon87@gmail.com.
Originally published May 24, 2020.
In other news:
"$119K Federal Grant S…" || "38th District Race: N…"