Rally highlights lack of support, services for LGBTQ people in Mon Valley
By Staff Reports
The Tube City Almanac
June 14, 2020
Posted in: McKeesport and Region News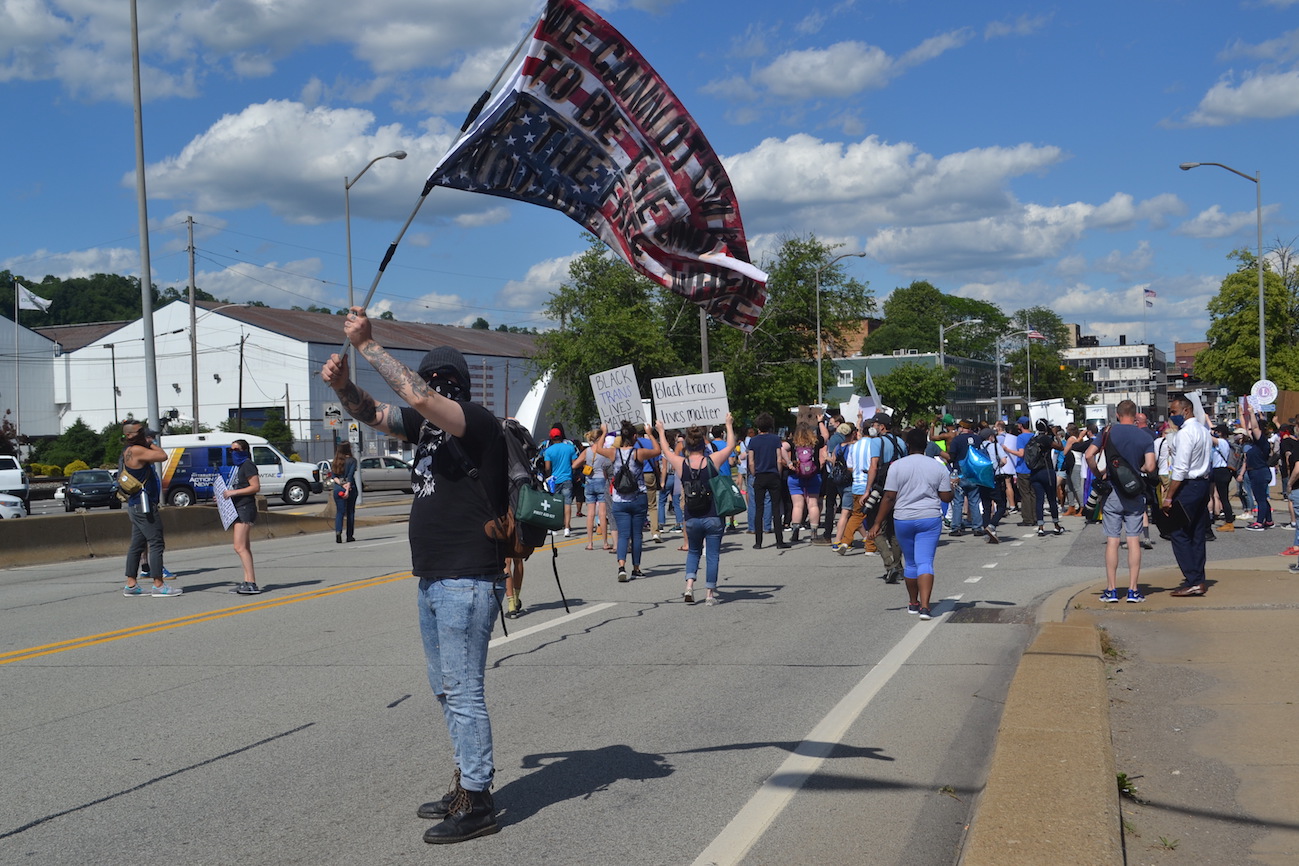 (Richard Finch Jr. photo for Tube City Almanac)
---
More than 300 people marched peacefully through Downtown streets on Friday afternoon to call attention to the plight of a trans woman found dead on Sinclair Street in May.
Friends and family of Aaliyah Johnson, 32, want Allegheny County police to do a more thorough investigation of her death on May 26.
On Thursday, the Allegheny County medical examiner's office ruled Johnson's death a suicide, but one of the organizers of the march, Terrance McGeorge, told Tube City Almanac that one of Johnson's former lovers had threatened to murder her.
---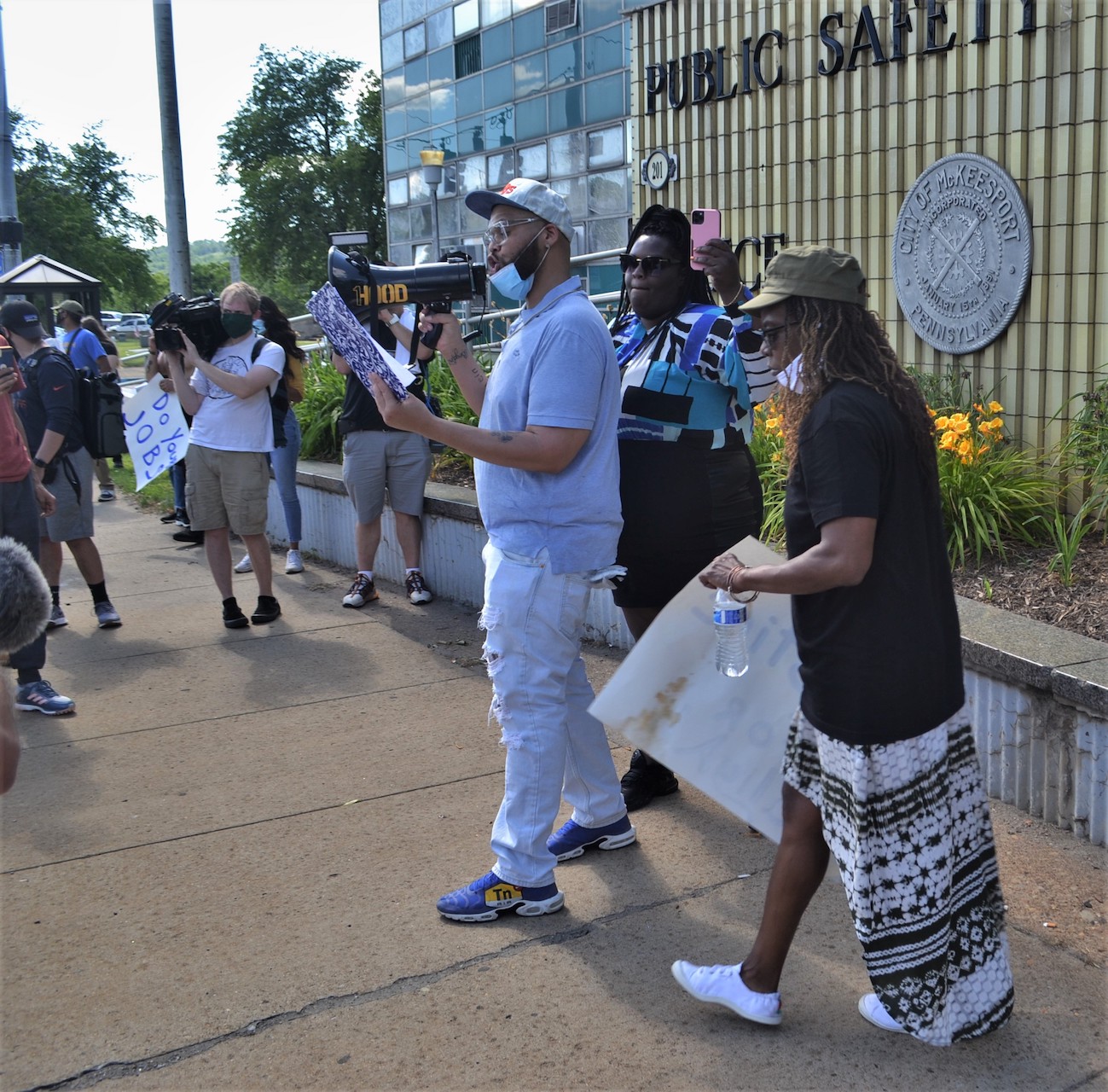 March organizers Terrance McGeorge and Dena Stanley with Johnson's mother, Tonya Reed. (Richard Finch Jr. photo for Tube City Almanac)
---
"I just want to know what happened to my child," Johnson's mother, Tonya Reed, said Friday. "I mean, I need some answers. I haven't seen any police report, I haven't seen an autopsy. I haven't seen anything from McKeesport — all I know for sure is my child is gone."
The march began at 4 p.m. near the Jerome Avenue Bridge, then paused in front of the Public Safety Building, where many participants lay down on Lysle Boulevard to represent the time while Johnson's body lay on Sinclair Street before her death was reported to police.
Marchers then proceeded to the Midtown Towers apartment building, where Johnson lived.
Allegheny County police have said they believe Johnson fell or jumped from a ninth-story window at Midtown Towers and that video surveillance from outside her apartment shows no one else entering or leaving before or after her body was discovered.
Reed said police told her Johnson was seen on video entering her apartment at around 7 a.m., and then "a few hours later she was out the window," she said. "From what I understand they got cameras in the building. They (saw) her going in her apartment. They say nobody came out after she entered her apartment. I just believe in my heart that someone did something really bad to her."
---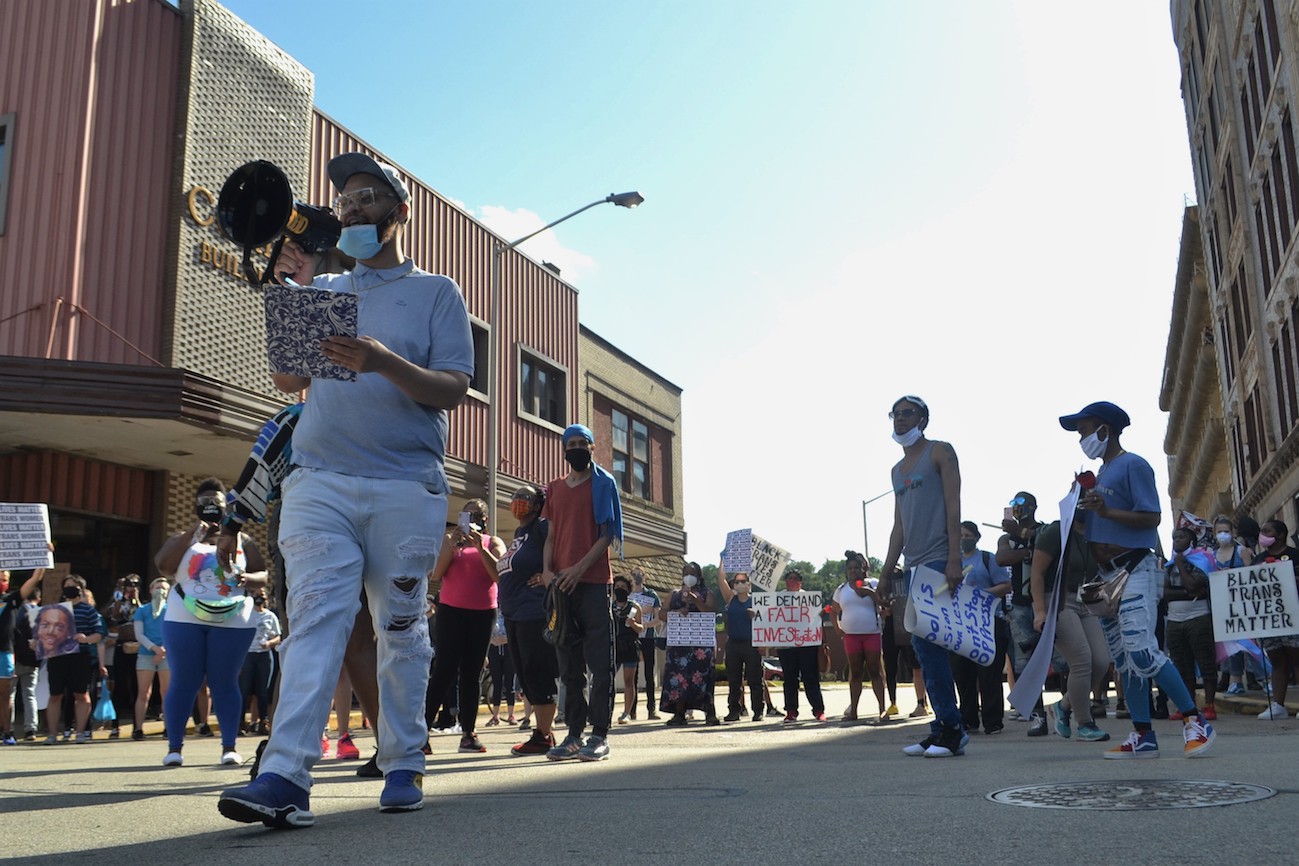 (Richard Finch Jr. photo for Tube City Almanac)
---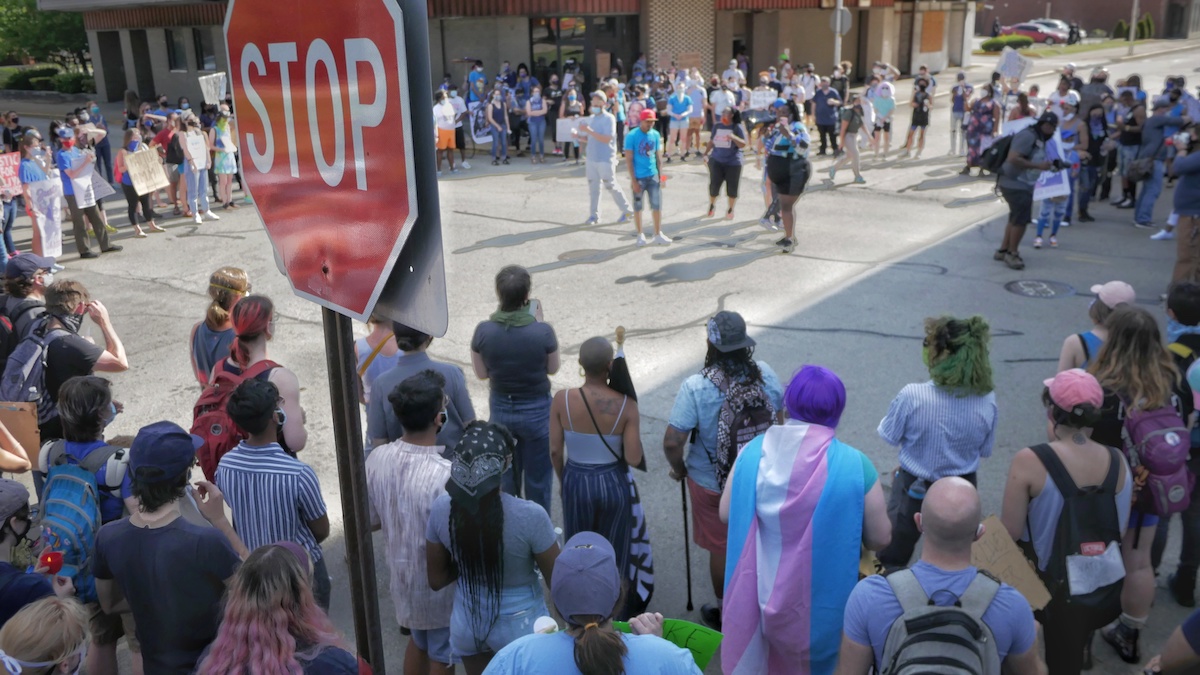 (Kevin Kino photo for Tube City Almanac)
---
The rally ended at the corner of Sixth and Walnut streets at Kelly Park. Some of the marchers carried candles or pink, white and blue transgender pride flags, and others carried signs that said "Black Trans Lives Matter" or "Justice for Aaliyah."
Jone is LGBTQ pride month, and the rally's organizers, who included representatives of 1Hood Media, Trans YOUniting and Project Matters, wanted to draw attention to the lack of supportive services for gay, lesbian, bisexual and transgender people in communities outside of the city of Pittsburgh.
Johnson was well-known in the community has a hairstylist and makeup artist, and had served as a host and commentator at drag events around Pittsburgh.
---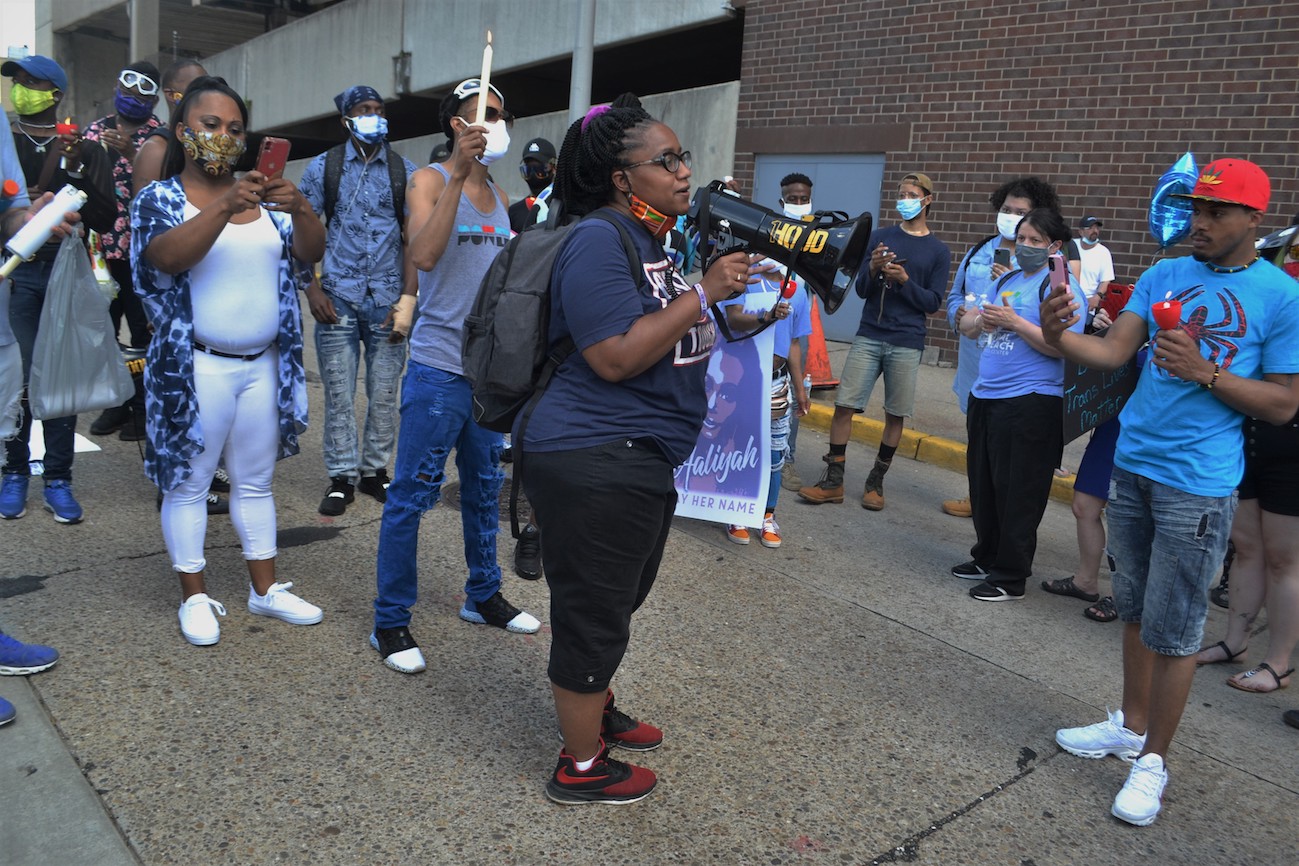 Fawn Walker-Montgomery, co-founder of Take Action Mon Valley, addresses marchers outside of the apartment building on Sinclair Street where Johnson's body was discovered. (Richard Finch Jr. photo for Tube City Almanac)
---
Fawn Walker-Montgomery, former McKeesport city councilwoman and co-founder of Take Action Mon Valley, urged Johnson's friends and supporters "to demand a fair and transparent investigation."

Walker-Montgomery and other organizers urged supporters to call the Allegheny County police at (412) 473-1200 to express their opinions.
---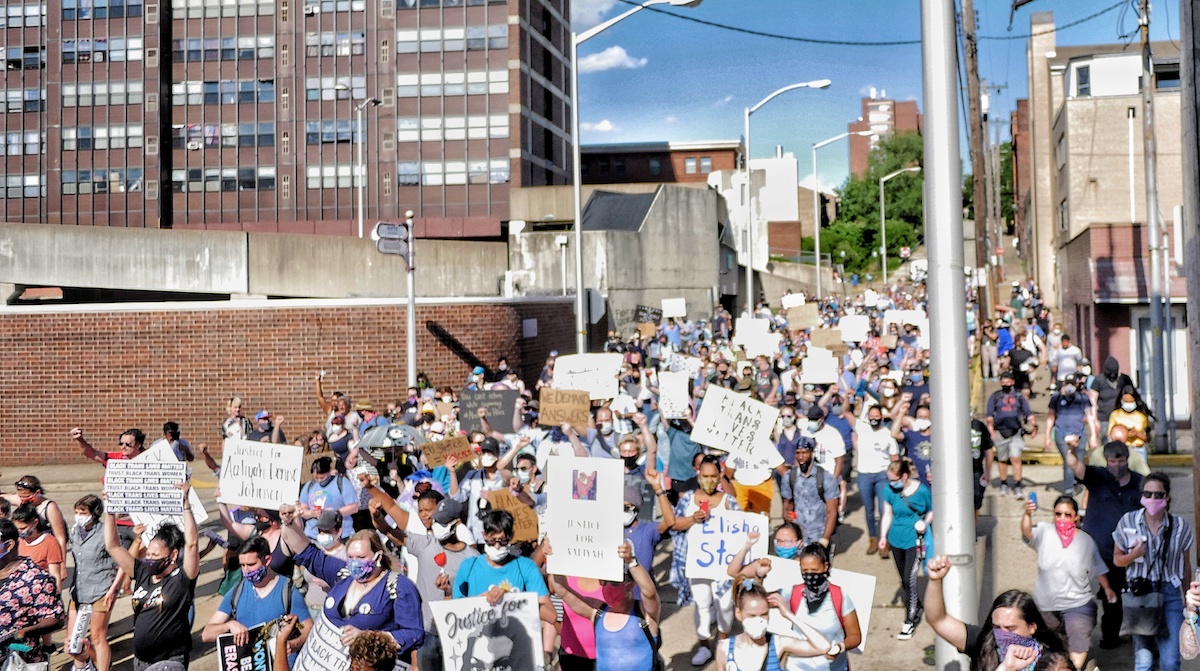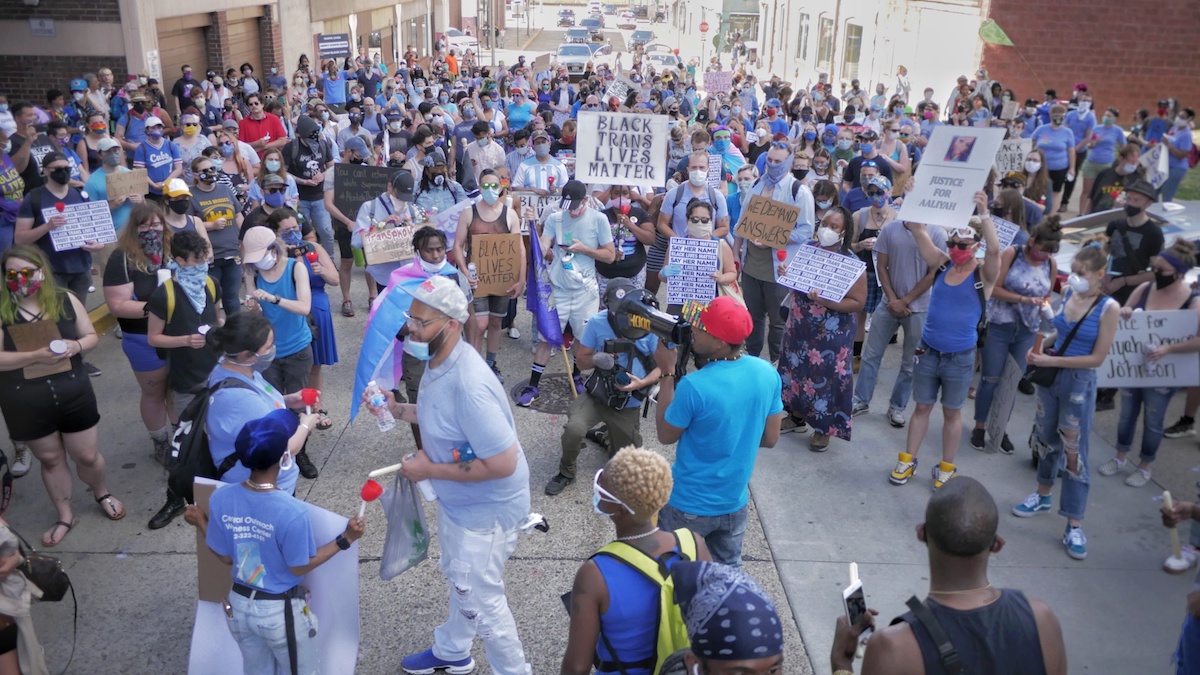 (Both photos: Kevin Kino for Tube City Almanac)
---
This story was written by Jason Togyer with reporting from Richard Finch Jr. and Kevin Kino.
Originally published June 14, 2020.
In other news:
"Friends Hope March Wi…" || "Duquesne Boys & Girls…"