By Kristen Keleschenyi
The Tube City Almanac
July 21, 2020
Posted in: North Versailles Twp. News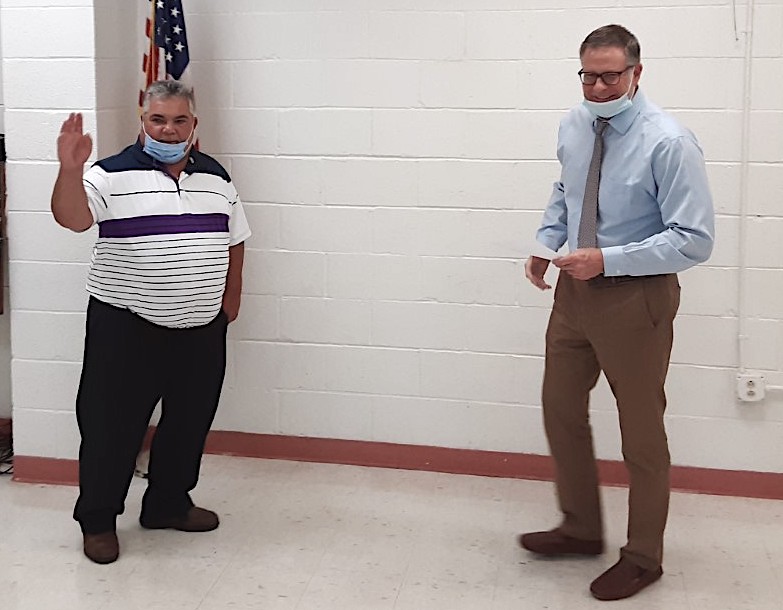 Joseph Kutch takes the oath of office as the new commissioner for North Versailles Twp.'s Second Ward. Also shown is township solicitor Greg Evashavik. (Kristen Keleschenyi photo)

---
Joseph Kutch has been sworn in as North Versailles Twp.'s new commissioner for the Second Ward.
At the July meeting, township commissioners appointed Kutch to fill the remainder of the term of Commissioner Daryl Mitchell, who died June 15.
The meeting was held in the township community center to ensure social distancing requirements could be met.
Commission President Frank Bivens said the township had a deadline to fill the vacant seat, or else Allegheny County would appoint someone. Kutch was the only candidate to apply for the vacancy, Bivens said.
"I'm a lifelong member of the fire (department) for 20 years," Kutch said. "I've lived in the township all my life, so I might as well see what I can do to help the community out."
Kutch will complete the remainder of Mitchell's term, which continues until December 2021.
Paving projects almost complete
Township Engineer Dave Gilliand reported North Versailles' 2020 paving projects are almost complete.
Streets in the project included: Sell Street (Mahoning to end), Naysmith Road (Fifth to Bevan), Westbury Road (Maryland to south end), Emma Street (Kline to Lloyd), Union Avenue (Greensburg to Inwood) and Mahoning Drive (Sell to Cedarhurst).
Gilliand said O'Hara Alley will be paved between Emlyn and Cross, but the work won't be done until the gas company finishes a new gas line installation.
Later this year, the township will also be paving Emlyn Avenue from Fifth Avenue to Third Street with funding from a U.S. Housing and Urban Development Community Development Block Grant, he said.
In other business:
Commissioners approved the township's annual contribution to the North Versailles Public Library in the amount of $40,000. Bivens said the greater the donation given to the library by the township, the more funding the library can leverage from other entities.
Due to the COVID-19 pandemic, the library is currently open for curbside service only.

Commissioners authorized payments from the 2020 Fire Tax of $2,798.57 to the West Wilmerding Volunteer Fire Co. and $1,304.80 to Crestas Volunteer Fire Co.
During the parks and recreation report, Commissioner Tracy Yusko thanked both fire departments and Gumpher Electric for helping to install the new veteran's banners. The banners have been placed along eastbound Route 30 between McDonald's and Taylor's Motel.
Commissioners authorized payment for the banners to Rileigh's Outdoor Decor for $2,549.46.
---
Kristen Keleschenyi is a freelance writer in North Versailles Twp. and one of the hosts of the Kristen & Amber Show on WMCK Internet Radio at 5 p.m. Saturdays. She may be reached at kbishop25@hotmail.com.
Originally published July 21, 2020.
In other news:
"City Man, 20, Dead in…" || "NV Twp. Will Consider…"