By Staff Reports
The Tube City Almanac
July 21, 2020
Posted in: Announcements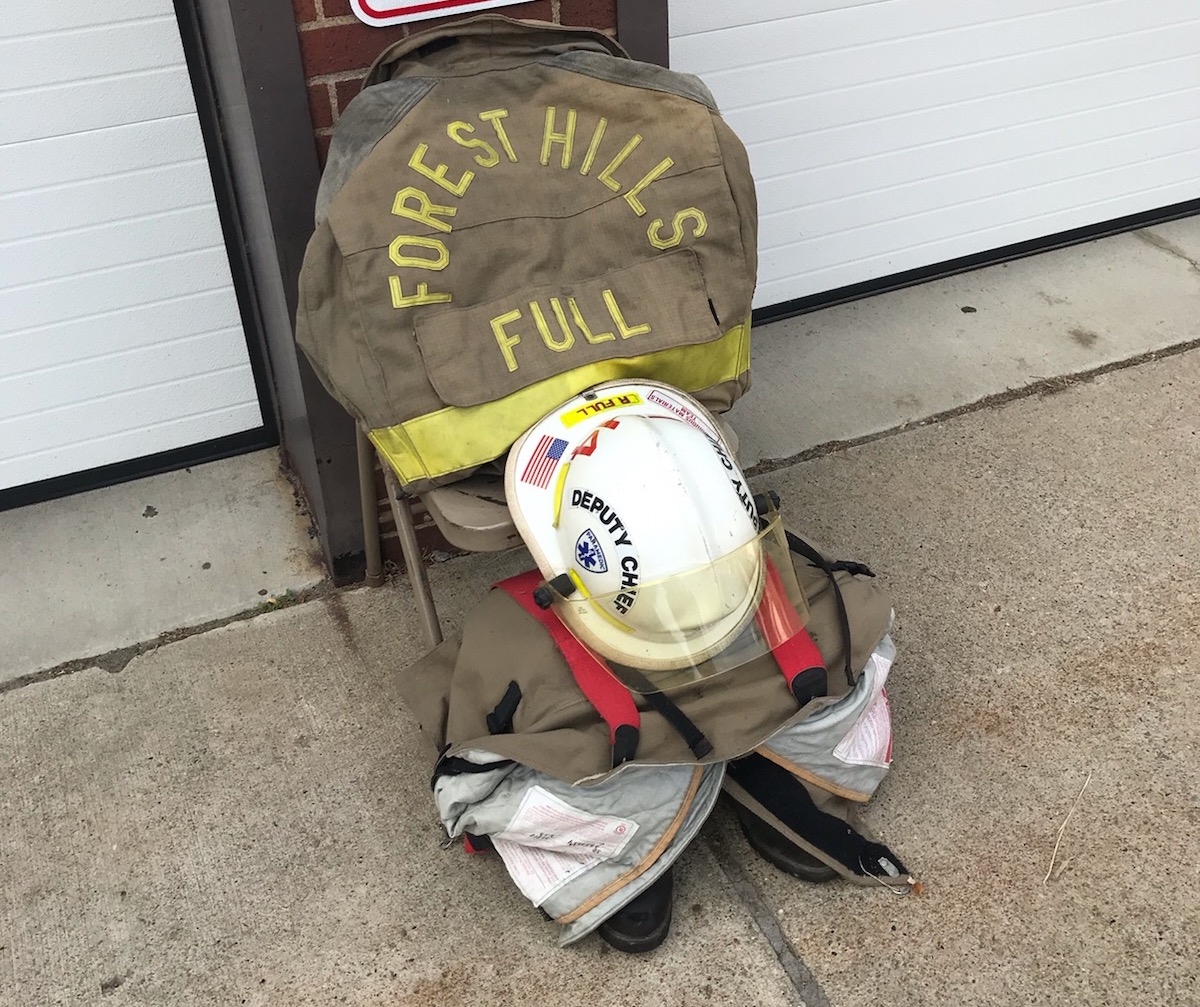 Bob Full's turnout gear and helmet were displayed at the entrance to the Forest Hills Volunteer Fire Department in tribute to the former chief of Allegheny County Emergency Services, who died Friday at 65. (Bob Janis photo/special to Tube City Almanac)
---
Friends and colleagues are remembering a longtime firefighter and emergency responder who helped create Allegheny County's 9-1-1 emergency dispatch center.
Bob Full died Friday at age 65.
A life member of the Forest Hills volunteer fire department, Full served as Allegheny County fire marshal from 1998 to 2011 and chief deputy director of the Pennsylvania Emergency Management Agency from 2011 to 2015, and was a familiar, calming presence at disaster and emergency scenes.
As chief of Allegheny County Emergency Services, he supervised five divisions of more than 300 employees, and also oversaw the merger of the Pittsburgh and Allegheny County 9-1-1 centers in 2005.
"Like so many others that we serve with, he will always be 'Chief Full,'" said Matt Brown, current chief of Allegheny County Emergency Services, in a prepared statement. "He was so influential in our county, region and state as a leader with great vision and true understanding of all levels of public safety.
"I will miss his friendship, guidance, wisdom and insight," Brown said. "Our prayers are with Chief Full and his family."
Allegheny County Executive Rich Fitzgerald called Full "a true public servant who dedicated his life to public safety and the protection of the community he called home, and the people he called friends and neighbors."
"We were fortunate that Allegheny County was that place," Fitzgerald said.
A resident of Pittsburgh's Swisshelm Park neighborhood, in 2015 Full joined Specialized Professional Services, Inc., in Washington County as director of safety and special projects. He retired in June.
Full is survived by his wife, Geraldine Dongweck Full; a sister, Sharon Morton; children Courtney Spicuzza and Rob Full, both of Pittsburgh; and three grandchildren.
Friends will be received from 5 to 8 p.m. Tuesday and 12 noon to 8 p.m. Wednesday at Patrick T. Lanigan Funeral Home & Crematory, Turtle Creek, where a public safety service will be held at 7 p.m. Wednesday.
A spokesperson for the funeral home said only 25 visitors are permitted inside at a time, and face masks will be required.
A funeral mass will be celebrated at 10 a.m. Thursday at St. Maurice Roman Catholic Church, St. Joseph the Worker Parish, in Forest Hills.
Originally published July 21, 2020.
In other news:
"NV Twp. Will Consider…" || "Pittsburgh Region War…"