(Advertisement)
Tube City Community Media Inc. is seeking freelance writers to help cover city council, news and feature stories in McKeesport, Duquesne, White Oak and the neighboring communities. High school and college students seeking work experience are encouraged to apply; we are willing to work with students who need credit toward class assignments. Please send cover letter, resume, two writing samples and the name of a reference (an employer, supervisor, teacher, etc. -- not a relative) to tubecitytiger@gmail.com. (4-11-2023 to 4-30-2023)
To place your ad, email tubecitytiger@gmail.com.
Ads start at $1 per day, minimum seven days.
Mid-Atlantic administrator visits McKeesport Housing Authority, city hall
By Jason Togyer
The Tube City Almanac
August 07, 2020
Posted in: McKeesport and Region News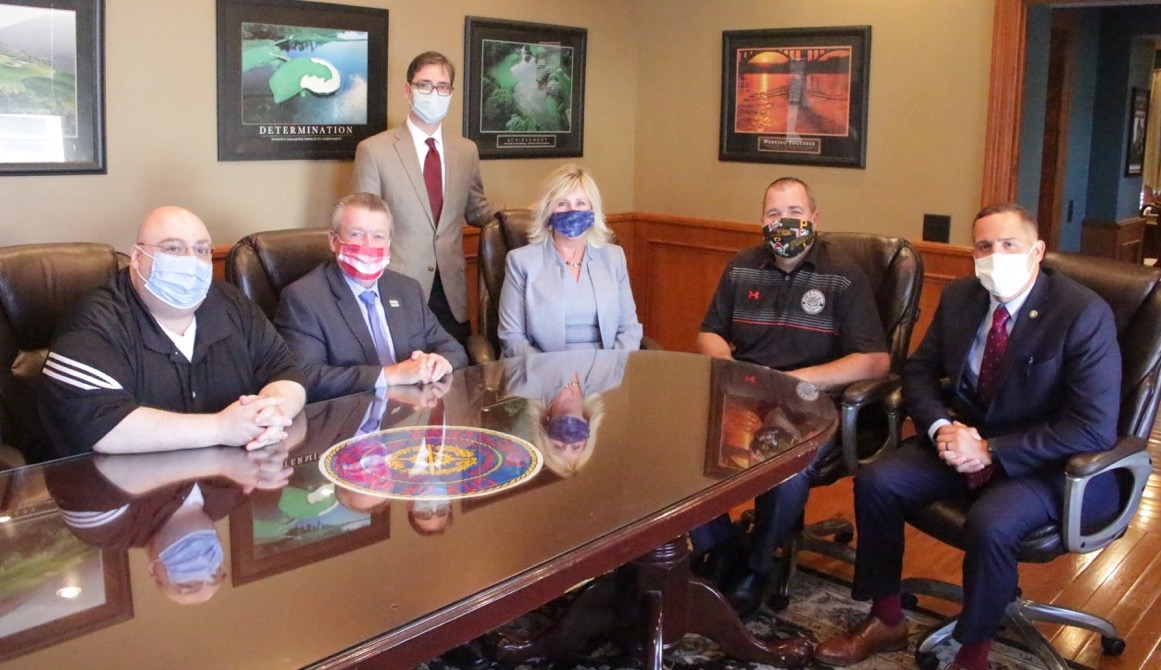 Officials from the U.S. Department of Housing and Urban Development met Wednesday with McKeesport leaders. Shown at city hall are A.J. Tedesco, McKeesport community development director; state Sen. Jim Brewster of McKeesport; Mike Horvath, HUD Pittsburgh field office director; Jane Miller, HUD deputy regional administrator; Mayor Michael Cherepko; and Joseph DeFelice, HUD Region III administrator. (Almanac photo)
---
McKeesport should take advantage of the federal Financial Opportunity Zone program to encourage investment in commercial properties and affordable housing in the city.
That was the pitch made Wednesday to city officials by Joseph J. DeFelice, regional administrator of the U.S. Department of Housing and Urban Development for five mid-Atlantic states and Washington, D.C.
DeFelice visited the McKeesport Housing Authority's Crawford Village as well as McKeesport City Hall during a stop Wednesday morning. DeFelice said he has been criss-crossing Pennsylvania to visit with housing agencies and local governments.
"A lot of people come up with really great ideas sitting around offices, but they don't know what's going on at the ground level," he said. "I want ideas to filter up from places like McKeesport and McKees Rocks. I think that's a better way to do things."
---
On Tuesday, DeFelice visited Rankin, Duquesne, McKees Rocks and Neville Twp. with employees of the Allegheny County Housing Authority.
Wednesday's visit was designed to introduce HUD's new Pittsburgh field office director, Mike Horvath, as well as to hear ideas from local officials, DeFelice said.
Horvath came to HUD after serving as Pittsburgh field office director of the U.S. Bureau of Citizenship and Immigration Services.
Also accompanying DeFelice and Horvath on Wednesday's visit to McKeesport was Jane Miller, who preceded Horvath as HUD's Pittsburgh Field Office director. She was recently named deputy regional administrator of HUD Region III.
---
An attorney from Northeast Philadelphia, DeFelice was appointed to HUD by President Trump in 2017 after serving as chair of the Philadelphia Republican Party and as chair of a community development corporation in that city's Mayfair neighborhood.
Financial Opportunity Zones were created under a provision in the 2017 tax-cut bill. Under the program, people and companies who have earned profits on their investments can defray or defer their taxes by investing those profits into projects in economically depressed areas that have been designated as "Qualified Opportunity Zones" by HUD.
Many parts of Mon Valley communities were designated as "Qualified Opportunity Zones" by HUD, including all of Downtown McKeesport, Duquesne, Glassport, much of Clairton and all of North Versailles Twp.
---
At City Hall, DeFelice met with State Sen. Jim Brewster, Mayor Michael Cherepko, City Administrator Tom Maglicco and community development Director A.J. Tedesco.
DeFelice pointed out that Erie, Pa., has attracted more than $40 million in investments since its downtown area was declared an opportunity zone.
Starting an opportunity fund would be a way to encourage famous McKeesporters who have left the area to donate back to the community, he said.
"We're familiar with the opportunity zone program, but we don't have a lot of investors looking at the area, even though we have a lot of investible property along our riverfront," Tedesco told DeFelice.
---
McKeesport's most pressing problem is eliminating neighborhood blight, Cherepko said.
"We have a lot of good things moving forward here, but blight is our number one problem," he said. "It just keeps popping up."
Although the city receives federal community development block grant, or CDBG, money from HUD, the agency only allows 30 percent of those funds to be used on demolition, the mayor said.
City officials also asked questions about how best to use $646,000 in emergency funding that was offered to McKeesport as part of the federal coronavirus relief package.
DeFelice suggested that with McKeesport Area school district students using distance learning, the city might be able to use the funding to expand wireless Internet access.
But Tedesco told DeFelice that HUD hasn't published guidelines yet in the Federal Register for how communities can spend the money.
McKeesport was told the funds could be used only for direct supplies and expenses related to COVID-19 response, Cherepko said.
"We are very grateful for the money, but we aren't going to need $646,000 worth of face masks," Cherepko said.
---
During his stop at the Housing Authority, DeFelice met with Steve Buckelew, executive director; Diane Raible, deputy director; and Lu Ethel Nesbit, a city councilwoman and authority board member.
DeFelice said that HUD's top priority — besides the development of affordable housing — was helping residents of public housing to become self-sufficient.
He asked what programs the housing authority is using to encourage entreprenuership and job placement.
Buckelew said the housing authority has a robust policy of placing residents into maintenance jobs — around 15 people, on average — under HUD's Section 3 job training program, and that the authority has partnered with Penn State University to promote education and career development.
But transportation from the Mon Valley is a serious barrier to employment, Buckelew told DeFelice.
"A lot of our residents don't have cars or don't have driver's licenses," he said. "We do try to get our contractors to hire our residents ... but a contractor who does a job in McKeesport, their next job might be in Butler County or Beaver County. Well, our resident is not going to ride the bus to a contracting job in Butler or Beaver."
---
Jason Togyer is editor of The Tube City Almanac and volunteer executive director of Tube City Community Media Inc. He may be reached at jtogyer@gmail.com.
Originally published August 07, 2020.
In other news:
"McKeesport Schools Pl…" || "First Commonwealth Cl…"