Songs of Elton John will take spotlight during 2020
By Kristen Keleschenyi
The Tube City Almanac
August 20, 2020
Posted in: North Versailles Twp. News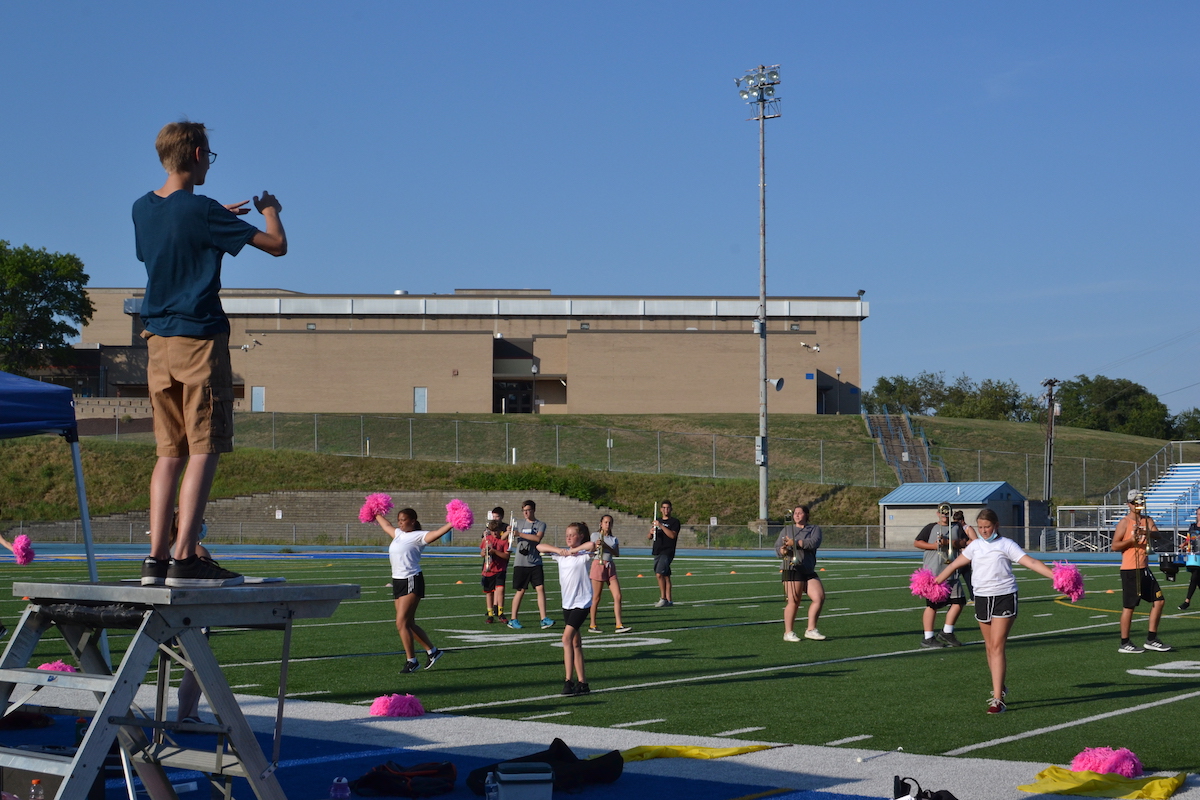 Assistant Drum Major Aidan Foscoe directs the East Allegheny High School band during a Monday night practice. (Kristen Keleschenyi photo for Tube City Almanac)
---
After several years of jazz-themed shows, the East Allegheny High School Marching Band is changing its tune.
For the 2020 season, the band will do a rock-themed show spotlighting the music of Elton John, including arrangements of hits such as "Funeral For A Friend/Love Lies Bleeding," "Your Song" and "Saturday Night's Alright for Fighting."
Band director Justin Rosco says the decision to move away from jazz was based on the departure of a number of seniors last year, and his desire to change things up a bit.
"We had a good trio," Rosco says, "that was one of the reasons we did several jazz shows in a row."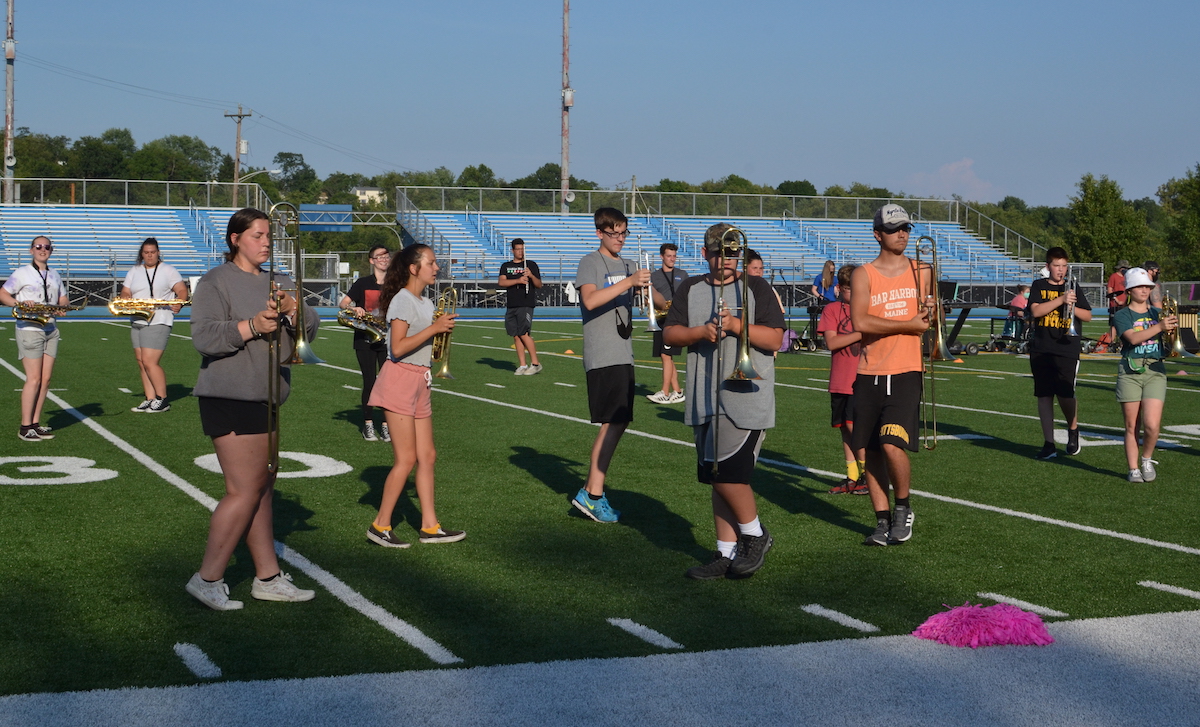 East Allegheny's band works through the final number of their 2020 field show featuring the music of Elton John. (Kristen Keleschenyi photo for Tube City Almanac)
---
Because of the current COVID-19 pandemic, this season has already been nothing like anything Rosco has seen during his almost 30-year career. He says recommendations from the state Department of Health and U.S. Centers for Disease Control and Prevention created some challenges for the traditional two-week band camp that wrapped up on Aug. 7.
Social distancing, mask use and limiting large group activities were all aspects of camp Rosco says students and instructors both had to get used to.
After a month or so, he says, "we're in a groove and that the kids kind of know what to expect." Students are wearing masks and getting their temperatures checked every time, Rosco says.
---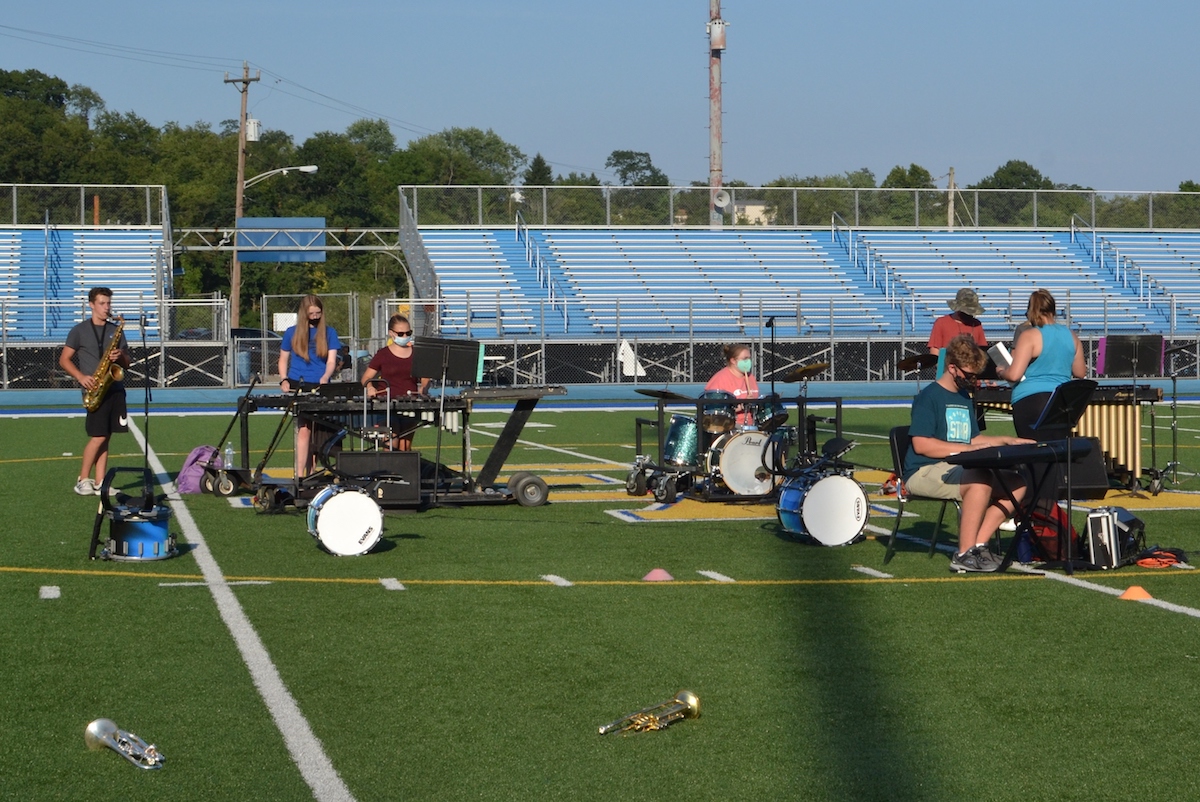 The pit section rehearses a number with Jessica Kendall, the new assistant marching band director. (Kristen Keleschenyi photo for Tube City Almanac)
---
Another thing the band had to get used to was the departure of Amanda Rosco as assistant band director after 12 years. Former East Allegheny drum major Jessica Kendall has been tapped to take on that responsibility.
A 2012 graduate, she's never really left the band environment. Kendall remained on the East Allegheny band staff for three out of the four years she was attending Duquesne University, where she studied music education.
She currently teaches music to kindergarten through fifth-grade pupils in Pittsburgh Public Schools, and also gives musical theater and private voice lessons at the Dance Company in North Versailles Twp.
Adding Kendall "made the transition very easy for me because she knows how I do things," Rosco says.
Although Kendall is familiar with the band's history and traditions, Rosco says "she brings a fresh enthusiasm and I think she's done a phenomenal job for us so far."
There are no high school band competitions scheduled due to the pandemic, and the annual Tournament of Bands championship competition has been cancelled. For now, Rosco says, the band will play during halftime only at East Allegheny home football games, but that could change.
There will be four performances of the Elton John show during September and October at Churchman Stadium, but the concerts will be limited to family and friends, he says.
Rosco says the Elton John show is a good fit for the East Allegheny band. "I think it's in our band's personality to try to do something audience-friendly (and) entertaining, whether it be in a jazz genre or in a rock genre like we are doing now," he says.
---
Kristen Keleschenyi is a freelance writer in North Versailles Twp. and one of the hosts of the Kristen & Amber Show on WMCK Internet Radio at 5 p.m. Saturdays, 9 p.m. Mondays and 4 p.m. Thursdays. She may be reached at kbishop25@hotmail.com.
Originally published August 20, 2020.
In other news:
"Serra Show Draws on S…" || "City, NAACP to Distri…"