By Submitted Report
The Tube City Almanac
January 22, 2016
Posted in: McKeesport and Region News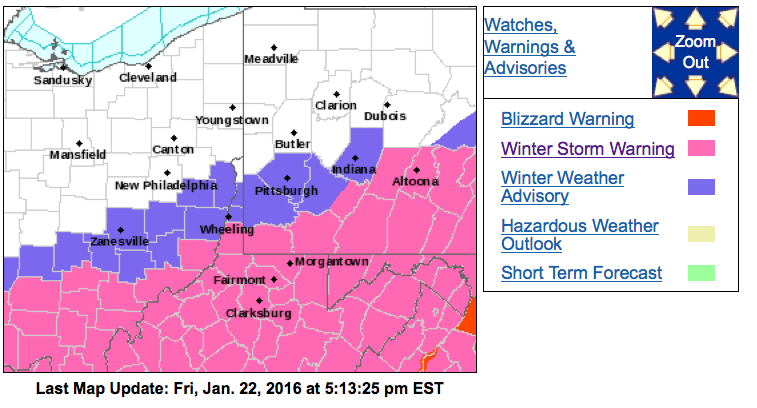 As the Mon-Yough area braces for its first significant snowfall of 2016, local officials are reminding residents to keep roads clear for snowplows and salt trucks, and to be patient.
Police in White Oak requested that residents "not park on the street unless absolutely necessary," advice that was echoed by police in Wilkins and North Huntingdon townships.
A spokeswoman for McKeesport Mayor Mike Cherepko urged residents to be "careful and patient" as crews work to clear streets this weekend.
"As our plows and salt trucks make their way through the city's near 100 miles of roadways, please stay safe in your homes," she said. "Be sure to be good neighbors and lend a helping hand to those in need of assistance, whether that means shoveling an extra sidewalk or checking in to make sure folks are doing well."
The National Weather Service in Moon Twp. says the McKeesport area is likely to receive 3 to 7 inches of snow between 8 p.m. Friday and 2 p.m. Saturday. Winds gusting up to 25 mph will make blowing and drifting snow a problem as well, meteorologists said.
A winter weather advisory has been issued for the Mon-Yough area. Heavier snowfalls are expected south of McKeesport in Washington, Fayette and Greene counties, where the weather service has issued more serious winter storm warnings.
The predicted low overnight will be 20, and tomorrow's high will be 26. Saturday night, temperatures will turn much colder, with wind chill making the temperature feel like 1 below zero.
But the weather service cautioned that even minor changes in the direction of the passing storm could cause increases in the amount of snow in our area. Parts of Ohio and Maryland were already reporting 3 to 4 inches of snow as of 3 p.m. Friday.
Some locations in Pennsylvania could see 12-18 inches or more of snow, the state Emergency Management Agency said, though PEMA director Richard Flinn Jr. said "this is not a time to panic or overreact."

"We know this storm is coming, and every Pennsylvanian can take advantage of the time we have to make sure they and their families are ready with home and car emergency kits," he said.
A list of winter safety tips is available on the state's ReadyPa.gov website.
Originally published January 22, 2016.
In other news:
"McKeesport Councilor …" || "Police Log: Jan. 25, …"