To place your ad, email tubecitytiger@gmail.com. Ads start at $1 per day, minimum seven days.
By Staff Reports
The Tube City Almanac
January 05, 2021
Posted in: Commentary-Editorial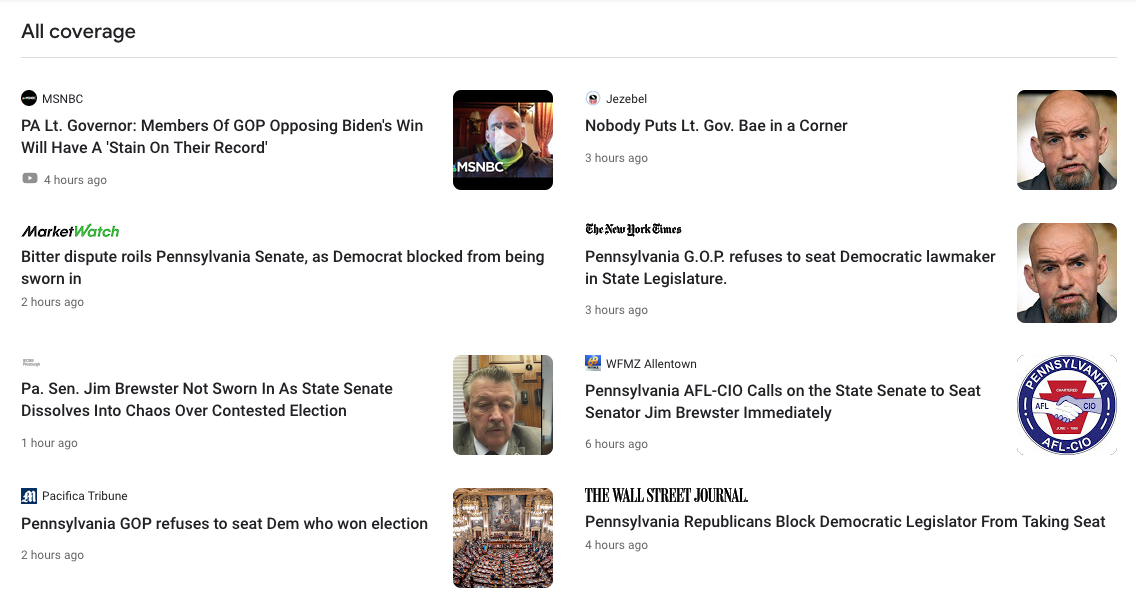 Tuesday's decision by the Republican majority in the Pennsylvania State Senate not to seat state Sen. Jim Brewster of McKeesport has made national and international headlines, with even a cartoonist from Nairobi, Kenya, weighing in.
Here's what some media outlets are saying:
CNN:
The Pennsylvania Senate's swearing-in ceremony devolved into a chaotic scene on Tuesday when state GOP senators refused to seat a Democratic member who had won reelection and seized control of the proceedings from the Democratic lieutenant governor after his objections.

Republicans in the chamber made a motion to not seat state Democratic Sen. Jim Brewster, whose narrow win in November is being challenged by his GOP opponent. The Pennsylvania Department of State has confirmed his win.
The effort mirrors an ongoing push from some congressional Republicans to object to President-elect Joe Biden's presidential victory even as his win has been confirmed by the Electoral College and lawsuits seeking to overturn the results have been widely dismissed. (link)
Fox News:
Pennsylvania lawmakers are feuding after Republicans refused to seat Democratic Sen. Jim Brewster of Allegheny County, whose win is being contested over a small number of undated ballots.
Republicans also voted for a motion to recognize every other election besides Brewster's and to remove the state's Democratic Lieutenant Governor John Fetterman as the body's presiding officer.

Fetterman, who insisted on seating Brewster, reportedly responded by exclaiming, "We're at a dangerous time in this country."
Washington Post columnist Greg Sargent quoted Fetterman as saying: "One party is ignoring court rulings and election results. If the results don't match what they like, they do their level best to subvert them." (link)
The Wall Street Journal
The contentiousness reflects the continuing tensions in Pennsylvania two months after President-elect Joe Biden carried the battleground state over President Trump by about 80,000 votes. Mr. Trump and other Republicans filed numerous legal challenges over the vote, none of which changed the outcome.

While the legislature has been the scene of past challenges over whether to seat legislators, the current dispute stands out because of efforts by Mr. Trump and some Republicans to overturn the national election result, said Chris Borick, a political-science professor at Muhlenberg College in Allentown, Pa.

"It probably wouldn't have blown up anywhere near the way it has, if not for the convergence of this case with the presidential debates and challenges that have gone on since Election Day," Mr. Borick said. "The confluence of those two things has made it very combustible." (link)
The New York Times:
The effort by congressional Republicans to deny the presidential results found an echo in the Pennsylvania legislature on Tuesday, when Republicans voted not to seat a Democratic lawmaker who was elected in November and to remove the lieutenant governor, also a Democrat, as the presiding officer of the State Senate.

In a contentious, chaotic session, Republicans also voted to remove Lt. Gov. John Fetterman as the Senate president and to replace him with the top Republican in the chamber.

"I was escorted out," Mr. Fetterman said in an interview minutes later. "This was a corruption of the fundamental democratic franchise in our state." He said Mr. Brewster's win in November was certified by the secretary of the commonwealth and compared the state Republicans' actions to President Trump's efforts to subvert the outcome of his race. (link)
The Washington Post
Opinion by Greg Sargent—
"We're at a dangerous time in this country," John Fetterman, the lieutenant governor of Pennsylvania, told me by phone. "One party is ignoring court rulings and election results. If the results don't match what they like, they do their level best to subvert them."

That quote could be applied directly to President Trump and much of the national GOP, of course. On Wednesday, dozens of congressional Republicans will side with Trump and try to invalidate President-elect Joe Biden's electors in numerous states.

But in this case, Fetterman, a Democrat, is talking about Republicans in his state of Pennsylvania, where an ugly power play is unfolding that carries unsettling implications. (link)
The Philadelphia Inquirer:
Opinion by The Editorial Board—
The erosion of democracy can be a slow and insidious process — but on Tuesday, Pennsylvania state Senate Republicans demonstrated how fast it catches up on you.

Despite the fact the election results in the 45th Senatorial District have been certified by the secretary of state, Senate Republicans took matters into their own hands, and citing a technical rule, they announced Monday that they wouldn't seat Brewster.

... it is the actions of Republicans — from the White House, Congress, and the Pennsylvania General Assembly — that have undermined people's faith in the voting process and served to question the results of the elections because they don't like the outcome. The system is working. Democracy? Not so much. (link)
Esquire Magazine:
Opinion by Charles P. Pierce—
Prior to what was supposed to be a pro forma session of the Senate, Ziccarelli unloaded a 500-page cinder block detailing the many ways she'd actually won the 45th. The Republican majority in the Senate thereupon refused to "seat" Brewster who, we must remind you, has had his election certified by everyone who is supposed to certify elections in Pennsylvania.

The Democrats in the chamber spiraled into the highest dudgeon.
Democratic Lieutenant Governor John Fetterman, who was presiding over the session, insisted on seating Brewster. In response, the Republicans pushed through a measure removing Fetterman as presiding officer and, for a brief moment, there were two presiding officers.
Once Fetterman was finally removed, the senate voted to seat everyone except poor Brewster, and the Republicans refused to say how long they were willing to leave the 45th unrepresented. (Refusing to seat Brewster doesn't affect that balance of power in the chamber.)

This is how we do elections now. This is your democracy, America. Cherish it. (link)
Kenyan editorial cartoonist and satirist Patrick Gathara on Twitter: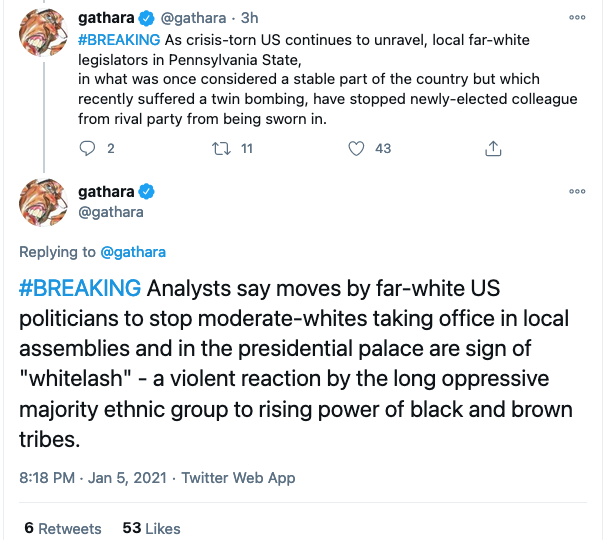 (link)

Originally published January 05, 2021.

In other news:
"Anger, Chaos as Senat…" || "Source of Gas Odor Un…"