Daughter organizes virtual art class for MAHS's 'Mrs. Paz'
By Siana Emery
The Tube City Almanac
January 15, 2021
Posted in: McKeesport and Region News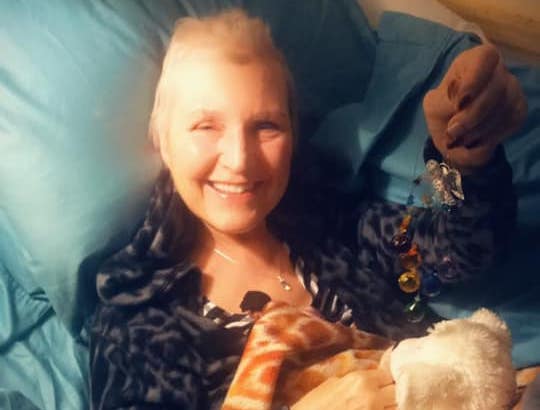 Diane Pazuchanics shows off a recent gift sent by a former student. (Submitted photo via Facebook)
---
Long-time McKeesport Area art teacher and mentor Diane Pazuchanics is seeing the inspiration she fostered in others being returned to her. Through "The Angel Project," a network of students, colleagues, friends and even strangers, are using art to show their gratitude toward her.

Pazuchanics, known as Mrs. Paz to her students, has taught at McKeesport Area High School for 27 years as an art teacher, providing students with creative inspiration. Due to a weakened immune system and other health complications, Mrs. Paz has been on sick leave this school year.

Danielle Pazuchanics, her daughter, recently posted a video to Facebook in which her mother shared a wish for a "final lesson plan": to compile a book of watercolor paintings. Paz also created a Facebook group, The Angel Project, for colleagues to share well wishes.
"She wants a watercolor book with angels," said Danielle Pazuchanics. "The angels represent the students and whoever the people are, their background, culture, their ethnicity, their journey. And on the back, a message to her. If they know her, write to her, tell her how she inspired them, or if they don't know her, just an inspirational message."

Over the last few weeks, the project has evolved to something much bigger.

Students, colleagues and friends have tapped into their creative sides to share the impact Mrs. Paz has had on their lives. Currently, the angels are being hung around Mrs. Paz's home. A substitute art teacher at McKeesport High School has committed to compiling a book of the angel-themed watercolor paintings, while those outside the system are sending their own angels.

"When I did this, I did not expect it to be what it is," said Danielle Pazuchanics. "I was giving an outlet to her teaching friends to be able to talk to her. I think it's like 240 people now. There was a woman who reached out who has known my mom since I was in her belly. The stuff these students are writing to her, how she got them through such pain in their lives … I am so honored to be her daughter."

According to Danielle Pazuchanics, the inspiration for the project came from a tradition her mother began years ago: Angel's Night Out. Each year at Christmas, Mrs. Paz would get a group of people from church together to collect necessary items such as toiletries for those in need. They would put together kits and sign them "Merry Christmas, From Your Angels."

Danielle Pazuchanics said that "Every year, my mom would come up with an angel themed craft, and it was always something [those in need] could use. My mom would teach it, they'd box it, and it was always tagged 'From Your Angel.'"

"My mom just loves angels, so I figured I would open this group," said Danielle Pazuchanics. People kept reaching out to me to get a hold of mom and leave messages. With COVID-19, and everything going on, everyone wanted to do something for her. You can only send so many cards, so many chocolates."

Within the first night of creation, the group had 52 members. "I don't even know if I know 52 people," said Danielle. It wasn't long before word started to spread more rapidly. Those that know Mrs.Paz started writing inspirational memories they have of her, which Danielle shares with her mother. "I know she is feeling as though she has definitely made a difference in people's lives."

"She never said a negative thing about anyone or anything. She was always so positive and pushed me to think outside the box," said Dani Nichole, a McKeesport Area High School graduate who had Mrs. Paz in 2004. "She is such a genuine person with the kindest soul. God made her for a reason."

Those sending well-wishes are tapping into many different creative outlets and mediums. The Paz family has received a crocheted angel with a healing stone inside, an angel made of pipe cleaners, and there is even a welded angel in the works.

Danielle Pazuchanics said, "Whatever your craft is, send it. Heck, create a musical angel. However you want. I just want my mom to feel so appreciated for what an inspirational woman she is."

Despite all the challenges the past year has thrown at her and her family, Mrs. Paz continues to radiate love. In the Facebook video, she reminds the community that, "At this time of year we have to help others and think of others who are less fortunate than us, because there are a lot of people struggling out there."

"She is the most humble person I know. She gives all she has, and she is still giving it," said Danielle Pazuchanics.

If you would like to send an angel to Mrs. Paz, contact The Angel Project on Facebook: https://www.facebook.com/groups/3236822856457921.
---
Siana Emery is a freelance writer living in Pittsburgh's South Hilltop. She has also written for The Mennonite World Review, Goshen College Communications and Marketing and The Goshen College Record. She can be reached at sianaemery@gmail.com.

Originally published January 15, 2021.
In other news:
"Executive Bldg. Comin…" || "EA School Board OK's …"