(Advertisement)
Tube City Community Media Inc. is seeking freelance writers to help cover city council, news and feature stories in McKeesport, Duquesne, White Oak and the neighboring communities. High school and college students seeking work experience are encouraged to apply; we are willing to work with students who need credit toward class assignments. Please send cover letter, resume, two writing samples and the name of a reference (an employer, supervisor, teacher, etc. -- not a relative) to tubecitytiger@gmail.com. (4-11-2023 to 4-30-2023)
To place your ad, email tubecitytiger@gmail.com.
Ads start at $1 per day, minimum seven days.
Some of game's greatest players were stars here
By Jason A. Mignanelli
The Tube City Almanac
February 10, 2021
Posted in: History, Sports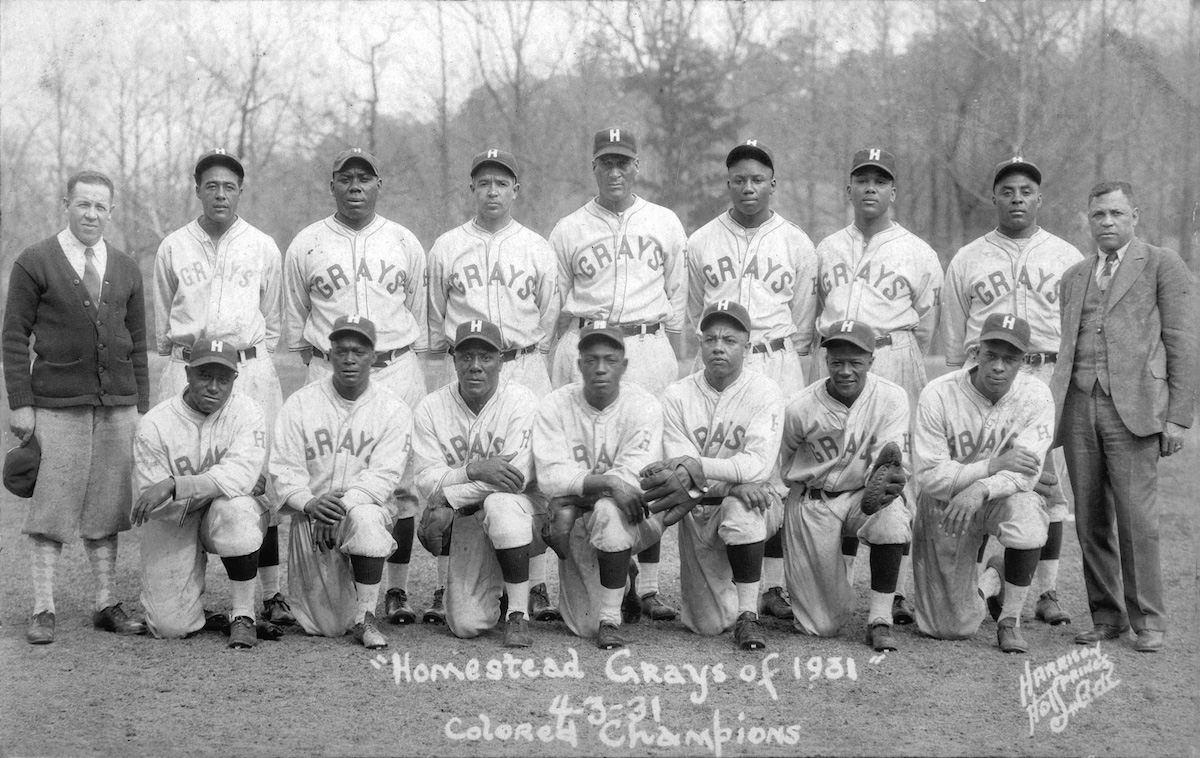 The 1930-31 Homestead Grays, considered by baseball experts the best Negro Leagues team of all time. Five of the people in this photo — owner Cumberland Posey, pitcher "Smokey" Joe Williams, catcher Josh Gibson, center fielder Oscar Charleston and infielder Jud Wilson — are in the National Baseball Hall of Fame. (Photo via Wikimedia Commons)
---
Hank Aaron's death on Feb. 5, during Black History Month, resonated with many baseball fans — especially those who remember the Negro major leagues, where Aaron began his professional career in 1951.
Other than Kansas City, perhaps no city has a stronger connection than Pittsburgh to baseball's Negro major leagues, where Black athletes competed in the days before Major League Baseball was integrated.

The Homestead Grays and the Pittsburgh Crawfords — named after the Crawford Bath House in Pittsburgh's Hill District — were cornerstones of the Negro National League, which was created in 1933 and lasted until 1948.

"Some of the greatest players to ever play in the Negro Leagues and the Major Leagues once played right here in Pittsburgh," said Dave Moore, museum director at the McKeesport Regional History and Heritage Center.
"Players like Satchel Paige, 'Cool Papa' Bell and Josh Gibson were signed by Gus Greenlee, the Pittsburgh Crawfords' owner during the early 1930s," Moore said. "The Crawfords quickly became one of the best Negro League teams in the country."
The other team across town, the Homestead Grays — which played games throughout the Mon Valley — was very popular as well. The Society for American Baseball Research has called the 1931 squad the best baseball team of all time.
"The Grays were one of the most successful teams of the Negro Leagues," said Joel Gray, manager of community outreach with the Pittsburgh Pirates. "The Homestead Grays won nine straight titles from 1937-48 and three Negro League World Championships during that stretch."
Gray has been researching the Negro Leagues since 2015 and has shared his findings with Major League Baseball.
"You are starting to see more recognition of the Negro Leagues in Major League Baseball now too," said Gray.
In December, MLB commissioner Rob Manfred declared that seven of the most prominent Negro Leagues and nearly 3,400 players will be officially recognized as Major League Baseball teams and players.
"Gus Greenlee, being the numbers guy, was able to sign the best players off the Grays, such as Josh Gibson and others," Gray said. "The 1935 Pittsburgh Crawfords are arguably one of the best assembled baseball teams ever, not just in the Negro Leagues but potentially better than any Major League team as well. The stats are just incredible."
Although both the Crawfords and the Grays had "home stadiums" during their existences, they also traveled from town to town in Western Pennsylvania, challenging other local teams.
The Grays were known to have played at least some games in McKeesport. But Moore said the historical record isn't always clear about when, and where.
"It's very difficult to locate exact records of where these games were played, but it's my understanding that the Negro League teams played whoever they could get a game with, and that would mean local steel mill teams (in places such as) Duquesne," Moore said.
"The Homestead Grays played their weekday games at Munhall's West Field, and then, on the weekends, if the Pirates were out of town, they would play at Forbes Field," Moore said. "There is a lot of speculation that Negro League games were played at McKeesport's old Cycler Park and even at Olympia Park in Versailles."
White journalists weren't covering the Negro Leagues at the time, Gray said. "It's really difficult to say exactly where every game was played," he said. "The records are just hard to find."
But, Gray said, despite the segregation that was common in the era, it's notable that Black teams were welcome to play at white-owned parks, such as Forbes Field.
"I find it fascinating that even though the Negro League players weren't allowed to play on the major league teams, the major league teams still let them play in their ball parks," he said. "It shows that it was good baseball, and that they had a pretty big following of fans."

To learn more about the Negro Leagues in Pittsburgh, visit the Negro Leagues baseball exhibit at the McKeesport Regional History and Heritage Center, 1832 Arboretum Drive, Renziehausen Park. Entry is free. The center is open Tuesdays through Saturdays, but social distancing rules are in place due to COVID-19.
On Wednesdays throughout February, the Pirates are streaming "Long Live Their Legacy," a tribute to the players and teams of the Negro Leagues. For more information, visit https://www.mlb.com/pirates/community/long-live-their-legacy.
---
Jason A. Mignanelli is a freelance writer from Pittsburgh's North Hills and a student at Duquesne University. He may be reached at mignanellij@duq.edu.
Originally published February 10, 2021.
In other news:
"Clarification Issued" || "WOAA Work Complete, O…"