(Advertisement)
Tube City Community Media Inc. is seeking freelance writers to help cover city council, news and feature stories in McKeesport, Duquesne, White Oak and the neighboring communities. High school and college students seeking work experience are encouraged to apply; we are willing to work with students who need credit toward class assignments. Please send cover letter, resume, two writing samples and the name of a reference (an employer, supervisor, teacher, etc. -- not a relative) to tubecitytiger@gmail.com. (4-11-2023 to 4-30-2023)
To place your ad, email tubecitytiger@gmail.com.
Ads start at $1 per day, minimum seven days.
By Vickie Babyak
The Tube City Almanac
February 22, 2021
Posted in: McKeesport and Region News

Editor's Note: During the final week of Black History Month 2021, Vickie Babyak is taking a look at some local community leaders and entrepreneurs.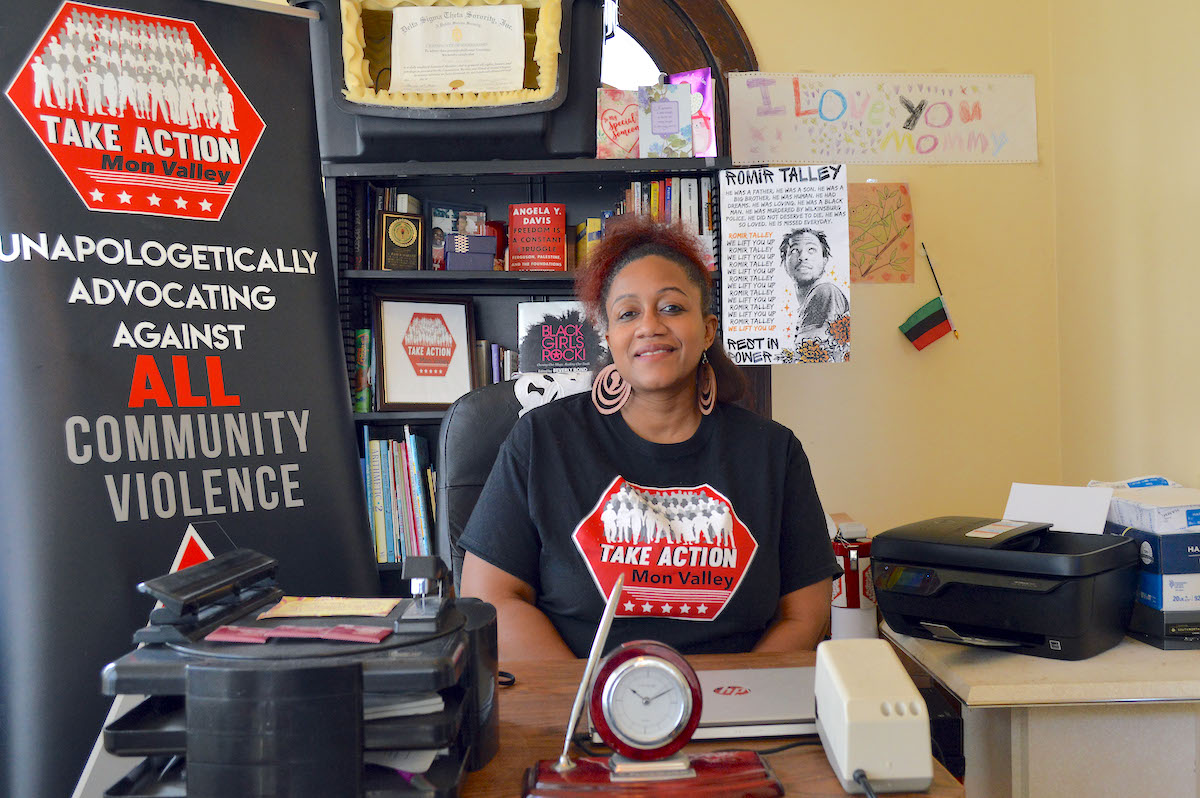 Fawn Walker Montgomery working from her home office. (Vickie Babyak photo for Tube City Almanac)
---
Take Action Mon Valley (TAMV) is a nonprofit organization located in McKeesport, and its mission is to combat all forms of community violence, activism and organizing. The nonprofit was originated in 2014.

"My cousin's son, Carlos Hudson Jr. was murdered," said Fawn Walker Montgomery, Co-Founder and Executive Director of TAMV. "He wasn't the first or last relative I've lost to violence, so my cousin, Mae Herriott Hudson, and I decided to do something about solving homicides in our community. Since then, we have developed into a social justice organization that reaches out to surrounding communities."

Montgomery takes complaints on violence throughout Allegheny County and focuses on generating solutions for local communities. Any individual, organization or group can make a complaint.
TAMV provides consultation, workshops, training with community partners, leaders, organizers and individuals. The focus is around all forms of community violence, conflict resolution, racism, and to equip communities with the tools needed to gain power and have influence over decisions that affect their neighborhoods.

Last year, from July to October 2020, TAMV set up several pop-up voter education booths throughout the Mon Valley. Voting is one way for people's voices to be heard and to create sustainable change.

TAMV organizes emergency services when necessary. Volunteers and supporters of TAMV delivered food boxes to the porches of elderly people during the Covid-19 stay-at-home order. Many senior citizens don't have transportation and needed assistance in protecting themselves from contracting the virus.

Food box delivery was temporarily available during the crisis situation and TAMV no longer does porch deliveries. The TAMV website has listings of community resources for people experiencing food insecurity or those in need of grocery delivery programs. Residents may contact the organizations directly as they are not part of TAMV.

TAMV has youth chapters throughout Mon Valley communities. The youth are involved in learning how to activate their power of voice to reflect what changes they would like to see. TAMV Youth chapter addresses youth needs with community violence workshops, professional communication skills, local outings with interest in the arts, sports, food, and culture.

Another nonprofit organization addressing youth needs is Concerned Fathers located on Bailey Avenue in McKeesport. Concerned Fathers is a fishing and mentoring program with comprehensive curriculum to develop life skills.

To learn more about Take Action Mon Valley visit www.tamv.org and Concerned Fathers at www.concernedfathersinc.org.
---
Vickie Babyak is a photographer and freelance writer from Dravosburg. She may be reached at vbabyak@yahoo.com.
Originally published February 22, 2021.
In other news:
"EA Senior Swims to Ne…" || "All-Faiths Prayer Ser…"