(Advertisement)
Tube City Community Media Inc. is seeking freelance writers to help cover city council, news and feature stories in McKeesport, Duquesne, White Oak and the neighboring communities. High school and college students seeking work experience are encouraged to apply; we are willing to work with students who need credit toward class assignments. Please send cover letter, resume, two writing samples and the name of a reference (an employer, supervisor, teacher, etc. -- not a relative) to tubecitytiger@gmail.com. (4-11-2023 to 4-30-2023)
To place your ad, email tubecitytiger@gmail.com.
Ads start at $1 per day, minimum seven days.
By Sarah Turnbull
The Tube City Almanac
March 09, 2021
Posted in: White Oak News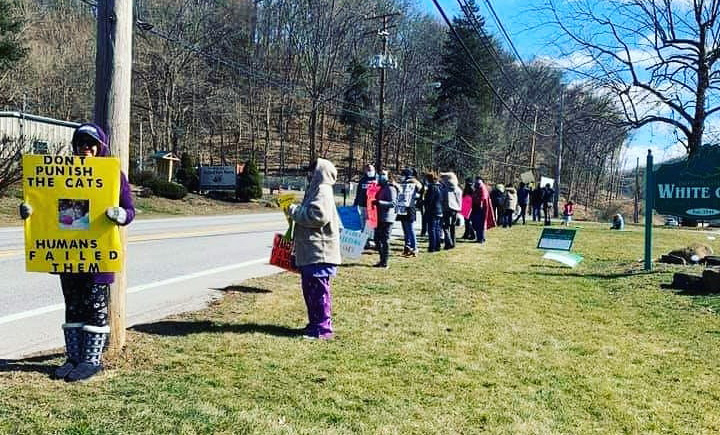 Protestors lined Lincoln Way in front of the White Oak municipal building March 5 to draw attention to the borough's feral cat ordinance. (Amanda Coats photo via Facebook)
---
After 20 years of rescuing dogs and cats, Amanda Coats' passion for animals remains strong. Over the last 10 years, Coats has trapped, neutered and returned 1,000 cats in the Mon Valley.

As a trap, neuter, return volunteer, Coats, of Murrysville, works with community cats and their caretakers to keep the animals healthy, along with educating citizens and legislators on how to best care for homeless cats.

"Cats can be in suburbia, farms, on the streets … really anywhere humans are," Coats said. "And they can have up to four litters a year. One colony can have anywhere from five to 50 cats."

In December, White Oak council passed an ordinance making it unlawful to continue feeding feral cats if it causes a nuisance to neighbors, prompting a protest from 25 animal lovers outside the borough building on March 6.
As organizer of the protest, Coats expressed her concerns about the impact of the ordinance.

"It's geared toward humans instead of helping the cats," Coats said about the ordinance.

But White Oak Mayor Ina Jean Marton says that the ordinance is necessary for the overall wellbeing of the community.

"We had some neighbors over the last year complain about stray cats defecating and urinating on lawns and flowerbeds," Marton said. "So we figured we'd pass an ordinance."

Marton also emphasized that the cat activists and the council share a common goal.

"I would never suggest not feeding cats — that's cruel," she said.
One resident already has been cited for feeding stray cats and the citation is expected to go to a district judge. Animal-rights activists have said they are considering a legal challenge to the ordinance's legality.
Tara Czekaj, who grew up in Glassport and now lives on Pittsburgh's North Side, is 18th Congressional District leader for the Humane Society of the United States. She, too, expressed concerns about the language of the ordinance.

"There are a lot of inconsistencies," Czekaj said. "It's very different from other ordinances. It gives a wide definition of 'nuisance,' and it doesn't outright ban feeding. The borough chose a punitive route that doesn't help animals or citizens in the long run."

Czekaj partners with local rescues and shelters to educate municipalities and citizens about best practices for helping homeless cat populations, as well as drafting legislation at the state and federal level. She says an attitude shift is essential to enacting real and positive change.

"Education should always be number one," Czekaj said. "Community cats are challenging because the population is a moving target. Plus, most of the burden falls on citizens. Municipalities can become compassionate communities if they focus on humane, solutions-based legislation."

Czekaj said that a trap, neuter, vaccinate and release approach is the most effective solution to community cat colonies.

"In three to five years, it can decrease colonies down to zero," she said. "Partnering with local resource groups to provide shots and spaying/neutering is essential."

But, Czekaj says, it will take more than just humane legislation to enact change.

"We need to assume positive intent and rethink what it means to be good citizens and neighbors. The biggest difference will come from education and changing behaviors. When people know the right thing to do, they usually do it."

Coats agreed.

"The more education we have, the better," she said. "There are resources available — reach out to everyone every day and don't give up. I might not see change in my lifetime, but maybe my kids will."
At Monday's council workshop meeting, Coats urged Marton and members of council to consider revising or repealing the ordinance.
But Councilman Ken Robb, an attorney, said council shouldn't change the ordinance until or unless ordered to do so by a judge.
"Ultimately a judge will decide if the ordinance is valid," Robb said.
Marton is urging both council and members of the public to keep an open mind about the ordinance. "We're on the same page when it comes to rescuing animals," she said.
---
Sarah Turnbull is a freelance writer in Irwin. She can be reached at sarahturnbull323@gmail.com.
Originally published March 09, 2021.
In other news:
"Parent Laments Online…" || "City, ACLU Reach Agre…"