To place your ad, email tubecitytiger@gmail.com. Ads start at $1 per day, minimum seven days.
By Staff Reports
The Tube City Almanac
April 07, 2021
Posted in: McKeesport and Region News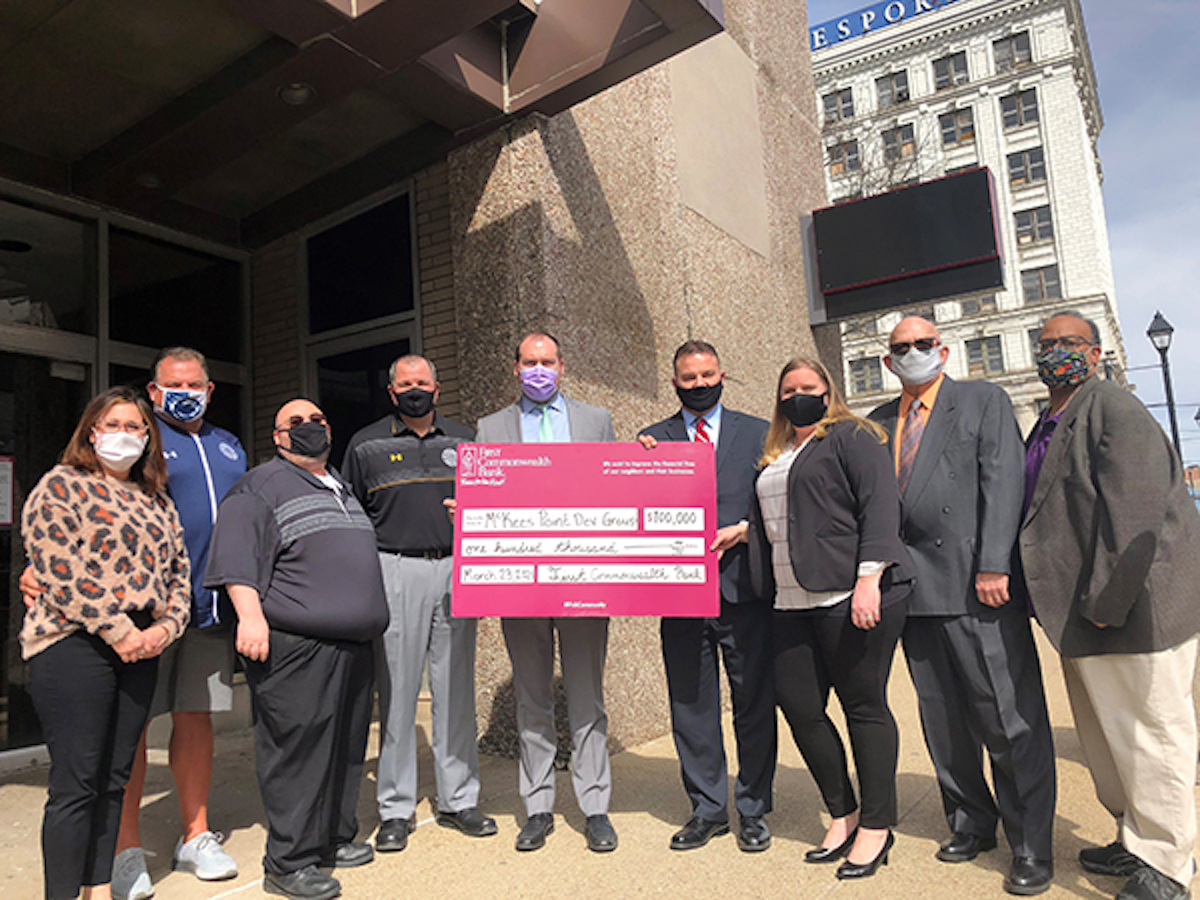 Accepting this year's $100,000 payment toward the city's neighborhood assistance program are Melissa Ernst, secretary of the McKeesport redevelopment authority; city Councilman Jim Barry; A.J. Tedesco, community development director and executive director of the redevelopment authority; McKeesport Mayor Michael Cherepko; Evan Zuverink, community reinvestment act officer for First Commonwealth Bank; Scott Vidovich, market leader for First Commonwealth Bank; Kristen Lupari, White Oak branch manager; Paul Sturgess, member of the redevelopment authority; and Stu Wilson, president of the redevelopment authority. (Submitted photo)
---
First Commonwealth Bank has donated its former Downtown location to the city's redevelopment authority.
Jonathan Longwill, vice president and media relations specialist for the Indiana, Pa., based bank, said the building at 225 Fifth Ave. has been donated to facilitate ongoing redevelopment work in McKeesport's central business district.
The bank is also participating in McKeesport's six-year, $2.7 million neighborhood assistance program to remove blight and renovate homes, and recently presented the city with its $100,000 annual installment.
The McKeesport branch of First Commonwealth was one of 29 closed by the bank in 2020 as part of a system-wide reduction of offices. Customers with accounts in McKeesport had their accounts consolidated with an existing White Oak office.
Officials said the COVID-19 pandemic accelerated a trend by customers away from in-person banking. According to First Commonwealth, face-to-face transactions with tellers have declined 15 to 20 percent every year over the past four to five years.
According to Allegheny County tax records, the building, constructed in 1965 by First Federal Savings & Loan of Homestead, has a fair-market value of $377,100.
City officials have not announced plans for the former bank building, but the neighboring Jaison's department store, long vacant and most recently used as a bingo hall, is targeted for demolition.
Originally published April 07, 2021.
In other news:
"Shopping Malls: A Ret…" || "A Note of Apology and…"