To place your ad, email tubecitytiger@gmail.com. Ads start at $1 per day, minimum seven days.
Clinic at Downtown church designed to reach more local residents
By Jason Togyer
The Tube City Almanac
April 08, 2021
Posted in: McKeesport and Region News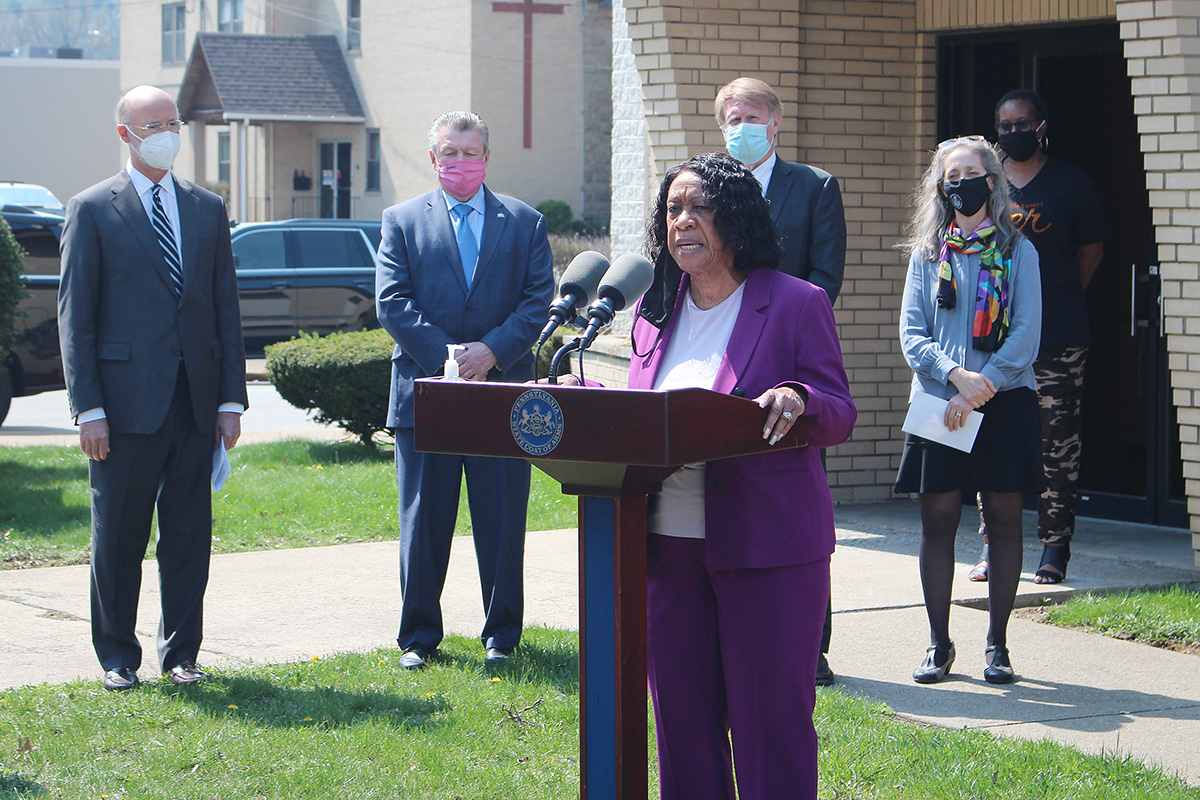 Rev. Earlene Coleman, pastor of Bethlehem Baptist Church, speaks to members of the media Wednesday. Also shown are Pennsylvania Gov. Tom Wolf, state Sen. Jim Brewster, Allegheny County Executive Rich Fitzgerald and Allegheny County Health Department Director Debra Bogen. (Photo special to Tube City Almanac)
---
The COVID-19 vaccine shortages and website crashes that frustrated Pennsylvania residents in January and February are not likely to be repeated, Gov. Tom Wolf said in McKeesport on Wednesday.
Joined by city, county and state elected officials, Wolf visited the city to tour a vaccination clinic set up in the fellowship hall of Bethlehem Baptist Church on Walnut Street, Downtown.
"By the second week in May, we should have reached the point where at least one dose will have reached everybody who wants the shot," Wolf said.
The biggest issue is the number of people who remain reluctant to be vaccinated, he said — which is where churches like Bethlehem Baptist can help.
---
According to NPR, citing data from the U.S. Centers for Disease Control & Prevention, about 35 percent of Pennsylvania residents have now received at least one dose of a COVID-19 vaccine, and 19 percent are fully vaccinated.
The clinic at Bethlehem Baptist Church is one of four operated by Allegheny County Health Department, and the second to open inside a church. Appointments are required and may be scheduled at vax4.alleghenycounty.us.
Right now, only residents in Phase 1A and Phase 1B are eligible to be vaccinated. Phase 1C opens on April 12 and all Pennsylvanians will be able to schedule appointments on April 19.
Wolf said that delays during the early stages of the vaccine roll-out were related to a lack of supply, and the large number of people in Phase 1A, which included senior citizens.
About 18 percent of the state's population, or 2.2 million people, are aged 62 or over.
"There were about 4 million people included in Phase 1A," Wolf said. "There was not only a huge population issue, there was a huge supply issue. In Phase 1B, there are fewer than 1 million people."
As the state steps up the number of vaccinations, he said, "we're planning not to have the impasses and the logjams we had in January."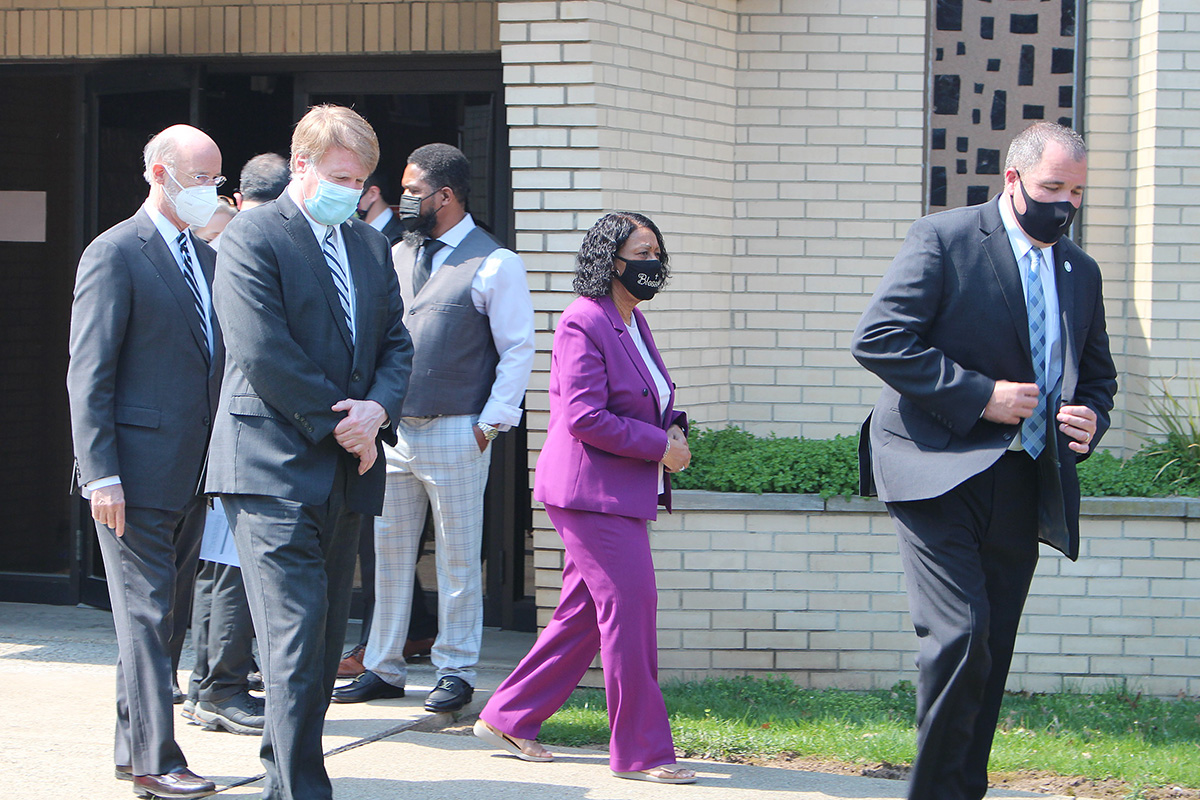 Wolf, Fitzgerald, Coleman and McKeesport Mayor Michael Cherepko leave Bethlehem Baptist Church following a tour of the vaccination clinic in the building's fellowship hall. (Photo special to Tube City Almanac)
---
The Rev. Earlene Coleman, pastor of Bethlehem Baptist, said the church's goal is to make sure that members of the church and residents of the surrounding neighborhood can get vaccinated in a welcoming environment where they feel safe.
The pandemic "is going to come to an end when we can get to the other side," Coleman said. "When this (mask) doesn't have to be on our faces any more. When we can hug our families again. When we can visit our loved ones when they're sick."
A report released Tuesday by MarketVision Inc. indicated that women, Black people and people under age 25 "are the three groups most likely to resist receiving (a) COVID-19 vaccine."
Persons surveyed said their top concerns about vaccination were medical privacy, safety and side effects, with some respondents telling poll workers they felt the vaccines were "developed too quickly."
Coleman said the concerns were not realistic.
"Young adults, please listen," she said. "You need the vaccine. The vaccine was not created overnight. There has been a lot of research."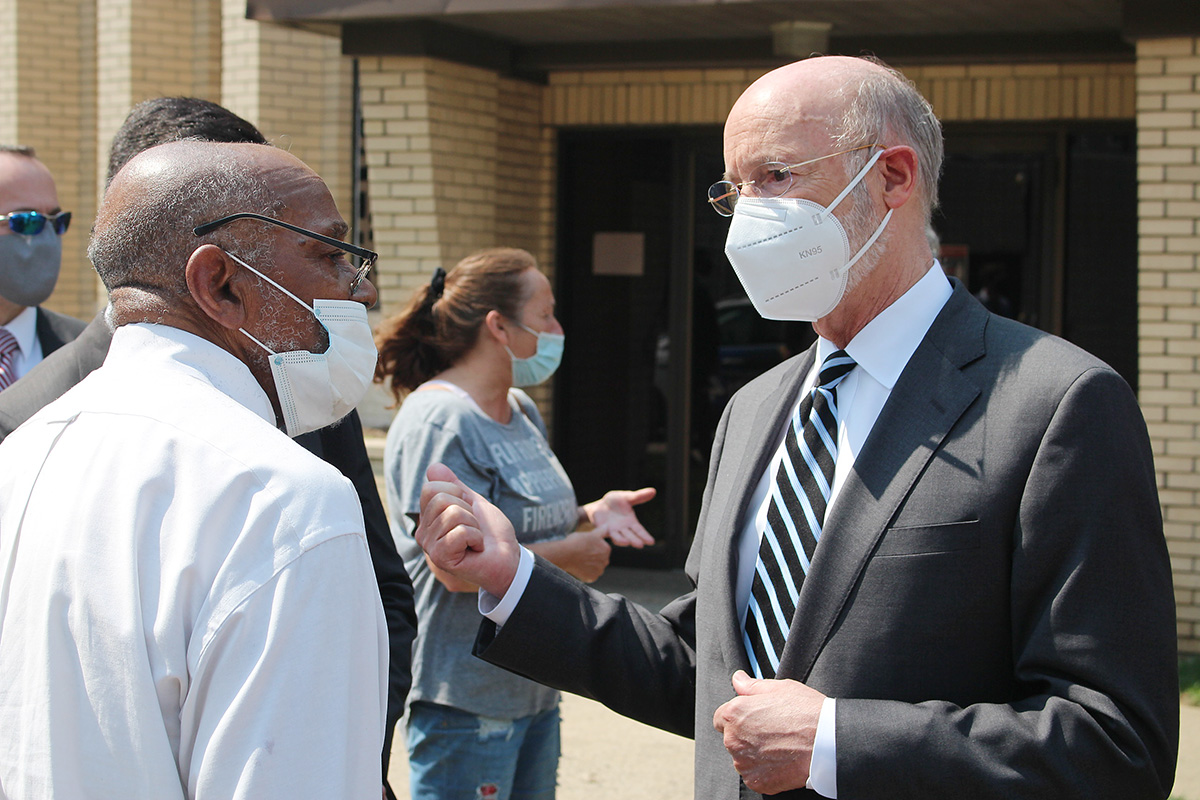 Pennsylvania Gov. Tom Wolf speaks to Rev. Dr. Calvin Green, pastor of Voice of Vision Outreach Ministries, about COVID-19 assistance available to small business owners. (Photo special to Tube City Almanac)
---
According to the Associated Press, the Pfizer and Moderna vaccines, which require two doses, are about 95 percent effective at preventing COVID-19, while a "large international study" of the one-shot Johnson & Johnson vaccine is 66 percent against "moderate to severe" cases of COVID-19.
The vaccines also prevent hospitalization and death, studies have concluded.
The city of McKeesport also opened a so-called "pop-up" clinic on Wednesday at the Palisades Ballroom, Downtown, in conjunction with Primary Care Pharmacy of West Mifflin. More such clinics are planned, Mayor Michael Cherepko said Wednesday night.
Community clinics are "critical" to getting vaccines out to the public, state Rep. Austin Davis said. "This pandemic has laid bare the inequalities that exist in our health care system, and we must address them," he said.
As the COVID-19 vaccine supplies increase, health care systems and government officials "need to make sure people are not being left behind," Davis said, but added "we have come a long way from the dark days of last April," when much of Pennsylvania and other states were forced into lockdowns.
"There was no blueprint for this pandemic," State Sen. Jim Brewster said Wednesday. "Our governor and our county executive stood tall with a plan, and I think I can say confidently they saved lives."
Businesses and workers have struggled, but the state is trying to deliver relief packages as swiftly as possible, he said, and he expects Pennsylvania and the Mon Valley to come through the pandemic better than they were.
"Having lived 60 years in this city, we have gone through adversity before," Brewster said. "From adversity, we become smarter."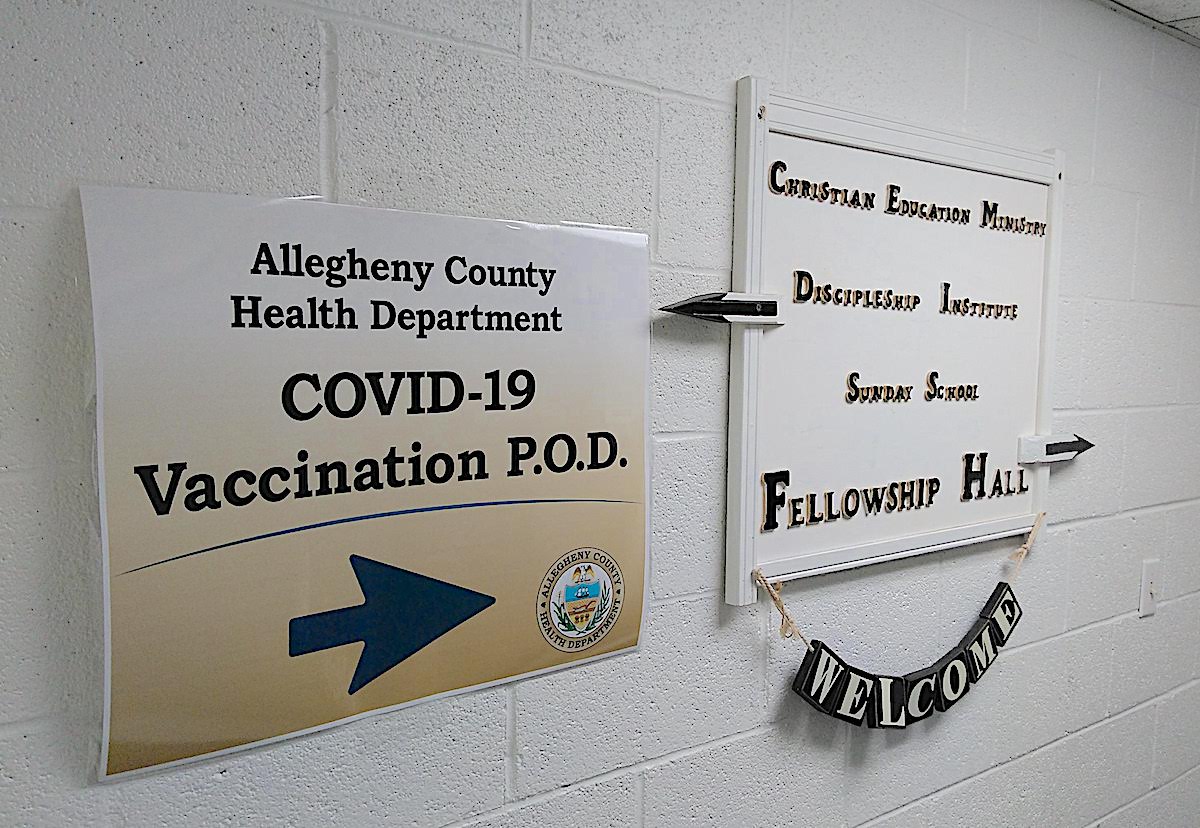 Entrance to the vaccination clinic at Bethlehem Baptist Church, Downtown. COVID-19 vaccinations are being given only by appointment. (Photo special to Tube City Almanac)
---
Jason Togyer is editor of Tube City Almanac and volunteer executive director of Tube City Community Media Inc.
Originally published April 08, 2021.
In other news:
"A Note of Apology and…" || "Series on Black Women…"