To place your ad, email tubecitytiger@gmail.com. Ads start at $1 per day, minimum seven days.
High school will stream 'The Little Mermaid' April 29, 30 & May 1
By Bonnijean Cooney Adams
The Tube City Almanac
April 13, 2021
Posted in: McKeesport and Region News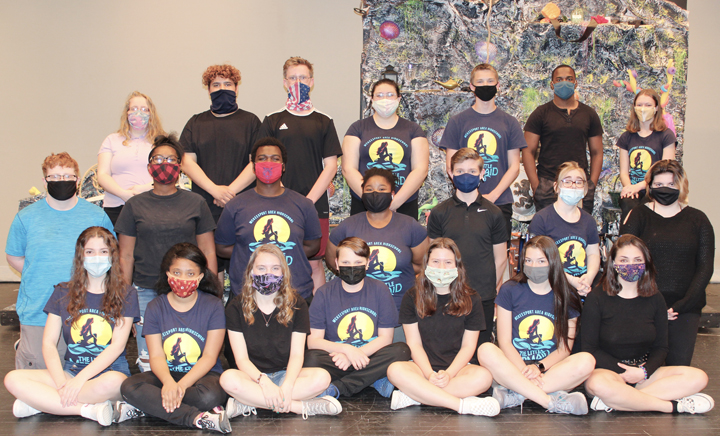 Whether new to the cast, returning to the same roles they were ready to play in 2020, or in totally different roles this year, McKeesport Area High School students are in final rehearsals for "Disney's The Little Mermaid." (Submitted photo courtesy Carolyn Carreiro)
If you watch...

"Disney's The Little Mermaid"

Where: Online at https://www.showtix4u.com/event-details/48602

When: 7 p.m. Thursday, April 29, Friday, April 30, and Saturday, May 1, with an additional 2 p.m. matinee on May 1. (Note: Performances must be watched when they're being streamed. There will be no re-broadcast.)

Tickets: $20 per device
---
"Disney's The Little Mermaid" was supposed to be the final spring musical for McKeesport Area High School producer Carolyn Carreiro back in 2020.

But then Covid-19 came along and changed her plans.

"Last year was supposed to be my last musical as producer," she said. "With the pandemic, no one else was hired and I said I would step up one more time. This year was so different with the logistics of streaming the show, that it would have been a nightmare for a new producer to deal with."
McKeesport Area is among the school districts that decided to stage the same musical in 2021 that had been planned, but not performed, when schools shut down in March 2020.

"I'm so happy we have been able to pull off this production. Everyone was so disappointed after last year's cancellation two weeks before our show dates." Carreiro added.

Even though it's the same musical, there were unique challenges for the adult staff and students, resulting in some positive outcomes and others that were more difficult to overcome.

"Eight of our leads returned, but 15 didn't, so there was a lot of reshuffling," Carreiro said. "One of our biggest struggles with casting this year is that last year we had 40 cast members and this year we only have 21.

"Luckily we were able to store the costumes and set pieces," the producer said. "This saved some time and money because the set pieces just needed to be 'dressed up.' The refunded tickets and personal ads from last year's show resulted in a loss of thousands of dollars. I don't know what we would have done if we couldn't save them."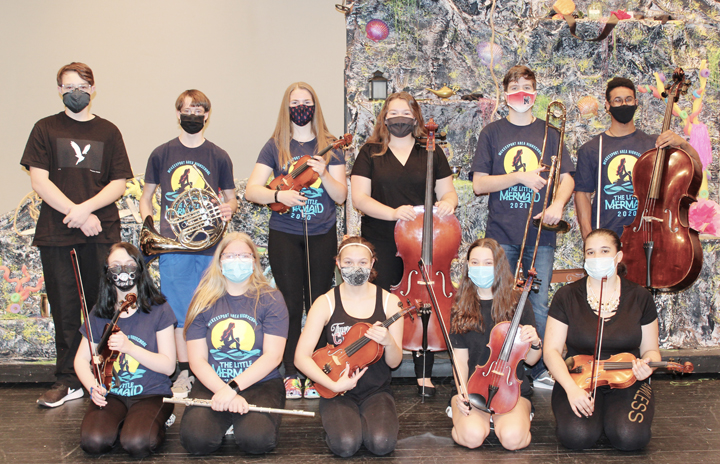 A live orchestra will perform for the show. (Submitted photo courtesy Carolyn Carreiro)
---
She said there are some perks for those who decided to do the musical and conquer the restrictions of wearing masks, learning to project their voices while speaking and singing, and distancing as much as possible.

"It was definitely more difficult than last year," Carreiro said. "We had to change many of the roles. Plus, the cancellation of last year took its toll on the students. They just weren't motivated this year. Once they realized the show would go on, they seemed to be more excited.
"Also, due to many cast members not returning, more opportunities opened for students," she said. "The ones who didn't get a lead last year but have one this year have really stepped up. I am so proud."
Costuming the cast also was a mix of good and bad, the producer said. Returning cast members who kept their roles made the job easy, however all the other costumes needed refit to the new lead or brand new participants.

Four students in key roles said doing the musical this year presented different challenges.

Senior Cara Brdar landed the role of Ursula, the sea witch, the part for which she auditioned.

"I like music. It calms me, and I did musicals in middle school and was wanting to do one at the high school," she said, adding it's been a lot of fun. She said auditions were the second week in January, with rehearsals in small groups because of Covid restrictions beginning shortly after.

She said her favorite part of playing Ursula is her very last scene, where the sea witch dies in the reprise of "Poor Unfortunate Souls."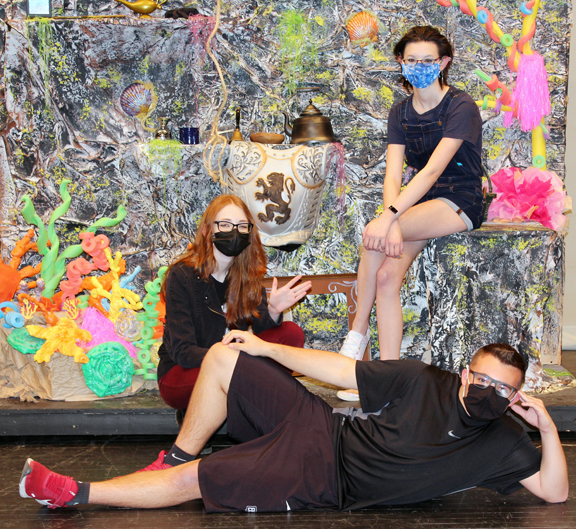 Student stage crew members are Dominic Denardo, Clover Foster and Hannah St. Clair. (Submitted photo courtesy Carolyn Carreiro)
---
Sophomore Kaitlyn Majewski returns as Ariel, the role she was cast in when only a freshman in 2020.

While she knew the script and songs already, Majewski said the extra time provided by a year's delay will make for a stronger vocal performance.

"It's such a challenge wearing face shields, but it makes you project more," she said. Her favorite show song is "Beyond My Wildest Dreams."

"It's a very small cast this year," Majewski said, "and there was talk of having some of the middle-schoolers join us. Although we lack in numbers, the smaller cast has made us more close-knit, and now we are at crunch time. It's been a very good experience."
---
Senior Bolivar Campusano said while he's been performing in musicals for a good portion of his life through middle school and McKeesport Little Theater Juniors, he's spent a lot of time in high school as a wrestler. He decided to try out for the Prince Eric role last year.

"I knew it would be tougher with a new cast," he said of the "Little Mermaid" extension. "It hasn't been easy at all."

He said he had an advantage in knowing his lines already, "but you can always get better with the singing."

Campusano said his favorite scene is dancing with Ariel in the second act. He said acting, dancing, and singing, all while wearing a face shield, definitely is challenging.

"I'm not the most graceful dancer," he said, "but I get the job done."
---
It's not the first time Campusano has played a prince. He was Rapunzel's prince in "Into the Woods," and portrayed Prince Dauntless in "Once Upon a Mattress."

He said he hopes his example will encourage others to explore musicals and spark more participation.

Senior Ray'Myah Pryor said she thoroughly enjoys portraying popular Sebastian Crab, a role that became available after last year's Sebastian graduated.

In 2020 she was cast as Flotsam, and she was double cast as Morticia in the 2019 "Addams Family" musical.

"I love bringing out his personality," Pryor said. "He's a very funny guy." She helps make Sebastian shine in familiar "Under the Sea," but said she also favors "If Only."
---
While students have worn face masks during all rehearsals, they will have clear face shields when "The Little Mermaid" is videotaped this week.

Music Theatre International, a major licensing agency for high school and professional musicals, made adjustments after many productions were canceled last year.
---
"This year was so different," Carreiro said. "Luckily MTI really guided well. They pointed you to websites to help the process. Showtix4u.com is where the tickets are purchased and where the video is streamed from."

She explained how audiences can see the McKeesport Area production.

On Thursday (April 15), the entire production will be videotaped in the high school auditorium. A performance with a limited audience for cast members' family, friends and district personnel, is set for Friday (April 16), through advance ticket sales.

The edited videotape will be available for viewing at specific times when the musical originally was set to be performed live — on April 29 and 30 at 7 p.m. and two shows at 2 and 7 p.m. on May 1.

Instead of a price per ticket, there is a price per stream of $20, available for individual or group viewing.
---
"It's going to be so strange not being the producer of the musicals anymore," Carreiro said. "I absolutely love working with the students. I will miss them popping in my room all day and getting to know each new group every year during rehearsals. However, I have had so many changes in my personal life that I just don't have the time to devote that the musical demands and deserves."

Bonnijean Cooney Adams is a freelance writer and can be reached at adamsclick@aol.com.
Cast, in order of appearance:
Kaitlyn Majewski as Ariel, Collin Klein as Pilot, Bolivar Campusano as Prince Eric, Caden Lawson as Grimsby, Evan Kepich as Flounder, Jonah Higdon as Scuttle, Colby Chambers as Windward, Christian Canova as Leeward, Luciano Lanz as King Triton, Ray'Myah Pryor as Sebastian, Tayler Cleveland as Flotsam, Collin Klein as Jetsam, Cara Brdar as Ursula, and Collin Klein as Chef Louis.
Mersisters/Princesses: Autumn Tavagilone as Aquata, Charlotte Graham as Andrina, Mackenzie McDonald as Arista, Leila Wertz as Atina, Raina McIntosh as Adella, and Tiara DeFrances as Alana.

Maids: Hannah MacIntyre, Bethany Rubright, and Rebecca Shearer.

Dancing Gulls: Christian Canova, Colby Chambers, and Collin Klein. Cast members will fill in as various sailors, sea creatures, land animals, chefs, and seagulls.
Orchestra
Violin – Savanna Aukerman, Aliyah Berger, Alexa Krznaric, and Taryn Vasquez. Viola – Abigail Graham and Gabrielle Holloway. Bass – Taylor Montalbano. Horn – Travis Scoville. Cello – Emme Stout and Rocco Tarli. Flute/Piccolo – Christina Wos. Saxophone – Jose Lukac. Trombone – Dylan Szepesi. Percussion – Zachary Manfredo.
Stage crew
Dominic Denardo, Clover Foster, and Hannah St. Clair.
Production Staff
Producer Carolyn Carreiro, Director Erin Seaberg, Orchestra Director Sarah Persin, Choreographer Erin Seaberg, Vocal Director Sean Thornton, Production Assistant Paul Fields, Lighting Designer Starbeat Productions, Sound Design Jason Light, Costume Coordinator Melissa Cooper, and Fly Man Milan Kiska.
Support Staff
Set Design – Carolyn Carreiro, Corey Carreiro, and John Light. Hair Design – Monica Kitta and Ashley Kitta. Program/Photographer – Carolyn Carreiro.
Originally published April 13, 2021.
In other news:
"District 'Thankful' f…" || "Local Group Celebrate…"