To place your ad, email tubecitytiger@gmail.com. Ads start at $1 per day, minimum seven days.
By Kristen Keleschenyi
The Tube City Almanac
April 17, 2021
Posted in: McKeesport and Region News, North Versailles Twp. News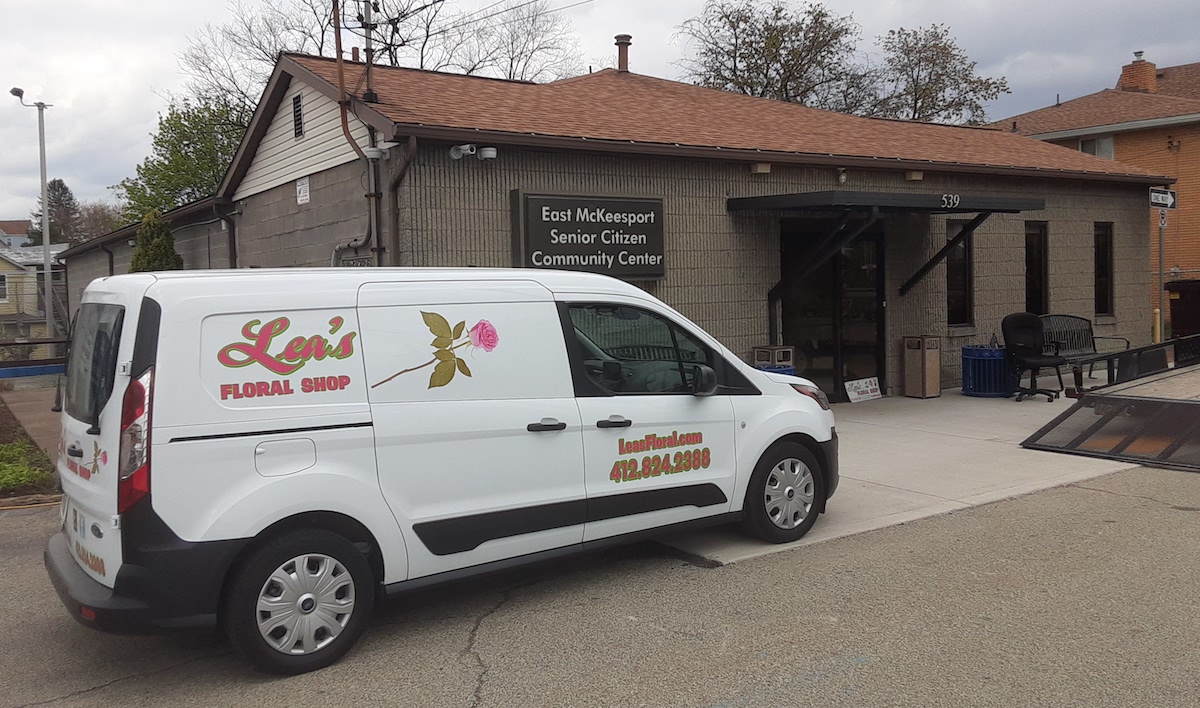 Delivery vans serve as floral coolers at the temporary location for Lea's Floral Shop on Chicora Street in East McKeesport. The store will set up temporarily at this building. The business was gutted April 10 by a fire that also displaced one resident. (Kristen Keleschenyi photo)
---
Monday will mark the reopening of Lea's Floral Shop in East McKeesport, a little more than one week after a fire destroyed the majority of their inventory and two of their floral coolers.
Their building on Fifth Avenue will have to be gutted as they prepare to rebuild but luckily, they found the perfect spot, the East McKeesport Senior Citizen Community Center, just two blocks away, to serve as a temporary location.

"The Thursday before the fire they (East McKeesport Borough Council) decided not to rent this out because of COVID-19. You're only allowed 45 people in here, everybody would have to be in masks and you have to police everything," says Mary Lechliter-King, owner of Lea's Floral Shop, who approached borough council members about the possibility of the building being their temporary storefront.

"The borough had a meeting and we offered them the rent. They get business privilege tax so we pay that too. It's a win-win."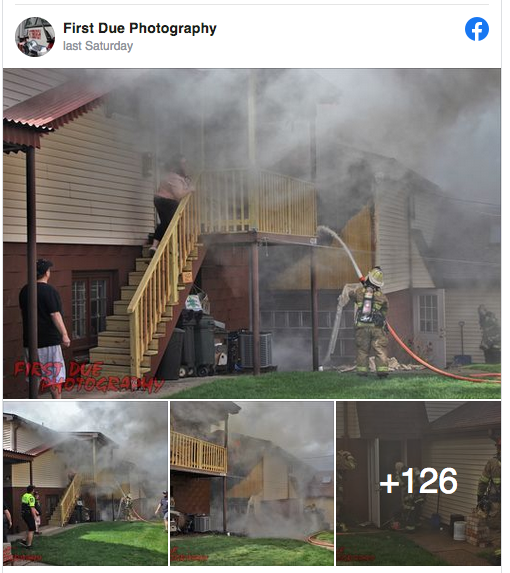 It didn't take long for 539 Chicora St. to start resembling the 62-year-old 5th Avenue floral shop that was named for Lechliter-King's grandfather Leo and her mother Anna Marie.

The front room of the senior center now holds merchandise; silk arrangements, angel statues, lanterns and tapestries while a handful of floral designers are hard at work in the social hall, at safely spaced work stations, feverishly preparing arrangements for the three weddings that were on the schedule for the weekend of April 16.

"We had brides panicking, 'Oh my gosh, my wedding is in June will you be able to do it.' Yeah, we are doing three weddings this weekend. If we can do them this weekend, we can do them in June," says Lechliter-King, laughing.

The past seven days have brought an outpouring of support for the beloved floral shop. From community members buying lunch for the crew and bringing supplies immediately when they were needed to nearby floral shops offering inventory, space or just words of encouragement as the fourth-generation business moves forward from their second fire in almost 40 years.

"In my new building we're having sprinklers," Lechliter-King says. "I can't do this again. Two in my lifetime, I can't do three."

The Allegheny County Fire Marshal's Office is investigating the cause of the April 10 fire, which appears to have been electrical in nature. Insurance adjusters say it could take between six months to a year to complete the rebuild. A tenant who lived in the apartment behind the floral shop, Steve DeFelice, was displaced due to extensive fire damage. His cat did not survive the blaze.

Donna Priselac, an East McKeesport resident, who witnessed the smoke and flames, created a GoFundMe page to help defray expenses for DeFelice, who has been staying at a hotel until he can move into another apartment. Priselac did not know him prior to April 10 but was motivated to get involved once she realized he lost more than his home.

"When I saw the animal control officer arrive, I knew things weren't good," says Priselac.

Because of the outpouring of community support over the years, through good times and bad, Lechliter-King says Lea's is staying in East McKeesport.

"The last thing I ever want to do is leave here. We're gonna rebuild and be bigger and better. We wanted to remodel anyway, just not this way."
---
Kristen Keleschenyi is a freelance writer in North Versailles Twp. and one of the hosts of the Kristen & Amber Show on WMCK Internet Radio at 5 p.m. Saturdays, 9 p.m. Mondays and 4 p.m. Thursdays. She may be reached at kbishop25@hotmail.com.
Originally published April 17, 2021.
In other news:
"Library Slates Neighb…" || "W.O. Officials Eying …"