(Advertisement)
Tube City Community Media Inc. is seeking freelance writers to help cover city council, news and feature stories in McKeesport, Duquesne, White Oak and the neighboring communities. High school and college students seeking work experience are encouraged to apply; we are willing to work with students who need credit toward class assignments. Please send cover letter, resume, two writing samples and the name of a reference (an employer, supervisor, teacher, etc. -- not a relative) to tubecitytiger@gmail.com. (4-11-2023 to 4-30-2023)
To place your ad, email tubecitytiger@gmail.com.
Ads start at $1 per day, minimum seven days.
By Vickie Babyak
The Tube City Almanac
May 21, 2021
Posted in: McKeesport and Region News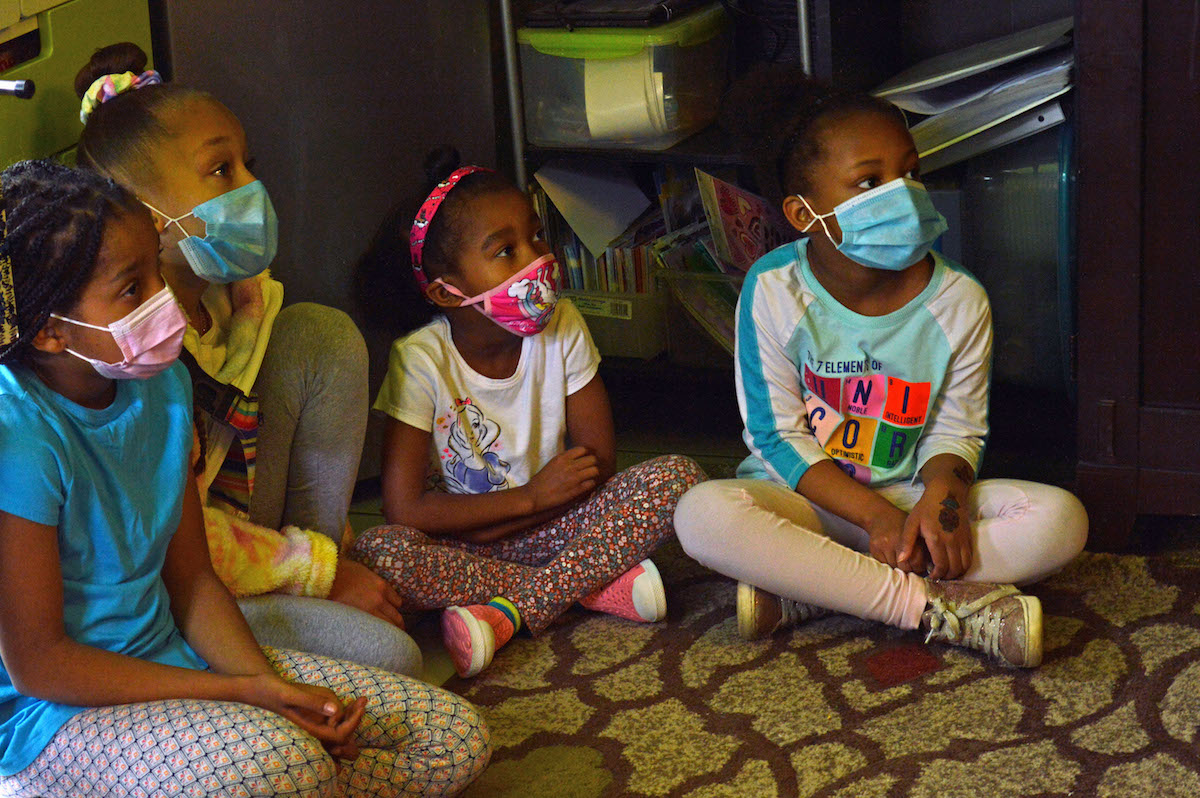 Kids at A Developmental Journey Christian Childcare eagerly listen to Kris Kornegay-Gobel talk about his journey to success, from childhood until his current life, training for the U.S. Olympic Team for this summer's games in Tokyo. (Tube City Almanac photo by Vickie Babyak)
---
Olympic hopeful Kris Kornegay-Gober came to McKeesport over Mother's Day weekend to inspire some youth at a child care facility. By the end of his visit, the children felt more confident about their own abilities.

Kornegay-Gober is the son of Lynne Lennon, who teaches geometry and science at McKeesport Area High School, and the stepson of Moses Lennon of Duquesne. Lynne Lennon said her son had attended Faith Christian Academy in Martinsburg, W.Va. The coach asked if anyone was interested in high jumping and Kris said he would try. That was the beginning of his sports career.
A Washington, D.C., resident and a marine science technician for the U.S. Coast Guard in Curtis Bay, Md., where he holds the rank of petty officer third class, Kornegay-Gober recently competed in a pre-Olympic trial event where he came in fourth with a high jump of 6 feet, 8 inches. He is training with hopes of making the U.S. Olympic Team for this summer's games in Tokyo.
While at North Carolina State University on a full scholarship, Kornegay-Gober was an All-American in the indoor high jump, as well as a two-time NCAA regional qualifier and a five-time champion in the Atlantic Coast Conference in both the indoor and outdoor high jump.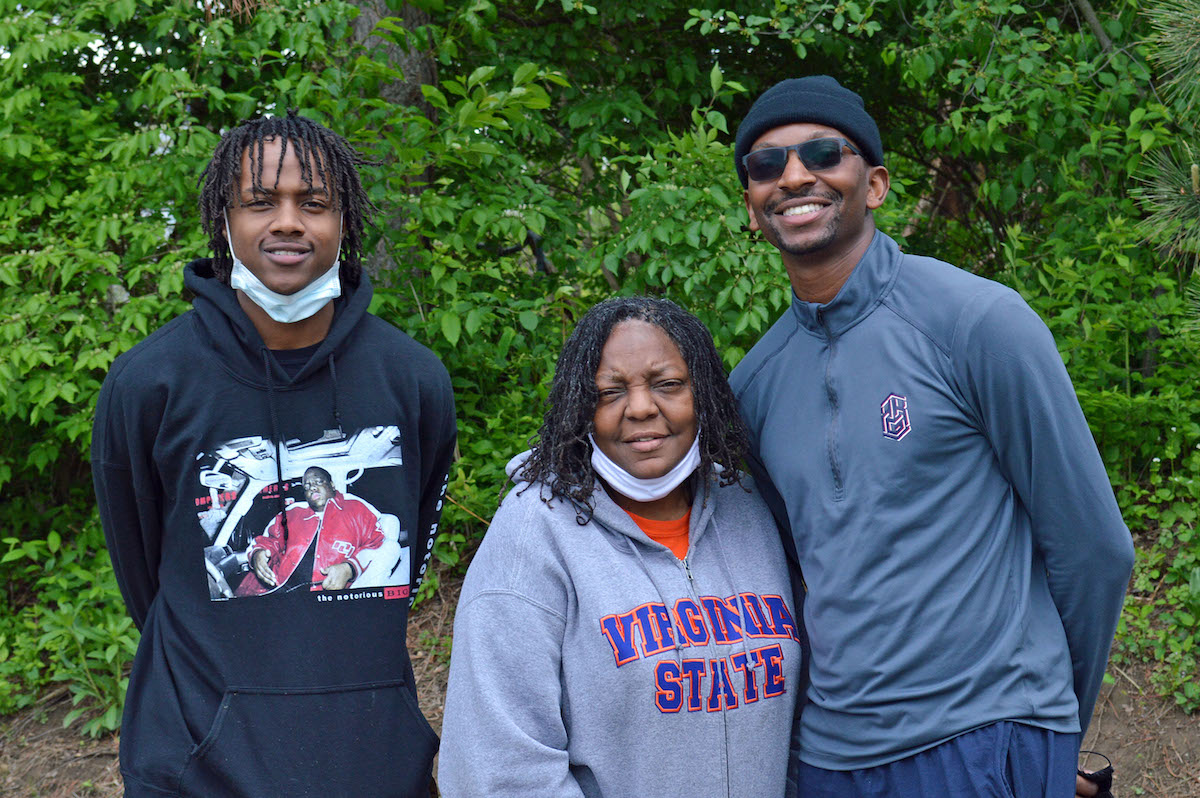 McKeesport Area High School basketball player Traverse Rowe, teacher Lynne Lennon, and Olympic hopeful Kris Kornegay-Gober stand together for a photograph. Rowe, from McKeesport, came to hear the athlete speak and ended up partnering with Kornegay-Gober to help inspire the younger kids. (Tube City Almanac photo by Vickie Babyak)
---
Lennon said her son has always been humble, focused and a peacemaker. She recalled the time a white classmate told Kris he "looked like burnt toast" because of his skin color. "Kris didn't let it get him down. He responded by telling the student he liked butter on his toast and eventually, the two boys became friends," she said.

Lennon's previous husband passed away when her children were young. "Kris was a good kid and I felt blessed, even though I was a single mother," said Lennon. "My son played four different sports in school. He was a football kicker, goalie on the soccer team, played baseball, was a track and field high jumper and a member of JROTC. He made good grades and had perfect attendance."
This past Mother's Day weekend, Kornegay-Gober spoke to children at A Developmental Journey Christian Childcare. "I felt it was important for the kids to see a Black male successfully reaching his goals and to show them that we can do anything we set our minds to," said Anica Jones-Paige, owner of the child care site.

The children eagerly listened as Kornegay-Gober told them about his journey to success.
He advised the children to keep their grades up, stay focused and be a good person. "Stay away from those who want to bring you down. You can be friends with them but don't follow them," he said. Attitude is essential and don't be cocky. Have confidence when you're performing. Be humble and genuine when you're with other people, he told the kids.

Inspiration and motivation is something you won't understand now, he told the children — but when it happens to you, you'll understand.

One boy asked, "Do you ever want to give up?"
Kornegay-Gober said, "Yes, I experience long weeks and feel exhausted. I work at my job and train. It can be a lot, but I don't want to scare you. I remember my motivation and I have confidence in my abilities. I'm still one of the best and I can still train."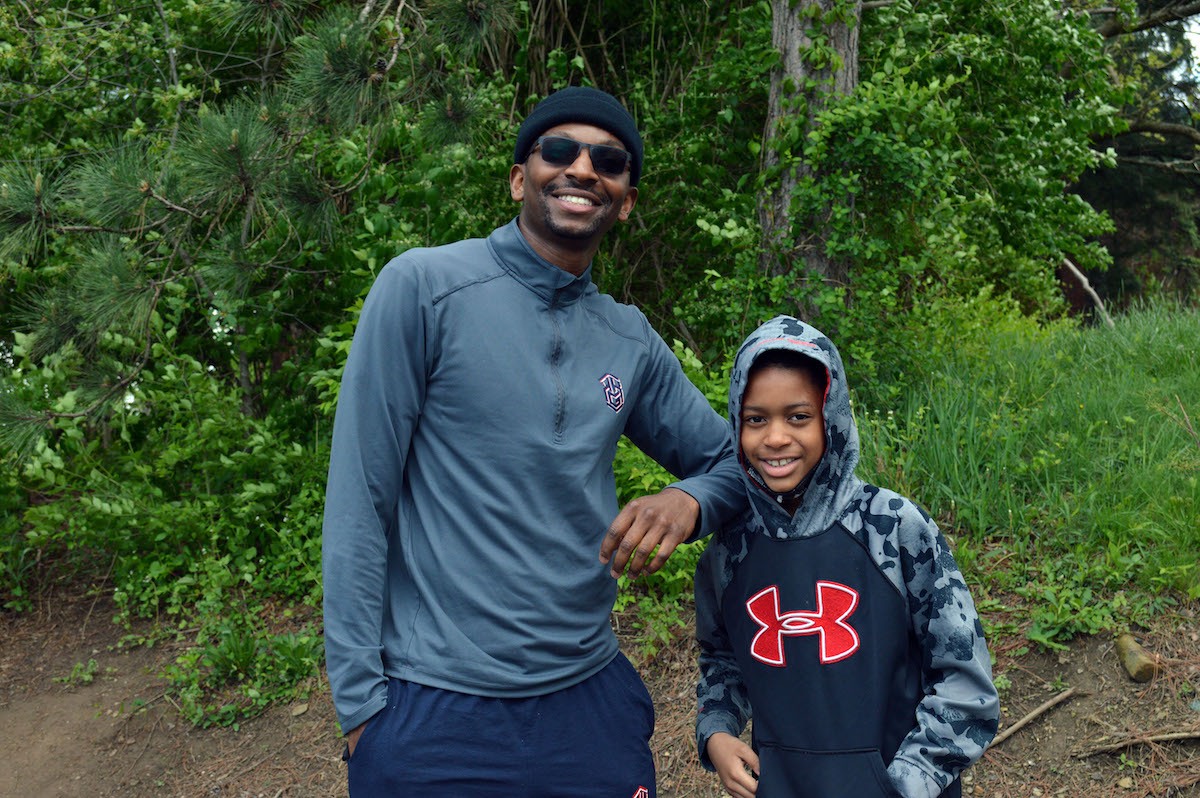 All the children in attendance at the Mother's Day weekend event had an opportunity for a photo and will receive an autographed photograph. (Tube City Almanac photo by Vickie Babyak)
---
Vickie Babyak is a photographer and freelance writer from Dravosburg. She may be reached at vbabyak@yahoo.com.
Originally published May 21, 2021.
In other news:
"Hobbyist Badly Burned…" || "W.O. to End COVID-19 …"