(Advertisement)
Tube City Community Media Inc. is seeking freelance writers to help cover city council, news and feature stories in McKeesport, Duquesne, White Oak and the neighboring communities. High school and college students seeking work experience are encouraged to apply; we are willing to work with students who need credit toward class assignments. Please send cover letter, resume, two writing samples and the name of a reference (an employer, supervisor, teacher, etc. -- not a relative) to tubecitytiger@gmail.com. (4-11-2023 to 4-30-2023)
To place your ad, email tubecitytiger@gmail.com.
Ads start at $1 per day, minimum seven days.
Dravosburg, Liberty, Glassport, Versailles also receive blight removal grants
By Jason Togyer
The Tube City Almanac
May 25, 2021
Posted in: Liberty Borough News, McKeesport and Region News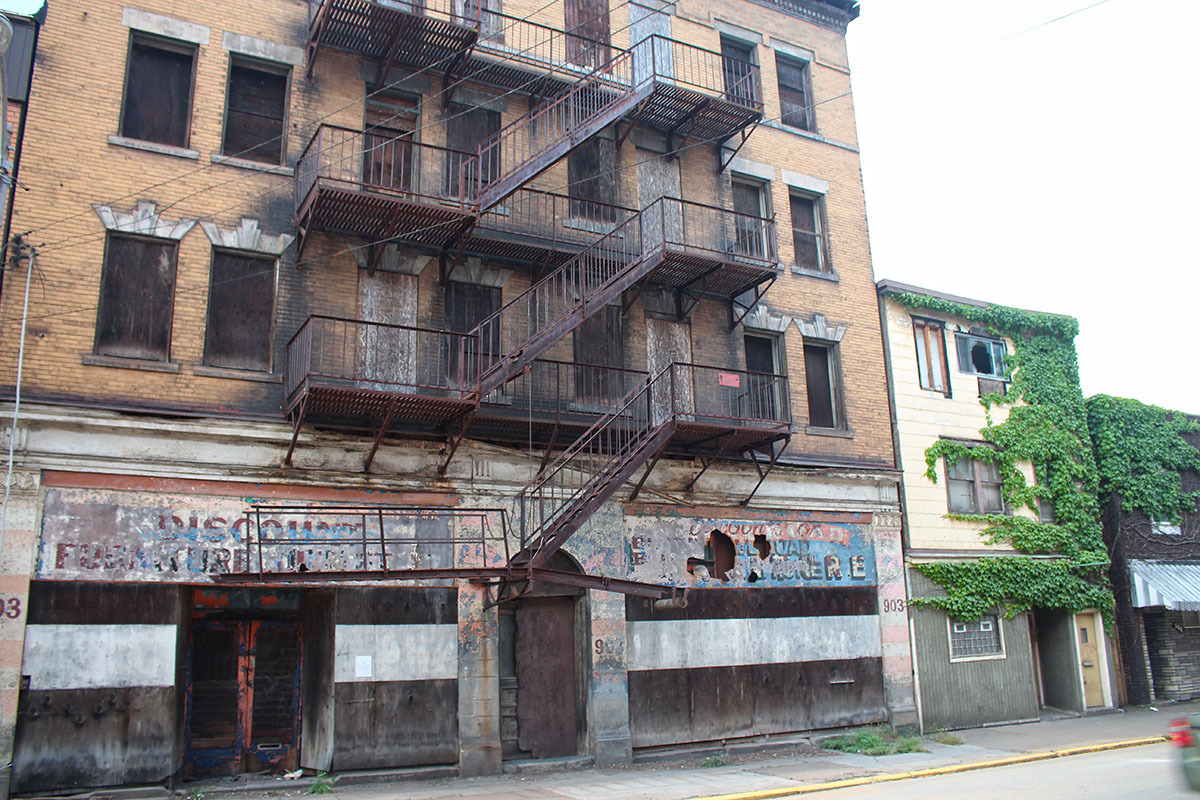 These three buildings near the corner of Fifth Avenue and Coursin Street are among seven in the city's business district targeted for demolition with the help of funds from the state's Blight Remediation Program. (Tube City Almanac photo)
---
Seven vacant buildings in the city's Downtown business district — all in severe disrepair — will be demolished with the assistance of funding from the state's Blight Remediation Program.
State officials announced Tuesday that McKeesport has been awarded $294,063 from the Commonwealth Financing Authority towards the demolition and environmental cleanup of properties at 903, 907, 911, 1013 and 1017 Fifth Ave., 328 Sixth Ave. and 422 Shaw Ave.
Funding also was awarded to remove blighted buildings in Dravosburg, Glassport, Liberty Borough and Wilmerding.
A total of $12 million was awarded statewide, including more than $1.3 million in grant money for efforts in the 45th Senate District, said state Sen. Jim Brewster of McKeesport.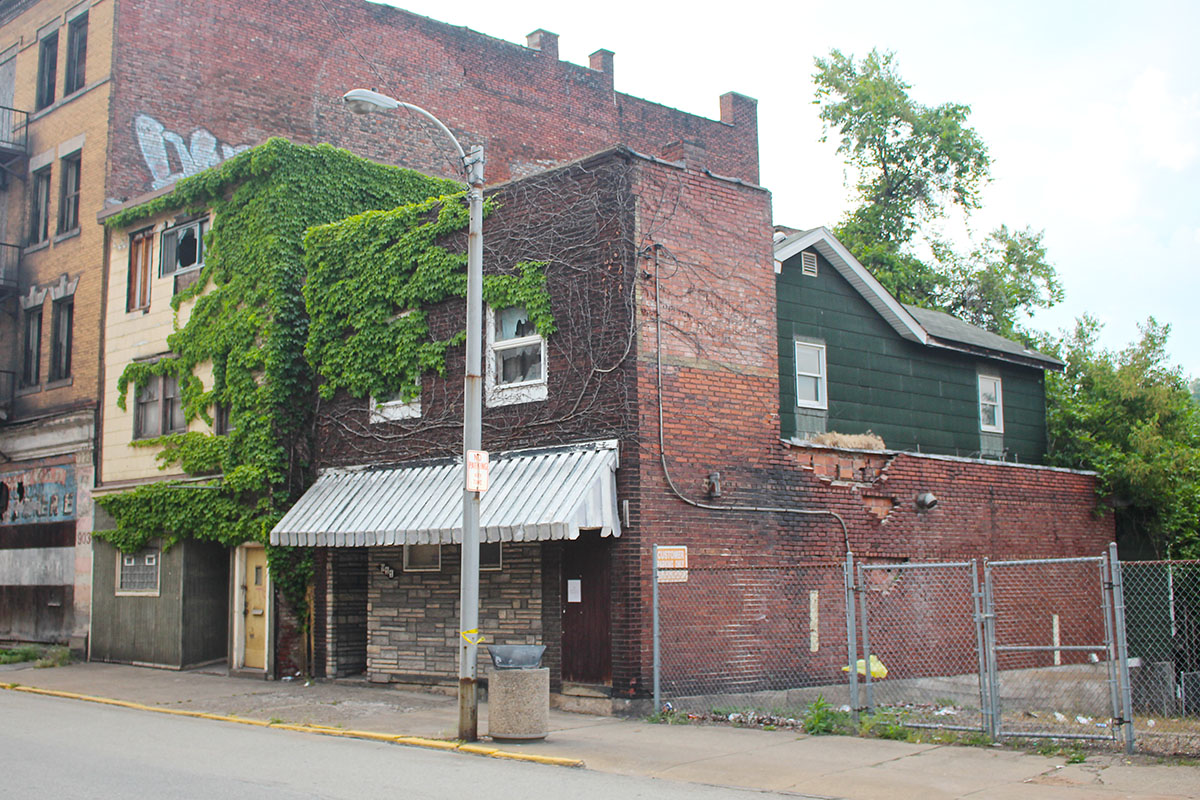 907 and 911 Fifth Ave. are targeted for demolition. (Tube City Almanac photo)
---
The 45th District includes the Mon-Yough area and part of Westmoreland County.
The funding was approved at the authority's board meeting on Tuesday, said a spokesperson for Pennsylvania Gov. Tom Wolf. Projects across the state include demolishing abandoned properties, preparing sites for redevelopment, repairing roadways and curbs, building new homes and redeveloping brownfield sites.
Brewster, who held a hearing in March to gather testimony on improving Pennsylvania's blight remediation efforts, said the grants will help match other local, county and state funding and stabilize neighborhoods.
"Run-down and abandoned buildings hamper local efforts to attract new residents and businesses and grow the tax base," Brewster said. "These grants are important investments in communities that will pay dividends in the years to come."
Buildings targeted for demolition in the city's business district include a long-vacant furniture store next to Ross's Shop 'n Save. Large holes are visible through the roof and floors of the four-story brick structure, which has been empty for decades.
According to Allegheny County tax records, the building is owned by a White Oak couple. Court records list a series of city, school district and county tax liens dating back to 2001.
Also targeted is the former H&H Fish Market and several small apartment buildings.
Blighted properties like those are "an eyesore and a strain on communities," said state Rep. Austin Davis. "The funding secured shows a committed investment to the Mon Valley and will help support projects that rebuild and revitalize these communities, making them better places to live, work and visit."
Liberty Borough will receive $45,000 towards demolition of the former Liberty Borough Public School — most recently used as Liberty Manor Personal Care Home — and towards reusing the land at 2910 Liberty Way as recreational space.
The building was condemned by borough council in March 2019.
According to spokespersons for Brewster and Davis, other local grants included:
• Dravosburg – $20,000 to demolish two blighted and unsafe homes
• Steel Rivers Council of Governments — $30,000 towards demolition of properties in Glassport and Versailles
• Tri-COG Land Bank – $190,000 toward demolition of two buildings and renovation of four others in six different municipalities
• Wilmerding – $30,000 to demolish 10 abandoned buildings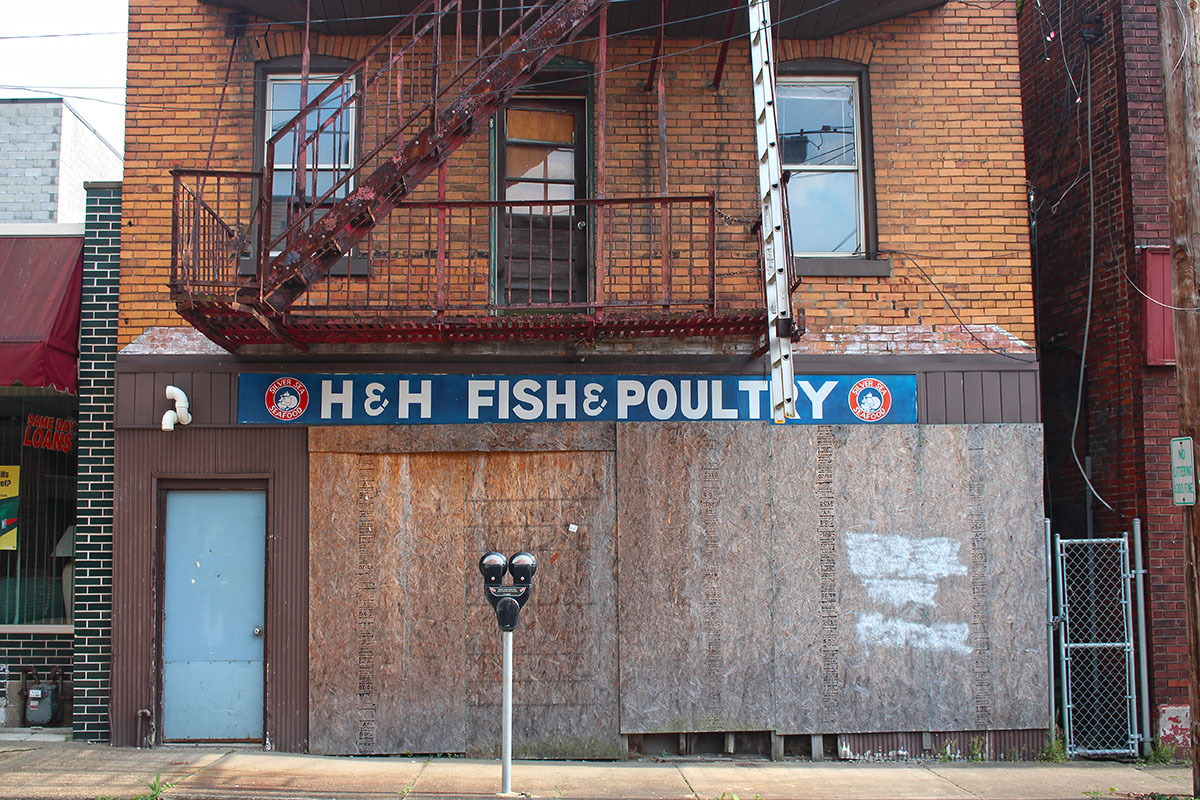 Former H&H Fish Market on Sixth Avenue is slated for demolition. (Tube City Almanac photo)
Originally published May 25, 2021.
In other news:
"Commentary: Steel Can…" || "Limited Reopening Pla…"