To place your ad, email tubecitytiger@gmail.com. Ads start at $1 per day, minimum seven days.
By Staff Reports
The Tube City Almanac
June 14, 2021
Posted in: McKeesport and Region News, North Versailles Twp. News, White Oak News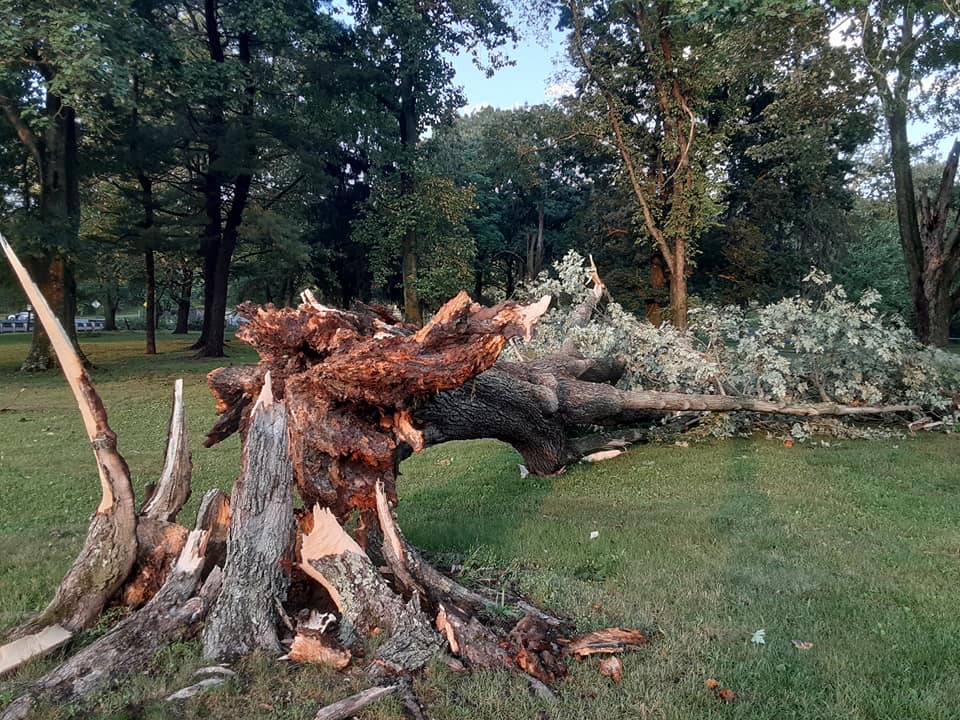 A fast-moving storm knocked down this tree in McKeesport's Renziehausen Park on Monday afternoon. (Kristen Keleschenyi photo)
---
For the second day in a row, intense thunderstorms slammed parts of the Pittsburgh area on Monday, flooding streets, knocking down trees and turning out the lights for thousands of residents.
Duquesne Light Co. said more than 5,200 customers were without power Monday night, including about 1,000 in McKeesport, North Versailles Twp. and Port Vue. About 3,000 West Penn Power customers in Allegheny and Westmoreland counties also were without power, including in White Oak, Coulter and Elizabeth Twp., company officials said.
A fast-moving line of storms swept through the Mon-Yough area between 2 and 3 p.m., bringing dangerous lightning, high winds and pea-size hail.
National Weather Service observers recorded winds gusting to 32 mph at Pittsburgh International Airport and nearly three-quarters of an inch of rain at Allegheny County Airport in West Mifflin.
But observations from trained storm-spotters suggested that rainfall amounts, and wind speeds, were probably much higher in some neighborhoods, with one report suggesting wind gusts as high as 65 mph.
Trees were reported down throughout the Mon-Yough district, including in Renziehausen Park and throughout Liberty, Port Vue and White Oak.
East Smithfield Street in the Boston section of Elizabeth Twp. was closed due to downed trees and wires.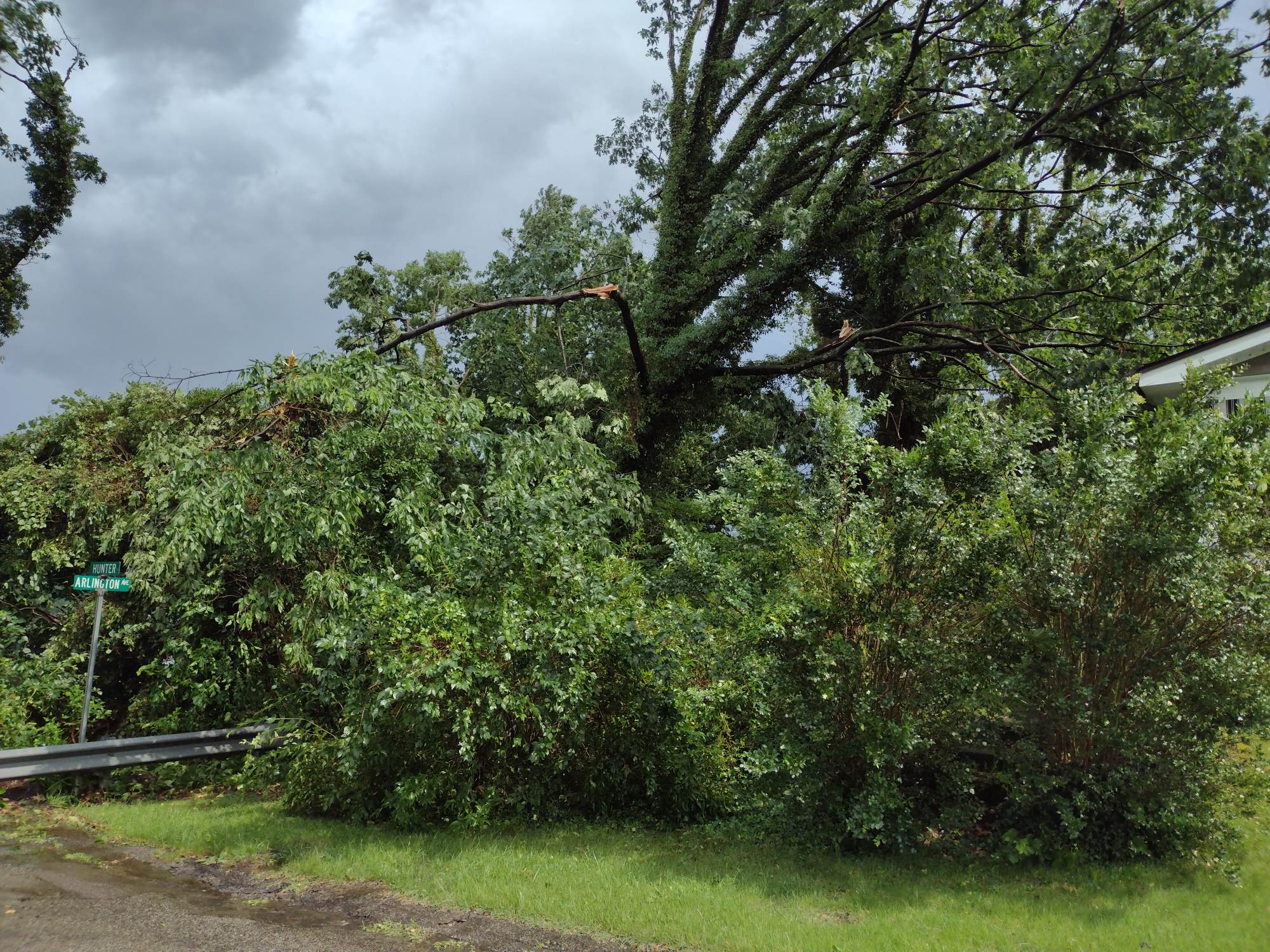 High winds knocked down several trees on Arlington Avenue in Port Vue. (Tube City Almanac photo)
---
"Pretty much every part of the city has some damage," McKeesport Mayor Michael Cherepko said Monday night. "We're finding dozens of trees down, from Jenny Lind Street to Haler Heights."
Walnut Street near the 15th Avenue Bridge was closed Monday afternoon after a combination of a landslide and high winds brought down trees and power lines.
"It's hard to say which came first," the landslide or the high winds, Cherepko said. State Department of Transportation and city public works crews responded to the scene and Walnut Street was passable Monday night, he said.
Allegheny County emergency management said all four lanes of West Fifth Avenue were flooded at Rebecca Street, and traffic also was diverted from the McKeesport side of the Mansfield Bridge.
The 200 block of McClure Street in Dravosburg also was closed by flooding, county officials said.
In North Huntingdon Twp., officials reported flooding along Robbins Station Road and Park Hill Road, and telephone lines were briefly out of service at the Town House, the township municipal offices.
Areas to the south and east of the Mon Valley reported more serious damage, including hail up to an inch in diameter in parts of Greene County, Pa., and Monongalia County, W.Va, according to the weather service.
West of Pittsburgh, Carnegie Borough also reported widespread power outages caused by fallen trees.
The storm came one day after a similar line of thunderstorms moved through the Pittsburgh area, uprooting trees and dropping 1 to 2 inches of rain on West Mifflin, Munhall and eastern neighborhoods of the City of Pittsburgh, including Squirrel Hill and Shadyside.
According to the weather service, Braddock Lock & Dam recorded 2 inches of rain on Sunday, while Allegheny County Airport measured 1.3 inches of rain during a single hour on Sunday evening.
Photos shared on social media Sunday night showed the intersection of Lebanon Church Road and Clairton Road in West Mifflin flooded and at least one vehicle submerged in the high water.
---
Editor Jason Togyer and freelance writer Kristen Keleschenyi contributed to this report.

Originally published June 14, 2021.
In other news:
"City Man, Two Other D…" || "First-Responders Meet…"