By Jason Togyer
The Tube City Almanac
March 01, 2016
Posted in: McKeesport and Region News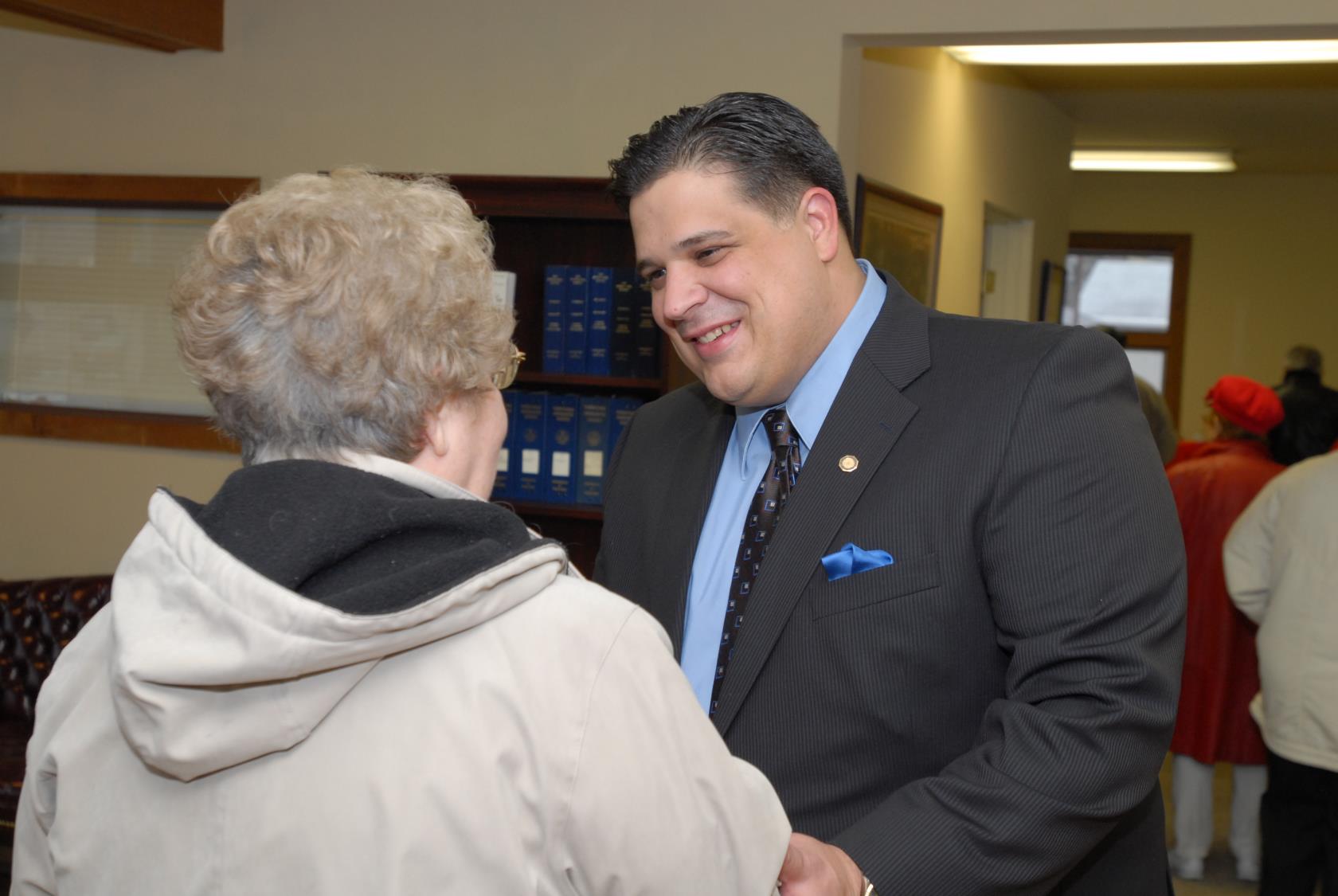 (Above: State Rep. Marc Gergely meets a constituent during an open house at his office. Official Pennsylvania state House of Representatives photo.)
Editor's Note: The author, and Tube City Community Media Inc., have conflicts of interest regarding this story. Please see the editor's note at the end of this story. UPDATED: Added information from the Uniontown Herald-Standard. UPDATED: Added information about donations to Gergely's re-election committee. UPDATED: Added information from The Associated Press.

. . .
State Rep. Marc Gergely has been charged with felony corruption and other offenses in connection with the investigation of a Mon Valley video poker ring that implicated a former McKeesport city councilman and other local officials, including the former Forward Twp. police chief.

The charges were announced today by state Attorney General Kathleen Kane in Harrisburg. Gergely is expected to appear tomorrow for a preliminary arraignment, Kane said.

Kane said the investigation is "ongoing" and that additional charges may yet be filed.
In a prepared statement, Kane said Gergely, 46, a Democrat from White Oak and former president of the McKeesport Area School Board, actively tried to promote and protect the illegal gambling business of Ronald "Porky" Melocchi.
In at least two cases, the attorney general's office claims, Gergely personally met with business owners and tried to convince them to allow Melocchi to put poker machines in their businesses.
"This is an unfortunate case in which the players traded political capital and favors to advance their own agendas and illicit business," Kane said. "The evidence clearly shows that Mr. Melocchi relied heavily on his relationships --- including with Mr. Gergely --- to conduct his illegal business."
. . .
Gergely, a former aide to state Senator Albert "Bud" Belan, was first elected to the state Legislature in 2002 and represents the 35th District, which includes Clairton, Duquesne, Lincoln Borough, McKeesport, Munhall, South Versailles Twp., Versailles Borough, Whitaker, White Oak and part of West Mifflin.
He is seeking the Democratic nomination for re-election in the April 26 primary.
Until this week, Gergely was the Democratic chair of the state House Labor and Industry Committee. State House Minority Leader Frank Dermody told reporters in a prepared statement that Gergely has now stepped down from that position.
Dermody said the charges against Gergely are "surprising and disconcerting," according to The Associated Press. He said he regarded Gergely as "a strong voice for improving Pennsylvania's schools and the lives of working people."
. . .
Kane's office said the charges against Gergely were recommended by a statewide investigating grand jury as the result of a joint investigation conducted by the state Office of Attorney General and the Pennsylvania State Police.
Melocchi, 55, of West Newton, Westmoreland County, and 15 other people were charged by state investigators in September 2013 with operating a widespread video poker and sports betting ring, based in Glassport and operating throughout the McKeesport area.
During a raid, state police and other authorities confiscated 330 video poker machines and an estimated $1 million in cash. Prosecutors dubbed the investigation "Operation Pork Chop."
In October 2014, Melocchi pleaded guilty to running a corrupt organization, distributing illegal gambling devices and illegal bookmaking and was sentenced to 10 years probation by Allegheny County Judge Joseph K. Williams III.
. . .
Melocchi owned a local pizza shop and was involved in volunteer activities, including on the McKeesport International Village Committee and the McKeesport Recreation Board. Kane said Gergely and Melocchi have been friends "for more than 20 years."

According to Kane, state prosecutors are alleging that Gergely used his influence to attempt to place illegal gambling machines, owned and operated by Melocchi, in local businesses. They say that Melocchi boasted of his political connection to Gergely and called him part of his "Super PAC" --- in other words, his personal "political action committee."
The Associated Press on Monday reported that the owner of the now-closed Chick's Grill in Christy Park was among those business owners who were approached by Melocchi and encouraged to install video poker machines.
When Chick's declined, Melocchi asked Gergely to meet with them. According to the grand jury indictment, the Associated Press reported, Gergely told Chick's they "probably would not make it in McKeesport without the machines."
Chick's Grill closed in February 2013 in what the management said was a dispute with the landlord over a proposed rent increase. At least one other restaurant also was asked by Gergely to allow Melocchi to install poker machines, according to the AP.
. . .
In addition, Kane said the statewide grand jury reviewed evidence concerning an anonymous letter, supposedly written by one of Gergely's constituents, that was delivered to Gergely's legislative office in White Oak in November 2012.
The author of the letter claimed to be a woman named "Barb" whose husband had a gambling addiction and was losing the family's savings in video poker machines operated by Melocchi. "Barb" begged Gergely for help, saying she wasn't sure if she should call "the FBI or the state police," and left her phone number.

. . .
Instead of turning the letter over to authorities, prosecutors claim Gergely called Melocchi the next day to tip him off. The call was recorded on a court-approved state police wiretap, Kane said.
"I just want to take care of you," Gergely is accused of telling Melocchi, according to a story in the Post-Gazette in 2013. The representative urged Melocchi to get "Barb's" husband "stopped" from gambling "before something becomes a problem," the newspaper reported.
The letter from "Barb" was actually written by investigators and delivered by an undercover agent, Kane's office said. A transcript of the letter and conversation was posted on the Post-Gazette's website. (PDF)

Gergely later issued a statement to the Post-Gazette saying that he had directed his staff to reach out to "Barb" to offer her help, but said they could not reach her.
. . .
Prosecutors also allege that Gergely collected campaign contributions from Melocchi and used his influence to get one of Melocchi's relatives hired by the McKeesport Area School District, Kane said.
In a story for the Uniontown Herald-Standard, former McKeesport Daily News staffwriter Patrick Cloonan reports that former Gergely aide Tom Maglicco also gave testimony to the grand jury.
Maglicco, who, like Gergely, is a former McKeesport Area School Board member, was appointed last year to serve as McKeesport's city controller. He has not been charged, Cloonan reported.

According to campaign finance reports filed with the Pennsylvania Department of State, Ron Melocchi made three $1,000 contributions to the Committee to Elect Marc Gergely --- one each in 2006, 2008 and 2012. Another $750 donation in 2010 was listed under the name "Ron Melochi," presumably the same person.
Melocchi's reported donations were a relatively small part of the contributions received by Gergely's re-election committee; in 2006, 2008, 2010 and 2012, Gergely's committee reported receiving contributions totalling $129,288, $51,545, $109,600, and $79,450, respectively. Other donors included major Pittsburgh law firms, labor unions, health-care providers and businesses.
Cloonan reported today that after Melocchi and others were indicted, Gergely donated $4,000 in campaign contributions to Positive Pathways, an organization in Pittsburgh's West End that counsels people with gambling addictions.
. . .
Gergely is charged with two counts of participating in a corrupt organization and one count each of dealing in the proceeds of illegal activity, attempted solicitation for illegal gambling devices, criminal conspiracy and violation of state election code prohibiting cash or anonymous contributions, Kane said.

Gergely's case is being prosecuted by Senior Deputy Attorney General Mark A. Serge of the state Office of Attorney General's Organized Crime Section, Kane said.

. . .
Editor's Note—Conflicts of Interest: In 2011, Marc Gergely made a $250 contribution to Tube City Community Media Inc. to help pay for Tube City Online's coverage of McKeesport International Village.
In addition, the author of this story is a member of the McKeesport International Village Committee, and Tube City Community Media Inc. donates the McKeesport International Village website.
Originally published March 01, 2016.
In other news:
"Heritage Center Progr…" || "Tube City (Not That O…"