(Advertisement)
Tube City Community Media Inc. is seeking freelance writers to help cover city council, news and feature stories in McKeesport, Duquesne, White Oak and the neighboring communities. High school and college students seeking work experience are encouraged to apply; we are willing to work with students who need credit toward class assignments. Please send cover letter, resume, two writing samples and the name of a reference (an employer, supervisor, teacher, etc. -- not a relative) to tubecitytiger@gmail.com. (4-11-2023 to 4-30-2023)
To place your ad, email tubecitytiger@gmail.com.
Ads start at $1 per day, minimum seven days.
By Kristen Keleschenyi
The Tube City Almanac
July 13, 2021
Posted in: Announcements, Entertainment, North Versailles Twp. News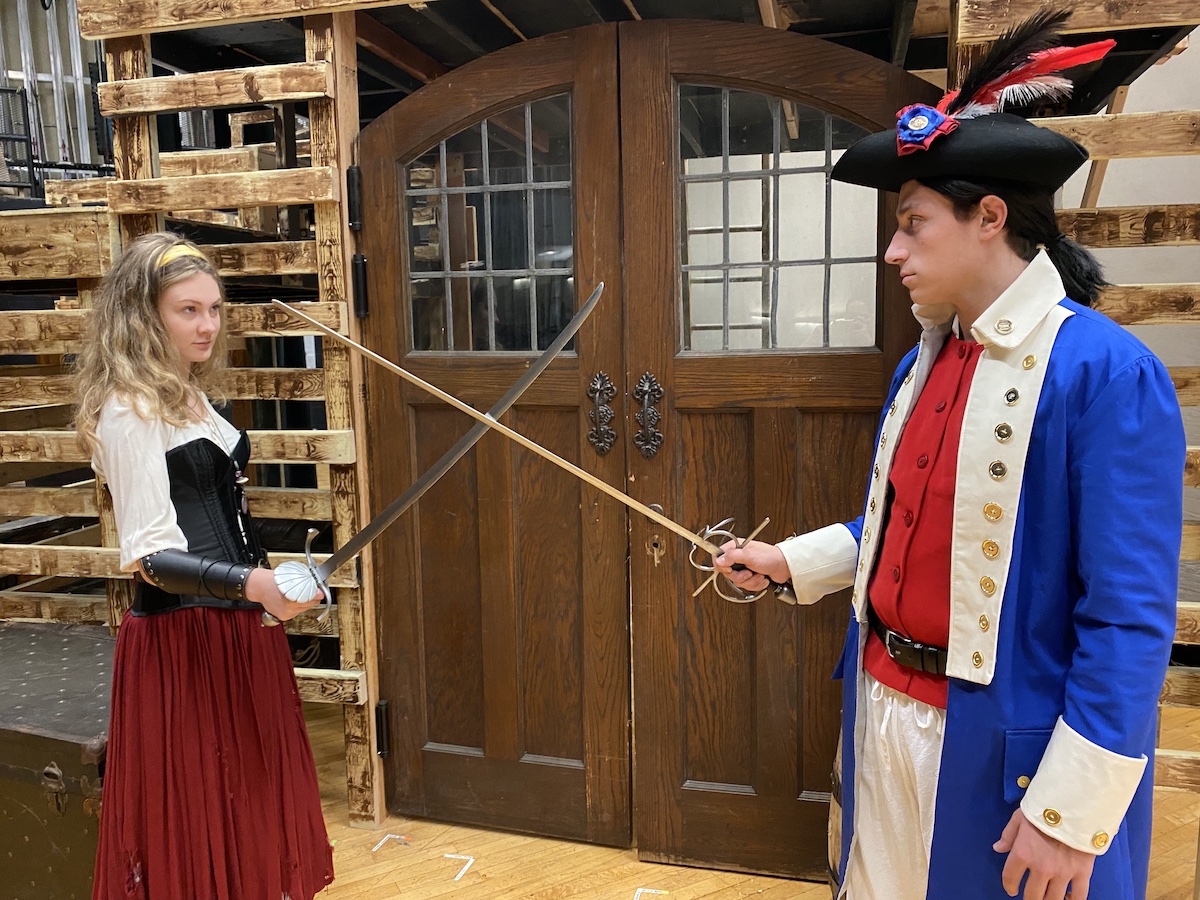 East Allegheny graduates Taylar Getsy (2020) and Chris Rayman (2021) return to the high school stage for a summer musical "A Pirate's Tale" July 15-17. The musical was supposed to be the spring show in 2020, but was cancelled due to the pandemic. (Submitted photo)
If you go...

"A Pirate's Tale"

Where: Online and live shows, East Allegheny Junior-Senior High School, 1150 Jacks Run Road, North Versailles Twp. Patrons are asked to wear a mask while at the performance if they are not fully vaccinated. Seating will be every other row to provide some distancing for patrons.

When: July 15, 16 and 17 at 7:30 p.m., with a 2 p.m. matinee on the 17th. Streaming is available July 15-17 and 22-24.

Tickets: https://easd.booktix.com/
High school musicals aren't usually performed in the summer months.
But this week, "A Pirate's Tale" is about to set sail at East Allegheny Junior-Senior High School. The show was supposed to be performed during the spring of 2020, then was postponed to summer, but COVID-19 thwarted every attempt to get it out of port, says director Amanda Rosco.

"I knew this was kind of the last shot if we were ever going to get it up with that semi-original cast. It was going to be this summer, because (after) this summer we would have had two classes of alumni that were off and doing other things," she says.
The cast is smaller than the original one planned for 2020, she says — not everyone was able to recommit — but with the help of one guest actor and three staff members they make the show work.
The musical has been a passion project for Rosco. "A Pirate's Tale" was originally performed on Pittsburgh's Gateway Clipper as part of a theater cruise. Rosco served as its musical director.
The show continued to be revised and in 2016 was performed as an extended 90-minute two act show on the Carnegie Stage performance art theater.
Over the years, the team of Pittsburgh natives Rosco, costume designer Leah Klocko, actor Andy Hickly and composer Paul Shapera tweaked storylines and revised the music.
This vision involves strong female storylines, combat scenes — with swords — and some comedy sprinkled in. "It's family friendly but appeals to an adult audience," adds Rosco.

Doing a show during the summer months is a sacrifice for all involved. Taylar Getsy was cast as Cassandra McKaye back in 2019, during the fall of her senior year. The heartbreak of losing her final performance after a high school career of musical theater was devastating. But getting the opportunity to revisit the role a year later and actually put on the show in person without masks, was worth postponing her family's summer vacation and giving up the chance to get a summer job leading up to her sophomore year at Westminster College.

"As soon as I was asked, I was all in," explains Getsy. "We didn't get a very good ending to our senior year. I'm so thankful to Mrs. Rosco for this opportunity and to my parents for being so supportive."

Trent Cornell is a 2021 EA graduate who will be heading to California University of Pennsylvania to major in mechatronics two weeks after the final curtain call. He didn't mind giving up his summer evenings to play the role of Jonathan. "I wanted to finish it through and get all my musical shows in."

Cornell says people should come check out the show because, "It's pirate sword fighting. Is there any other reason?"

"I think that is why the show is going up now and not last year and not last spring," muses Rosco. "Maybe there's someone that needs to see this show and they're going to be able to see it because it's going up this week and they wouldn't have seen it last summer or they wouldn't have seen it in April of 2020. We're hoping we're creating something that other schools and community theaters might pick up on and be interested in doing."
---
Kristen Keleschenyi is a freelance writer in North Versailles Twp. and one of the hosts of the Kristen & Amber Show on WMCK Internet Radio at 5 p.m. Saturdays, 9 p.m. Mondays and 4 p.m. Thursdays. She may be reached at kbishop25@hotmail.com.
Originally published July 13, 2021.
In other news:
"Our Village Webcast N…" || "Paving Work Continues…"