(Advertisement)
Tube City Community Media Inc. is seeking freelance writers to help cover city council, news and feature stories in McKeesport, Duquesne, White Oak and the neighboring communities. High school and college students seeking work experience are encouraged to apply; we are willing to work with students who need credit toward class assignments. Please send cover letter, resume, two writing samples and the name of a reference (an employer, supervisor, teacher, etc. -- not a relative) to tubecitytiger@gmail.com. (4-11-2023 to 4-30-2023)
To place your ad, email tubecitytiger@gmail.com.
Ads start at $1 per day, minimum seven days.
Some species suffer eye, nervous system problems; links to cicadas, pesticides probed
By Vickie Babyak
The Tube City Almanac
July 16, 2021
Posted in: McKeesport and Region News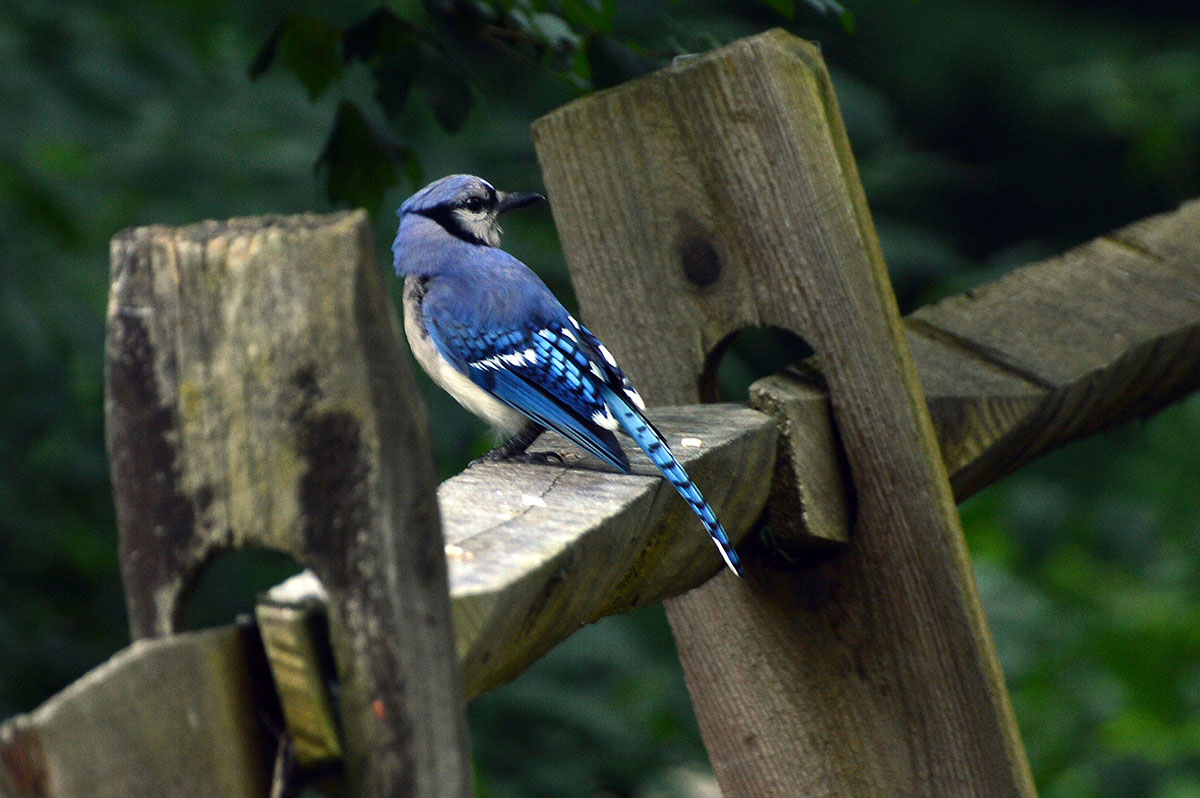 Bluebirds are among the species that are being affected by a mysterious illness that causes eye and nervous system damage. Experts are encouraging homeowners to cover or remove bird baths, feeders and houses to discourage flocks of sick birds from spreading the disease. (Vickie Babyak photo for Tube City Almanac)
---
A mysterious disease that's been making songbirds sick in Washington, D.C., Maryland, Virginia and West Virginia has now reached the Mon-Yough area.
Local residents have reported finding sick or dead birds near feeders, bird houses and birdbaths.
Experts say that nestling and fledgling songbirds — mainly blue jays, starlings, common grackles, robins and cardinals — have been found suffering from eye and neurological issues. In some cases, these birds have been found dead in large numbers, report Audubon Mid-Atlantic and other conservation agencies.
According to Travis Lau, a spokesman for the Pennsylvania Game Commission, affected birds are being tested for different toxins, parasites, bacterial diseases and viral infections — but test results are so far inconclusive.
"A number of theories have been proposed to explain this emerging disease, but at this time the cause is still unknown as scientists continue studying it to determine its origins and possible treatments," said Robert Mulvihill, an ornithologist for the National Aviary in Pittsburgh.
Bird watchers have reported that at least 12 species have been impacted, including blue jays, European starlings, common grackles, American robins, northern cardinals, house finches, house sparrows, eastern bluebirds, red-bellied woodpeckers, Carolina chickadees and Carolina wrens.
Symptoms include lethargy, eye lesions, seeping from eyes or dry, crusty eyes, and neurological symptoms. Sick birds have difficulty holding up their heads and are uncoordinated.
Audubon and wildlife partners have been fielding these reports and are working together to identify causes of the disease.
"We are keeping people informed via our website, social media and through email blasts to our membership," said Rachel Handel, communications director for the Audubon Society of Western Pennsylvania.
"At this time, the cause of the illness has not been found, so we are advising people to remove bird feeders, bird feed, hummingbird feeders, Oriole feeders, bird baths, and any other items that could cause birds to congregate," she said.
As of July 8, 2021, the Wildlife Futures Program at University of Pennsylvania had received nearly 1,700 reports about dead songbirds through its website. That included 1,525 unique bird reports in Pennsylvania.
The Pennsylvania Game Commission also reports that sick and dying birds have been found in Delaware, Florida, Indiana, Kentucky, Ohio and Tennessee.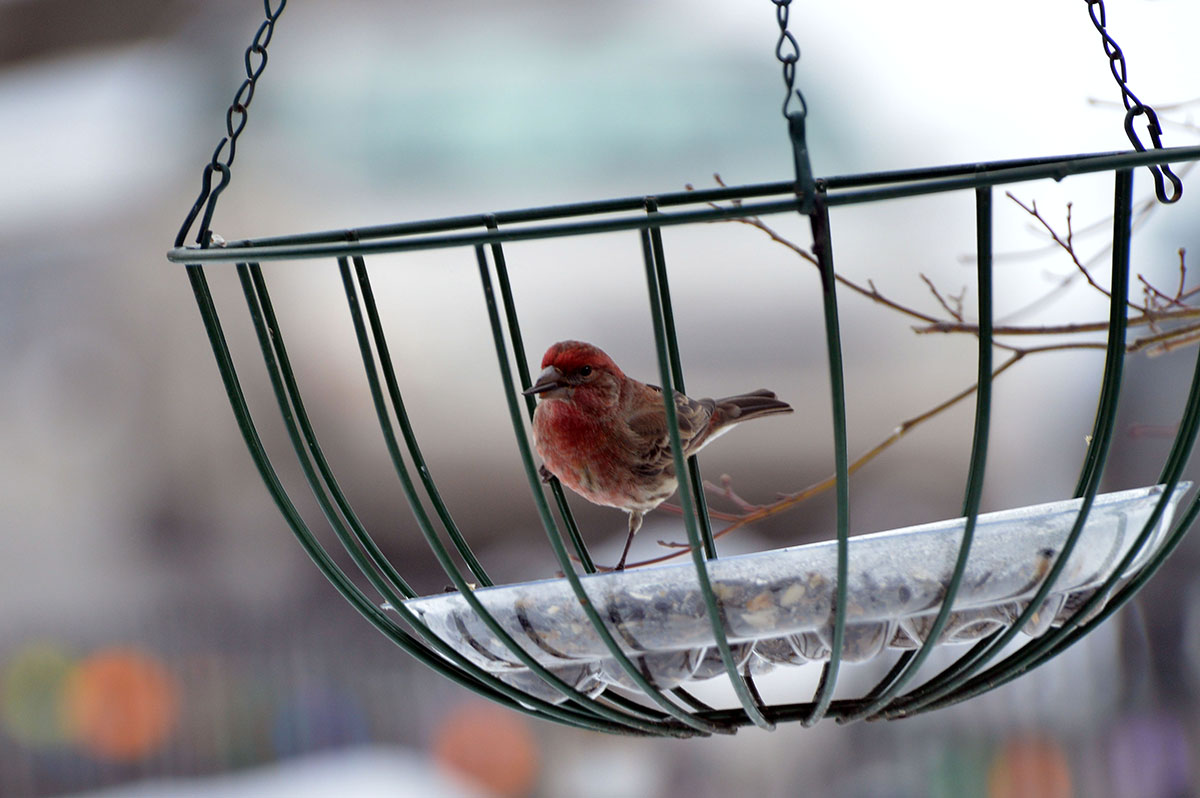 The new disease is similar to an illness that emerged in the mid-1990s and affected house finches, like this bird shown here. (Vickie Babyak photo for Tube City Almanac)
---
Symptoms of the disease appear similar to an eye disease that affected house finchs in the mid-1990s. That malady began on the East Coast of the United States as well, then spread throughout the country.
Finches with the disease developed swollen, runny eyelids that could lead to total blindness. Infected finches were left vulnerable to predators or become victims of starvation. However, experts say birds afflicted with house finch disease don't exhibit the same neurological symptoms as birds with the mystery disease.
One theory that's been circulating online is the possibility of a connection between the unknown disease and this year's Brood X cicadas emerging in the Ohio Valley and mid-Atlantic states. Experts say some cicadas carry a white, pathogenic fungus. The disease hijacks the bugs' brains and abdomens, their bodies break apart, and the cicadas' mating desires madly increase. When the zombie cicadas try to mate, they pass deadly spores to their partners.
Birds are eating a lot of cicadas, so some ecologists theorized that the zombie fungus could be ingested or the birds could get spores in their eyes. Pesticides and weed killers also are being investigated as possible causes.
"A number of theories have been proposed to explain this emerging disease, but at this time the cause is still unknown as scientists continue studying it to determine its origins and possible treatments," Mulvihill said.
He called the mystery disease "sad and unfortunate."
"As a leader in bird behavior, conservation, and medicine dedicated to inspiring respect for nature through an appreciation of birds, the National Aviary continues to follow this evolving situation closely," Mulvihill said.
So far, he said, the illness is exclusively affecting specific wild bird species. "The birds at the National Aviary are in good health and are all closely monitored and cared for by a team of experts," he said.
Reports of sick or dead birds can be made to the University of Pennsylvania through its website.
Handel said the Audubon Society is posting up-to-date information on its own website every weekday, and she and Mulvihill encouraged bird watchers to check with the Pennsylvania Game Commission for regular updates.
Experts say that homeowners who find dead birds on their property should use disposable plastic gloves and throw them away in a sealed plastic bag to avoid transmitting the disease to other birds. The dead birds themselves should be sealed in a plastic bag before being placed in the trash, or otherwise deeply buried to prevent spreading the disease to other birds.
---
Vickie Babyak is a photographer and freelance writer from Dravosburg. She may be reached at vbabyak@yahoo.com.
Originally published July 16, 2021.
In other news:
"Local Favorite 'Dracu…" || "Intense Fire Destroys…"