(Advertisement)
Tube City Community Media Inc. is seeking freelance writers to help cover city council, news and feature stories in McKeesport, Duquesne, White Oak and the neighboring communities. High school and college students seeking work experience are encouraged to apply; we are willing to work with students who need credit toward class assignments. Please send cover letter, resume, two writing samples and the name of a reference (an employer, supervisor, teacher, etc. -- not a relative) to tubecitytiger@gmail.com. (4-11-2023 to 4-30-2023)
To place your ad, email tubecitytiger@gmail.com.
Ads start at $1 per day, minimum seven days.
Water use restrictions will remain in lower 10th Ward for up to a week
By Jason Togyer
The Tube City Almanac
July 19, 2021
Posted in: McKeesport and Region News

Updates:
• Lower 10th Ward residents should continue not to use tap water for anything but flushing toilets
• Drinking water tankers remain in place on Atlantic Avenue, and bottled water is available at the Public Safety Building
• Residents may use the showers at McKeesport Area High School from 6 a.m. to 8 p.m. daily. Enter at South Hall, near the gymnasium
---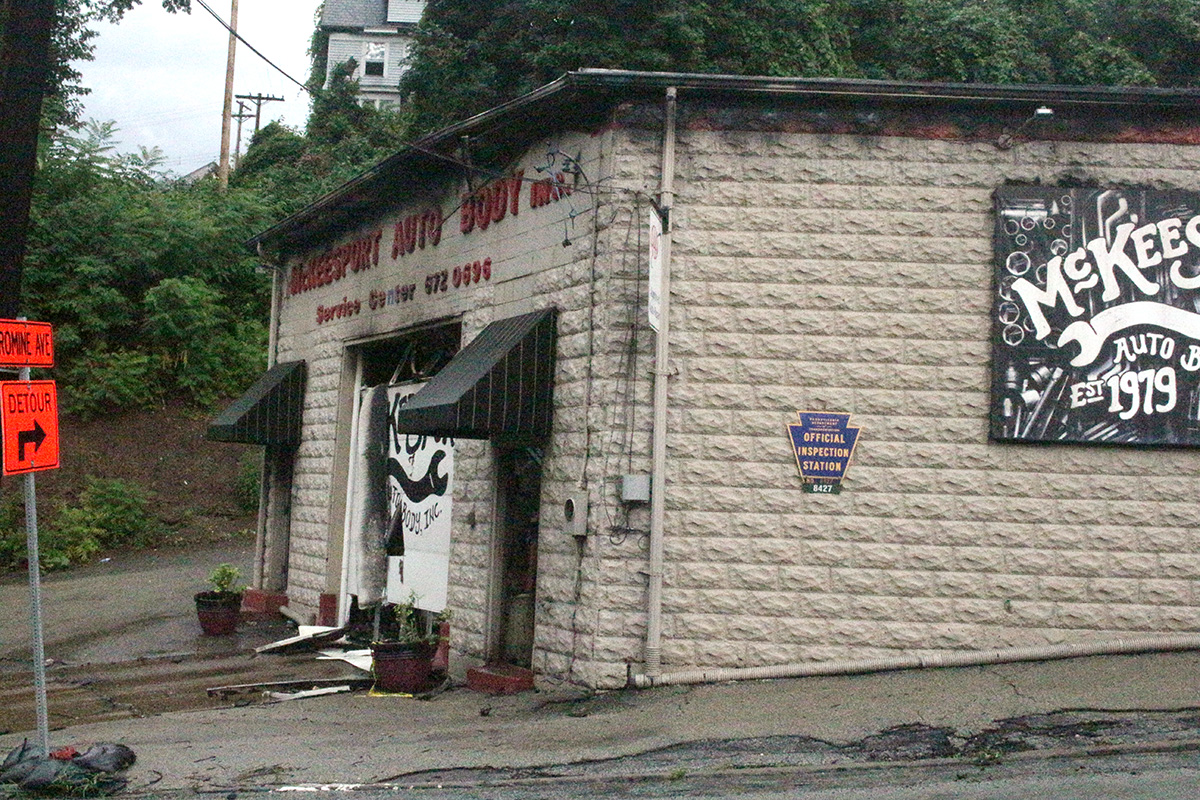 (Tube City Almanac photo)
Gene Esken Jr. said "it was a very, very helpless feeling" as McKeesport firefighters waited Friday evening for the power company to shut off live wires sparking and hissing on the roof of a 10th Ward auto repair shop.
Esken, a deputy chief of the McKeesport Fire Department, was in charge of the response to what was originally reported to 9-1-1 as a "wires down" call at McKeesport Auto Body on Rebecca Street.
Those wires sparked a multiple-alarm fire that was battled for hours by crews from across Allegheny and Westmoreland counties, including Pittsburgh International Airport.
The effects are still being felt — for the family that owns the destroyed business and hundreds of residents of Lower 10th Ward who may be without drinking water for a week.
---
On Sunday morning, the owners of McKeesport Auto Body, Tom Borucki and Holli Detwiler, issued a statement thanking first responders for their efforts, including firefighters, police, the Salvation Army and Duquesne Light.
"Although the garage suffered a devastating loss, we are thankful the neighboring home was saved," they wrote. "Thank you to our loved ones, our customers and those we have yet to meet, for the outpouring of well-wishes and prayers."
During a line of thunderstorms that passed through the area Friday afternoon, a tree fell, bringing down three power lines on the body shop. One of those wires was carrying 4,000 volts.
The fire department was dispatched at 5:19 p.m., according to logs. The first engine arrived on scene at 5:24 p.m. The building was not yet on fire.
---
"I've been a fireman since 1986, and this is the first time I've been there and sat and watched a building catch fire, except for ones we've burned for training purposes," Esken said Sunday. "I feel horrible that I wasn't able to do more, but I couldn't. My hands were tied."
The building was electrically charged, he said, and even attempting to open a window or spray water from a hose would have been fatal to everyone involved. "A 4,000-volt power line will kill you instantly," said Esken, who also works as a firefighting instructor at Community College of Allegheny County.
"When I got there, there was a wire down across the lower garage, another down on the front railing, and another on the roof — and that wire welded itself to the main (electrical) service feed going into the building."
At that point, there were no flames, he said, but then "it started escalating very quickly."
As smoke began to appear at rooftop vents, Esken called in additional McKeesport crews and asked for mutual assistance from Glassport and Port Vue volunteers.
He also told the county to expedite the Duquesne Light repair crews.
---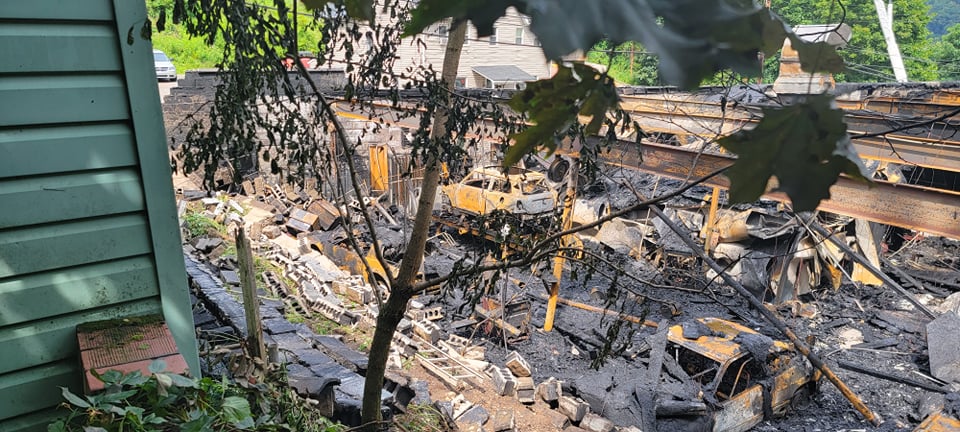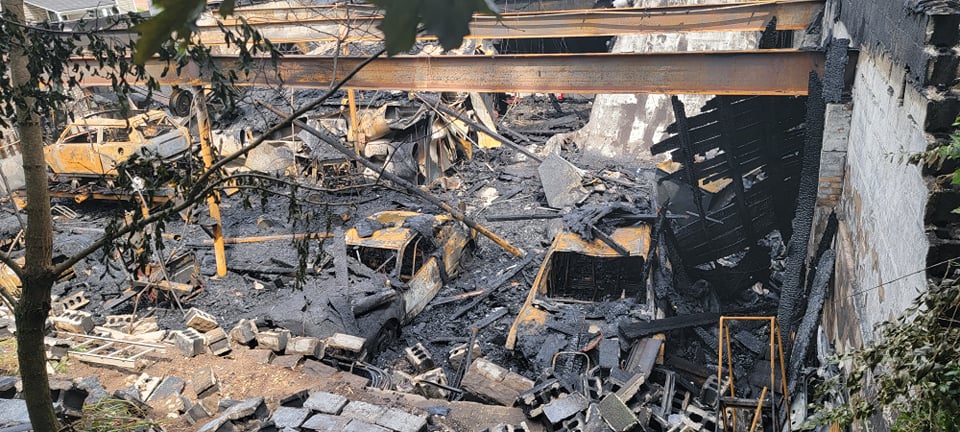 Photos taken by John Slivka III show how close the blaze came to the home of his parents, Annette and John Slivka Jr. (Courtesy John Slivka III)
---
But Esken did not blame the power company for the fire or criticize its response time. "We obviously have been through some crazy weather lately, and they were probably backed up on storm calls," he said.
However, if the power had been shut off earlier, Esken said he is "1,000 percent" certain the fire might have been avoided, or much smaller.
According to Esken's logs, Duquesne Light arrived at 6:04 p.m. "Multiple fires" began breaking out at 6:08 p.m. At 6:18 p.m., fire crews were given permission by the power company to start attacking the fire.
When firefighters forced entry through a rear garage door, they were met by intense heat and flames and retreated, Esken said. From that point on, he said, firefighters focused on stopping the blaze from spreading to neighboring buildings, including the home of John and Annette Slivka.
"You had to get it into your head that all we could do was contain it," Esken said.
---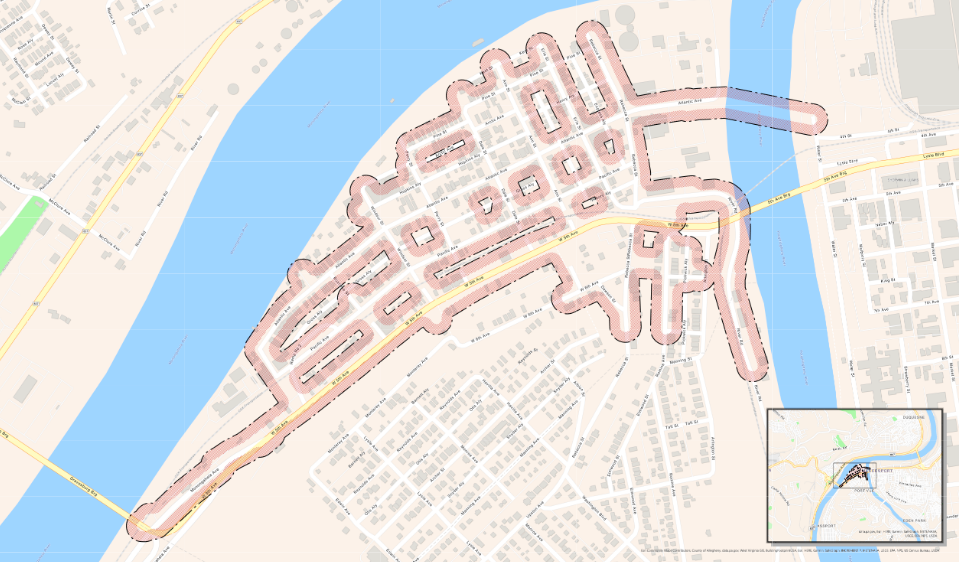 Water advisory remains in effect for people and businesses along streets outlined in red. (Courtesy Municipal Authority of Westmoreland County)
---
On Saturday, Municipal Authority of Westmoreland County said that firefighting chemicals used to put out the blaze "may have" been sucked into the drinking water system in the Lower 10th Ward, contaminating it.
The water company began flushing the lines on Saturday and the process continued throughout the day Sunday. Matt Junker, spokesman for the water authority, said Sunday night "it will be at least a week" until test results certify that the water is safe for all uses.
Until then, he said, residents of Lower 10th Ward should use their tap water for flushing toilets — and nothing else.
The tap water should not be used for drinking, preparing food, washing dishes, bathing or showering, or washing clothes, Junker said.
The decision to extend the water advisory was made in consultation with the state Department of Environmental Protection, he said.
Residents of the affected area are being offered showers at McKeesport Area High School, 1960 Eden Park Blvd., starting Monday morning between the hours of 6 a.m. and 8 p.m. Customers are asked to use the right hand entrance to South Hall, near the gymnasium.
---
The firefighting chemicals are glycol and PFAS — perfluoroalkyl and polyfluoroalkyl substances — that help to smother blazes not easily extinguished by water alone, such as those involving chemicals, solvents, oils and greases.
All of those inflammable substances — as well as a paint storage vault and many cars — were present at McKeesport Auto Body, Esken said.
If firefighting chemicals entered the water supply, Esken said firefighters want to know how, but he said he didn't want to speculate.
Firefighters used about 120 gallons of concentrated chemical foam, he said. It was brought to the scene from Pittsburgh International Airport with a police escort.
---
Water supply was a constant problem throughout Friday night, Esken said. The nearest hydrants to the fire scene did not have enough water pressure or volume to feed the two ladder trucks, he said.
Port Vue firefighters went to the top of Rebecca Street to find a working hydrant, while Glassport crews pumped from a hydrant on West Fifth Avenue. It still wasn't enough, Esken said. Portable water tanks — called "porta-ponds" — were deployed and tanker trucks began shuttling water to the scene.
McKeesport firefighters considered drawing water directly from the Youghiogheny River, Esken said, but concluded it was impractical.
It would have taken at least 1,700 feet of hose, and crossing the CSX Railroad main line, to pump water from the river, he said. To avoid the railroad tracks would have taken 2,600 feet — more than a half-mile — of hose.
A pumper truck would have been needed every 800 feet to boost the pressure and volume, Esken said.
"By the time I would have gotten the water to the fire, it would have been the same as I was getting from the fire hydrants — if not less," he said.
---
Esken is still compiling his report for McKeesport fire Chief Jeff Tomovcsik, but said Sunday that more than 30 pieces of firefighting equipment and "well over" 100 firefighters helped fight the blaze.
"And we needed them," Esken said, because of the complexity of the fire, and the heat and humidity. A Dravosburg firefighter was taken to the hospital for treatment of heat related injuries.
"We have a lot of very, very good firefighters — not just in McKeesport, but also the volunteers," Esken said. "I know what kind of effort they put in, and I applaud them."
Firefighters from throughout the Mon-Yough area will be meeting soon to talk about the response, and critique their own efforts, he said.
---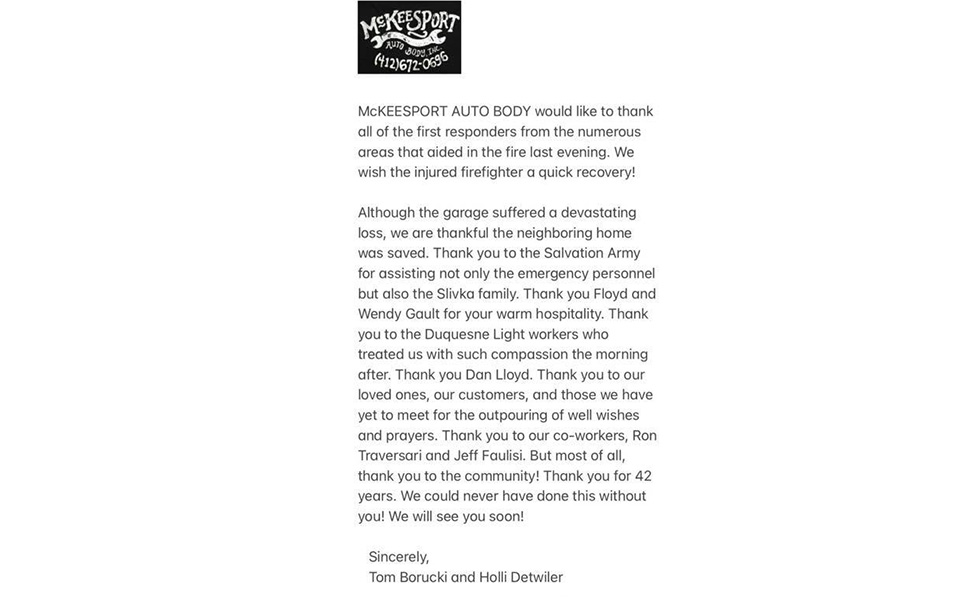 (McKeesport Auto Body Inc. via Facebook)
---
In addition to thanking firefighters and other first-responders, Borucki and Detwiler thanked the body shop's neighbors, including Floyd and Wendy Gault, as well as Duquesne Light workers "who treated us with such compassion the morning after."
"Thank you to our co-workers, Ron Traversari and Jeff Faulisi," they said. "But most of all, thank you to the community! Thank you for 42 years. We could never have done this without you. We will see you soon!"
---
Jason Togyer is editor of Tube City Almanac and volunteer executive director of Tube City Community Media Inc. He may be reached at jtogyer@gmail.com.
Originally published July 19, 2021.
In other news:
"Cash's Visit Caps K-8…" || "City Pressing Water A…"