(Advertisement)
Tube City Community Media Inc. is seeking freelance writers to help cover city council, news and feature stories in McKeesport, Duquesne, White Oak and the neighboring communities. High school and college students seeking work experience are encouraged to apply; we are willing to work with students who need credit toward class assignments. Please send cover letter, resume, two writing samples and the name of a reference (an employer, supervisor, teacher, etc. -- not a relative) to tubecitytiger@gmail.com. (4-11-2023 to 4-30-2023)
To place your ad, email tubecitytiger@gmail.com.
Ads start at $1 per day, minimum seven days.
Elizabeth Twp. man accused of drug trafficking, possession of illegal firearm
By Jason Togyer
The Tube City Almanac
July 28, 2021
Posted in: Crime and Police News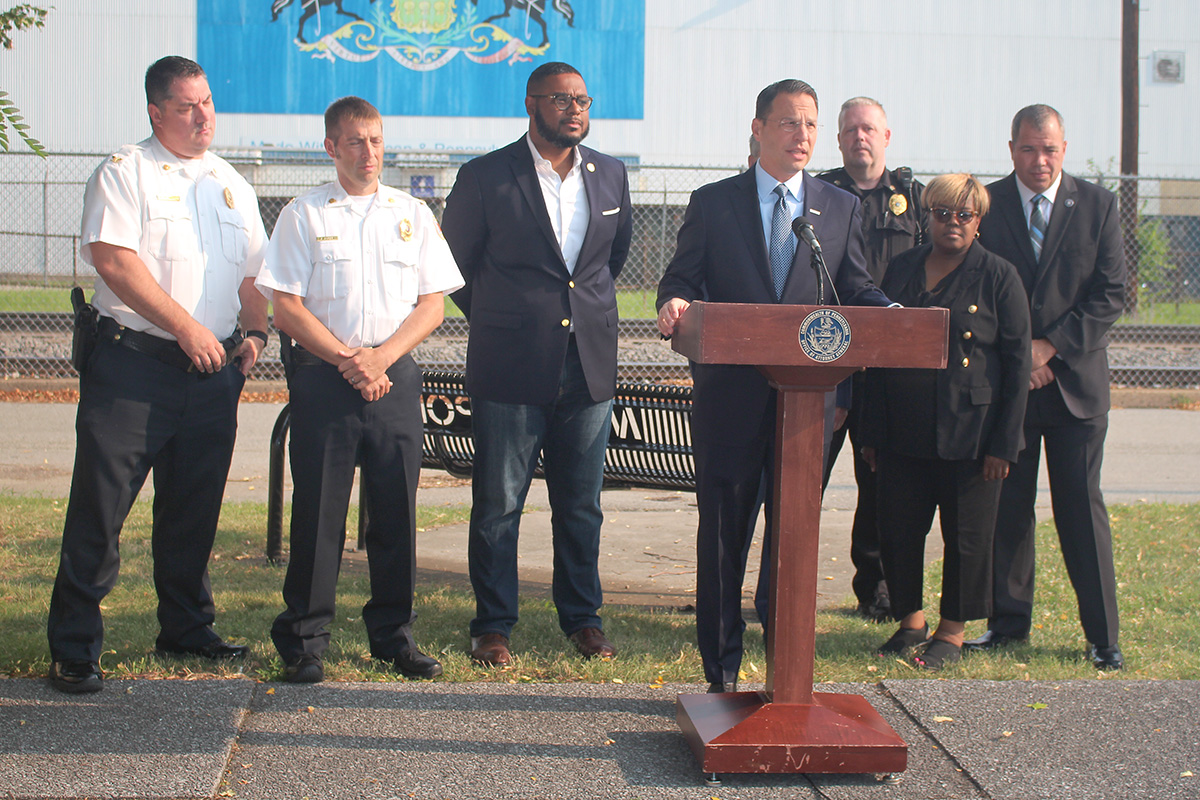 McKeesport and Elizabeth Twp. police joined local elected officials on Wednesday morning as state Attorney General Josh Shapiro, center, announced a major new task force aimed at drug and gun trafficking. (Tube City Almanac photo)
---
Local and state officials will not accept that McKeesport area residents must put up with drug trafficking and gun violence, Pennsylvania Attorney General Josh Shapiro said Wednesday morning.
"I am done — done — hearing about how McKeesport is one of 'the most dangerous cities in America,'" Shapiro said at a news conference to announce the creation of tje Region V Strategic Response Team in the attorney general's Bureau of Narcotics Investigation. "I refuse to accept that, and no one up here is willing to accept that."
Shapiro was flanked by McKeesport Mayor Michael Cherepko, police Chief Adam Alfer, Assistant Chief Mark Steele, state Sen. Jim Brewster, state Rep. Austin Davis, acting Elizabeth Twp. police Chief Adam Blake and Brenda Sawyer, a former McKeesport police officer who now serves as regional director of the state Bureau of Narcotics Investigation.
The task force includes local police as well as state investigators and members of the Allegheny County District Attorney's Narcotics Enforcement Team, or DANET.
Since becoming operational three weeks ago, Shapiro said, task force members have made 12 arrests, confiscating 77 grams of heroin, 59 grams of powered cocaine, 125 grams of crack cocaine, 478 grams of crystal methamphetamine, nine guns and more than $20,000 in cash.
Shapiro said he is urging his office to talk about drugs in terms of doses, rather than grams or street values. Seventy-seven grams of heroin, he said, equates to about 12,000 doses "or overdoses."
"Law enforcement is — and needs to — work together to stop the flow of drugs and guns into our communities," Shapiro said. "If this is what they have been able to accomplish after three weeks of this new strategic effort, I'm looking forward to seeing what they can accomplish after three months."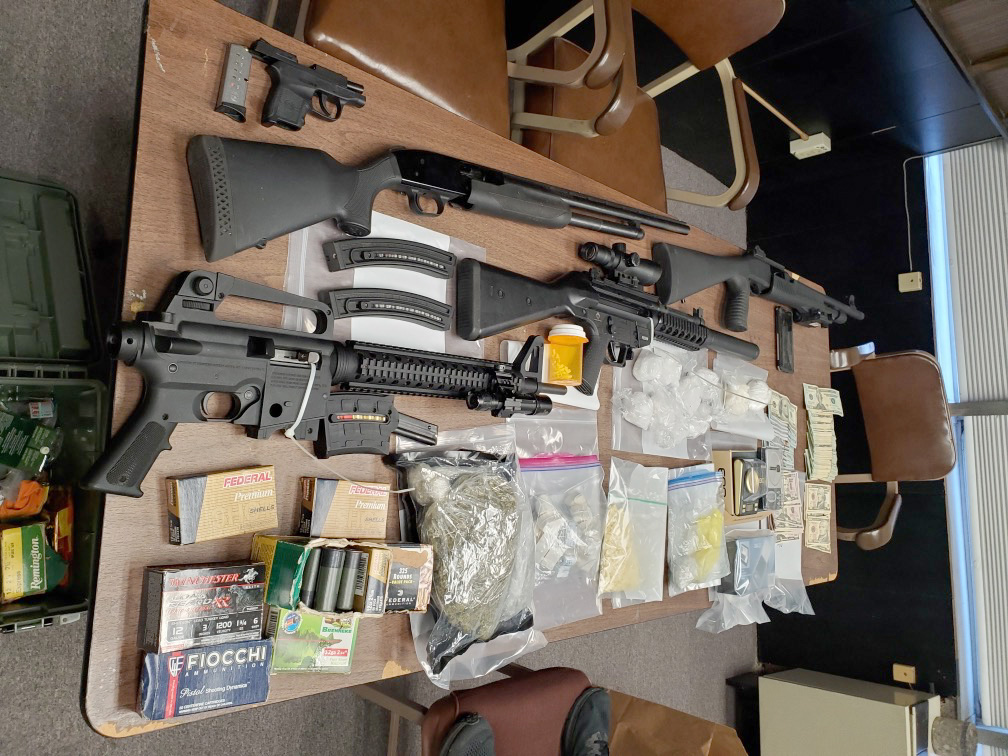 Guns, drugs and other evidence that investigators said were seized in a search of an Elizabeth Twp. apartment on July 22. (Submitted photo)
---
In the most recent arrest by the task force, announced at Wednesday's event, state agents, along with McKeesport and Elizabeth Twp. police, served a search warrant July 22 on an apartment in the Mt. Vernon section of Elizabeth Twp.
Police said they seized 461 grams of crystal methamphetamine, 59 grams of crack cocaine, 59 grams of powdered cocaine, 50 grams of MDMA, also known as "ecstasy," 22 bricks of heroin, and nine guns.
Two of the guns were AR-15 style .22-caliber rifles, Shapiro said. One of the guns had its serial number filed off, he said, and "all of the firearms were unsecured and illegally obtained."
The resident of the apartment, Franklin T. Gribschaw, 42, of Elizabeth Twp. is charged with 11 counts of possession of controlled substances with intent to deliver, eight counts of possession of controlled substances and two counts of delivery of controlled substances, as well as possession of a firearm with an altered serial number, criminal use of a communications facility and endangering the welfare of children.
Gribschaw is currently free on $50,000 bond pending a preliminary hearing Aug. 4 before Magisterial District Judge Beth S. Mills in Forward Twp.
Police said Gribschaw's girlfriend and an unidentified juvenile were in the home at the time of the search.
"There were nine guns in this home, and a little kid had to live amidst all of this," Shapiro said. "That's what's happening behind closed doors, and we are tired of it."
According to a criminal complaint, Gribschaw's apartment also contained a police radio, 66 Xanax pills and drug paraphernalia.
The complaint said Gribschaw was targeted after he sold controlled substances to a confidential informant.
Heroin and synthetic prescription opioids such as hydrocodone (Vicodin), oxycodone (OxyContin), percocet and fentanyl have attracted attention from law enforcement over the past decade. The drugs have been blamed for an epidemic of overdoses throughout Appalachia and the Pittsburgh region.
After the press conference, Steele said local police recently have begun to make "a lot more crack and cocaine arrests" than they were at the height of the opioid epidemic.
Although police are trying to target the sources of drug supplies, there is no one city or region supplying Western Pennsylvania, Alfer said. "There is so much of it now, it's coming from all over," he said.
Cherepko thanked the attorney general's office for committing resources to the Mon Valley.
"With what has been accomplished in the few short weeks of this particular partnership ... I look forward to the progress that can be made in our city and across the Mon Valley at this pace," he said.
---
Jason Togyer is editor of Tube City Almanac and volunteer executive director of Tube City Community Media Inc. He may be reached at jtogyer@gmail.com.
Originally published July 28, 2021.
In other news:
"Residents Not Liable …" || "Water Flushing, Testi…"