To place your ad, email tubecitytiger@gmail.com. Ads start at $1 per day, minimum seven days.
'El Matador' features all-original music
By Bonnijean Cooney Adams
The Tube City Almanac
August 16, 2021
Posted in: Entertainment, McKeesport and Region News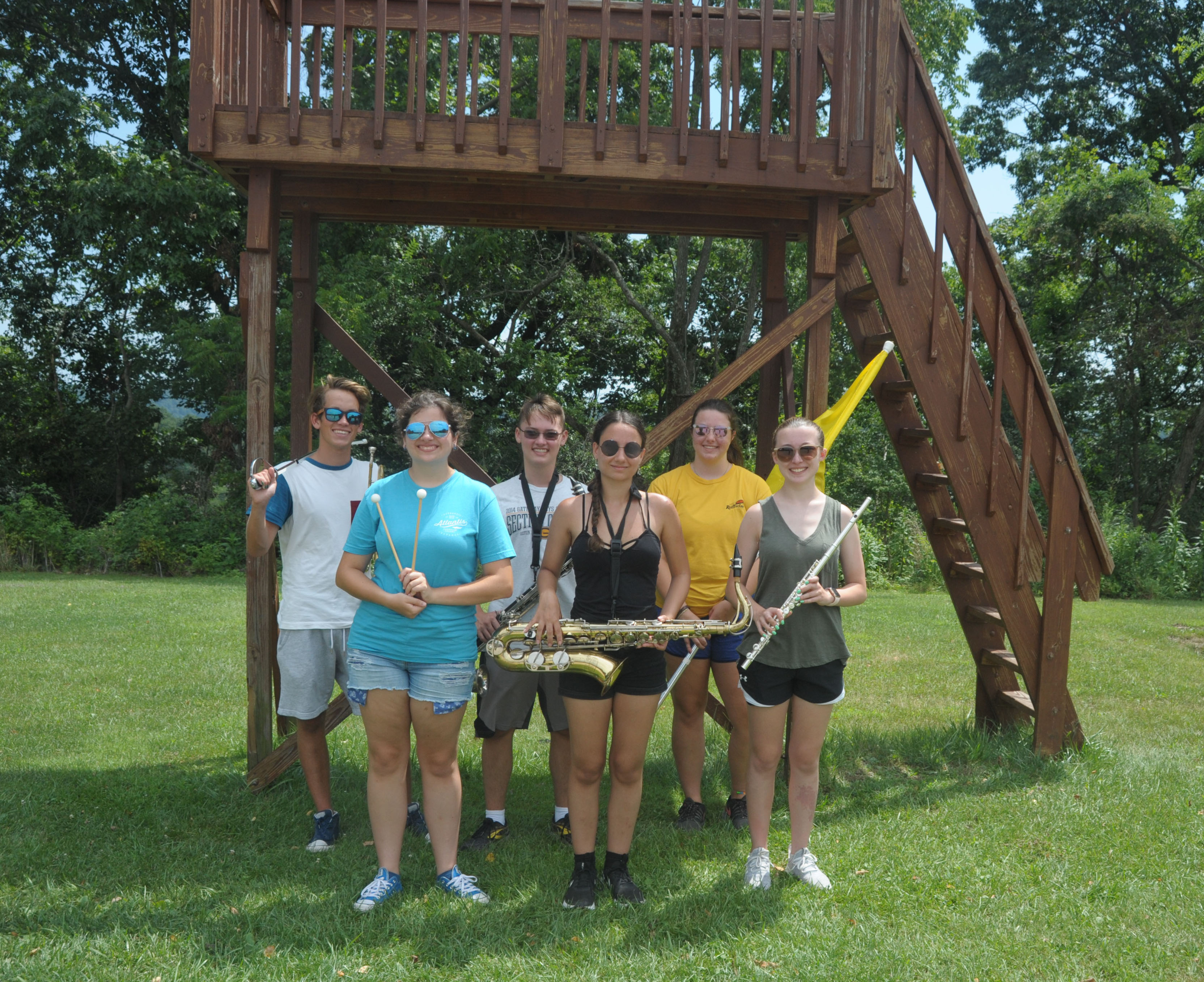 Serra Marching Band student leaders are, in front from left, drum major Abigail Bernick, tenor sax soloist Maigen McGinty, and flute soloist and heroine Paige Rock. In back are Joe Crossen, drum major, trumpet soloist, and matador; bass clarinet soloist Jordan Premozic; and color guard captain Madalyn Peairs.
---
Surprises and finishing touches still were being tweaked as Serra Catholic High School's marching band students and adult personnel completed the first week of camp for "El Matador" on Aug. 13.
"This year's show is about a matador who falls in love with a beautiful lady in the crowd," band director Jesse Bush said. "There is of course a bullfight in the show, and hopefully a really awesome ending that I don't want to spoil."
Drum major Joe Crossen has a trumpet solo. In addition to his musical talents, he's tasked with bringing the story of the matador to life.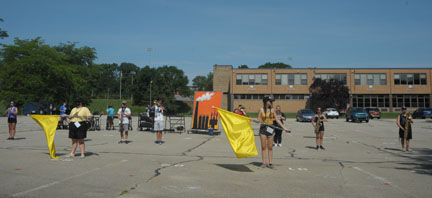 Learning drills and music, Serra Marching Band students prepare for their competition show, "El Matador."
---
"The music is all original," Bush said. "It is written and arranged by Randall D. Standridge. The music is fantastic!"
Crossen said he does not have acting experience, but will use props and accessories to assist in his matador portrayal.
He called the music "the most marching-band sounding" since he's been in the organization.
And while there is a bullfight at the climax of the show, Bush said he hopes the students and audience view it as more of a love story than a Spanish-themed show.
Senior flute soloist Paige Rock is the beautiful lady in the crowd who catches the matador's attention. As the heroine of the story, she begs the matador to spare the bull's life.
Rock said she likes the music and use of marching band members to tell a story.
Maigen McGinty has a tenor sax solo, with Jordan Premozic as bass clarinet soloist.
McGinty said her solo is her favorite part of the show, which she worked to perfect when she knew she got it months ago.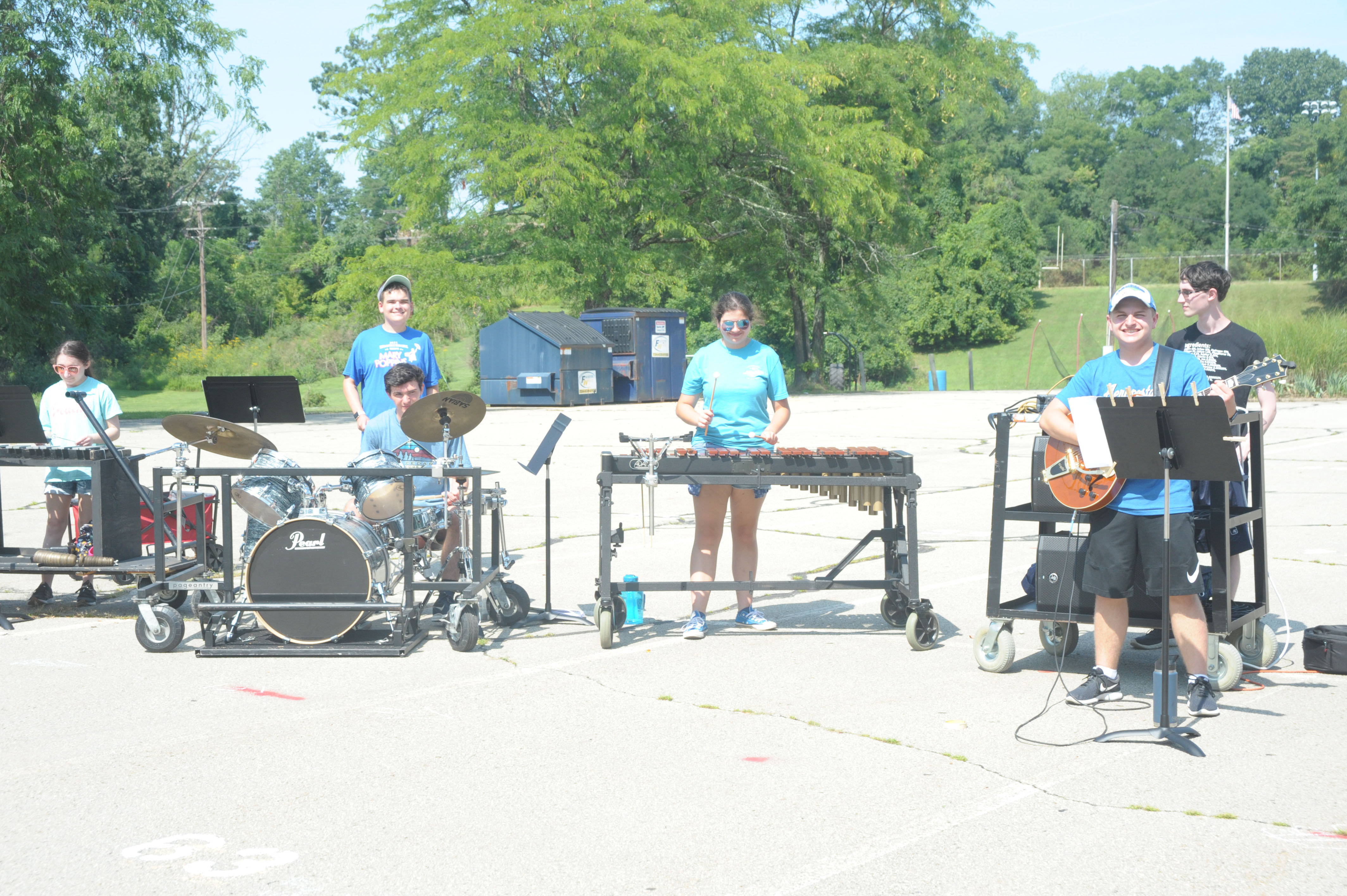 Serra's percussion section is hard at work during first week of band camp.
---
Premozic said he likes the show music a lot. He said his solo comes right at the beginning of the show's third selection.
Percussionist senior Abigail Bernick shares the drum major responsibilities with Crossen, and was playing xylophone during the Aug. 13 camp.
"Joe and I are really strong players," she said.
Color guard membership has grown. With six tenth-graders and junior Madalyn Peairs as captain, director Susan Frank said she is pleased with how quickly some of the students have picked up the drills, and how they've helped one another if needed.
"It's moving along well," Frank said of the developing show. "We're still playing with details."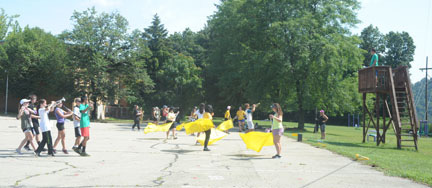 Band director Jesse Bush (on tower) and color guard director Susan Frank supervise Serra Marching Band members during the first week of camp.
---
Bush said Serra Catholic grads Natalie Makovics and Jackie Moon are painting backdrops and guard flags.
"It's different from what we've done in past years — in a good way," Peairs said.
"There are guard features in the show that are still a surprise," Bush confirmed.
Serra history teacher Ryan Raible is the band's drill writer, a talent he shares with neighboring McKeesport Area High School Marching Band.
Joe Diamond, Tom DeCarlo and Mitchell Davis all have been teaching this summer to round out the adult staff, Bush said.
"After last season, I'm excited for our students to experience a normal band season with parades, away games, band festivals and actually being able to watch other high school bands," Bush said. "We will be marching at Kennywood on Saturday, Aug. 21. Our first competition is at Penn-Trafford High School on Sept. 11."
---
Bonnijean Cooney Adams is a freelance contributor. She can be reached at adamsclick@aol.com.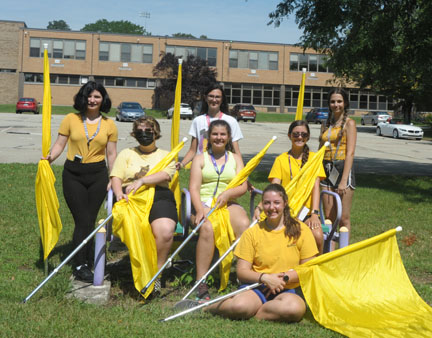 Serra Band color guard members are Madalyn Peairs, captain, seated on ground; on bench from left, Francesca Aland, Alivia Arelt and Katelyn Kostrub; and standing, Athena Loris, Sydney Korbanic and Brigid Fuller.
Serra Catholic High School Marching Band
2021 Competition Schedule
"El Matador"

Penn-Trafford Tournament of Bands Competition
Saturday, Sept. 11

East Allegheny Tournament of Bands Competition
Saturday, Sept. 18

Pennsylvania Interscholastic Marching Band Association Competition
Yough High School
Saturday, Sept. 25

McKeesport Area High School Home Show
Saturday, Oct. 16

Tournament of Bands Championships
Penn-Trafford High School
Saturday, Oct. 23

The band also will be featured during home and away football games.
Originally published August 16, 2021.
In other news:
"W.N. Church Plans Pea…" || "W.N. Library Plans Fu…"