(Advertisement)
Tube City Community Media Inc. is seeking freelance writers to help cover city council, news and feature stories in McKeesport, Duquesne, White Oak and the neighboring communities. High school and college students seeking work experience are encouraged to apply; we are willing to work with students who need credit toward class assignments. Please send cover letter, resume, two writing samples and the name of a reference (an employer, supervisor, teacher, etc. -- not a relative) to tubecitytiger@gmail.com. (4-11-2023 to 4-30-2023)
To place your ad, email tubecitytiger@gmail.com.
Ads start at $1 per day, minimum seven days.
By Jason Togyer
The Tube City Almanac
March 04, 2016
Posted in: McKeesport and Region News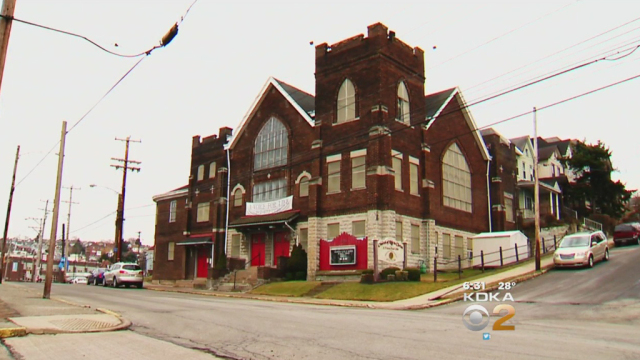 (Photo courtesy KDKA-TV, Pittsburgh) Correction appended, 1 p.m.
A Florida-based charity that investigates suspected cults says a McKeesport church manipulates and shames members of its congregation into doing what its pastor tells them to do, including tithing 10 percent of their income to the church.
Citing former members of the congregation, the charity claims those who disobey or attempt to leave the church are shunned.
An attorney has denied the accusations, calling them "specious and unfortunate," and that any misbehavior was done by people no longer affliated with Guy Miller Ministries, while the pastor attributed them to "misunderstandings."
But Families Against Cult Teachings, located in Aventura, Fla., near Miami Beach, claims that based on its own investigation, The Church of Life in Christ on Versailles Avenue, also known as Guy Miller Ministries, shows signs of being a cult.
A four-part expose on FACT's website attracted the attention of Pittsburgh KDKA-TV reporter Andy Sheehan, who aired a report during Wednesday's newscast.
On Thursday, Sheehan interviewed additional former members of the church, one of whom told Sheehan, "Absolutely. Absolutely, 110 percent it is a full-blown cult."
. . .
Guy Miller Ministries is not affiliated with any major so-called "mainline" denomination such as the Methodist, Presbyterian or Baptist churches. Its pastor and namesake is Guy Miller.
Although it does not have a website, Guy Miller Ministries is listed in human services guides as providing "transportation to medical appointments, financial assistance, clothing and furniture to pregnant women."
The Pennsylvania Corporations Bureau in Harrisburg says that Guy Miller Ministries Inc. is wholly owned by Preach My Word Ministries Inc., which was founded in 1981 at a home on Huey Street, now demolished.
Because the organization is a church, it is not required under Internal Revenue Service rules to file a so-called Form 990 --- a tax return for a tax-exempt organization --- so information about the church's finances or its officers is not publicly available.
According to Allegheny County tax records, Guy Miller Ministries purchased the former Park Baptist Church at the corner of Union and Versailles for $125,000 in 1989, after that congregation moved to Versailles Borough.
. . .
Sheehan's report leans heavily on the four-part series of articles published by Families Against Cult Teachings.
FACT is a public charity that says it has helped "hundreds of victims get out of cult groups," assisted families "through the difficult time" of having a "loved one in a cult," and educated thousands of people about "the dangers of cults."
According to its most recent tax return, FACT was founded in 2013 and is led by Tibor Stern, who is identified in Florida corporation records as a dealer in diamonds. A small charity, it reported income in 2014 of about $26,000.
According to published reports, Stern became interested in cults when his daughter died while under the tutelage of a reclusive dance instructor. Stern and his wife have filed a wrongful death lawsuit against the instructor, who they claim is leading a cult.
For the report that aired Wednesday, Sheehan spoke to three former members of Miller's church, including two who agreed to reveal their names and one who asked to be interviewed only in silhouette.
Sheehan reported on Thursday that six additional former members of Miller's church came forward after the Wednesday story aired.
. . .
Beginning in February, FACT published a four-part series in its newsletter quoting people who it says are former members of Guy Miller Ministries. No names were released.
"I would recommend to anyone that reads this that if someone tries to take you to this 'church,' run, run far and run fast because it will probably damage your life," FACT quotes one anonymous source as saying.
Another anonymous source claims that Miller and church employees put pressure on congregants to give special donations to the pastor "for Miller to use as he wishes," while another alleges that church funds were used to send Miller and his family on vacations to "Disney or Myrtle Beach."
FACT claims that former church members complained of physical abuse, including repeated paddlings and spankings, and that when people left the church, other church members --- including members of their own families --- were told by Miller to break off all contact with them.
. . .
For its part, FACT claims to have received "numerous complaints" about Miller and says that the allegations made about Guy Miller Ministries "raise red flags."
FACT said it uses the so-called BITE model developed by cult investigator Steve Hassan. BITE stands for four types of control that cults employ on their members, according to Hassan: Behavior, Information, Thought and Emotional.
FACT claims that the complaints received about Miller and his church fit the criteria in "three of the four" categories. Hassan was quoted during Sheehan's Thursday broadcast.
. . .
Miller declined to be interviewed on camera, according to Sheehan. When a KDKA-TV crew approached him at his home, he would not come outside.
However, Sheehan says Miller issued the following statement:
"I have been a minister for 37 years. I have been called to preach God's word and I have always been faithful to that calling. There have been misunderstandings, but I will never compromise or apologize for the word of God."
Later, according to Sheehan, Miller's attorney, Ryan James of White Oak, issued a statement on Miller's behalf:
"For 37 years, Guy Miller has carried on a ministry in the McKeesport community. These recent, uncorroborated claims concern events alleged to have occurred years ago, by persons long unaffiliated with Mr. Miller and his church. Simply put, these allegations are specious and unfortunate, and Mr. Miller categorically denies them."
. . .
CORRECTION, NOT PERFECTION: This story originally said that the church was formerly a Presbyterian church, which is wrong. It was formerly Park Baptist Church; that congregation is now located on Center Street in Versailles Borough. I apologize for the error.
Originally published March 04, 2016.
In other news:
"East Liberty Man Char…" || "Police, Borough Offic…"